Dave from

DesignSpark
How do you feel about this article? Help us to provide better content for you.

Dave from

DesignSpark
Thank you! Your feedback has been received.

Dave from

DesignSpark
There was a problem submitting your feedback, please try again later.

Dave from

DesignSpark
What do you think of this article?
Motor systems are a critical operation in almost every plant and can account for 60 to 70% #1 of all electrical energy used in the plant, so ensuring the motor systems are setup and performing efficiently can result in energy savings, extended life of the motor and so ensuring operating uptime and hence higher production performance.
One way of making significant cost savings within a plant, is to use variable frequency drives (VFD) #1, however this often leads to many complex challenges when testing or troubleshooting, that are needed to ensure maximum uptime and to extend the life of the motor, these issues include:
Testing is often carried out by specialists and using a number of test instruments including oscilloscope and digital multimeters.
Testing can be a lot of trial and error – using age old process of elimination.
Due to complexity of motor systems inspection is generally when a fault occurs, or annually at best, having a more regular inspection would ensure the system is running to performance and hence at its optimum efficiency.
Where on the system do you start testing, as normally there is not much historical data
Fluke have now launched the Motor Drive Analyzers MDA-510 (179-7956) and MDA-550 (179-7957) that have been designed to overcome these issues and make motor drive testing more efficient, by combining the functions of a meter, handheld oscilloscope and recorder with the guidance skilled instructor, so that these analysers provide screen prompts, clear setup diagrams and step by step instructions guiding you through essential tests, so breaking down complex testing and getting you to the root cause of a motor drive system failure or performing a routine preventative maintenance check  through a standard set of tests and measurements at key points within a system.
The video below discusses the benefits of the MDA from an application engineer and maintenance manager view: 
As mentioned in the video and earlier in this article, getting to the root cause of a motor drive system failure or performing routine preventative maintenance is best done through a set of standard tests and the Fluke MDA guides you through five key tests, beginning with the power input and ending at the output, through clear on screen instruction on where to connect the test probes:
Drive Input - This will analyse the power going into the motor drive as a first step to determine if a feeder circuit to the drive has distortion, disturbance or noise that may be affecting power ground.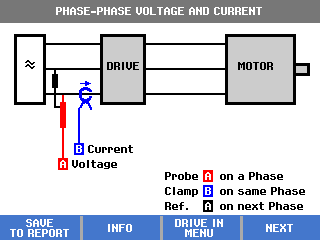 DC Bus – The AC/DC conversion within the drive is critical, as having the correct voltage and adequate smoothing with low ripple means the optimum drive performance, so having high ripple voltage may indicate that capacitors have failed or incorrect sizing of the connected motor.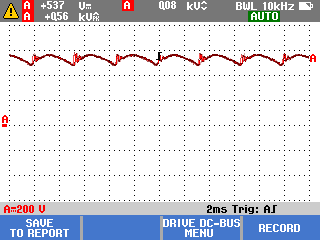 Drive Output – Testing the drives output ensures proper motor operation and can provide clues to problems within the drive circuits.
Motor Input – The voltage supplied at the motor input terminals and cable selection between drive and motor is critical, as any incorrect cabling selection can result in both drive and motor damage due to excessive reflected voltage peaks. These tests are mostly identical to those for drive output above.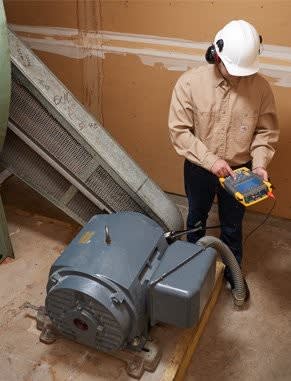 Motor Shaft Voltage – Voltage pulses from a motor drive can couple with a motor's stator to its rotor, this causes a voltage to appear on the rotor shaft, which when it exceeds the insulating capacity of the bearing grease, flashover currents (sparking) can occur, causing pitting and fluting of the motor bearing race, damage that can cause a motor to fail prematurely.

Using the Fluke MDA and performing test at these five key points, will help you trouble shoot much faster and help ensure your motor drive system is performing efficientley.
Fluke Motor Drive Analyzers options:
MDA-510 – 4 Channel, 500MHz (179-7956)
MDA-550 – 4 Channel, 500MHz with motor shaft and harmonics (179-7957)
Further products and solutions for Motor and Drive Troubleshooting can be found at: 

#1 Figure taken according to U.S. Department of Energy (DOE) and FLUKE website