Dave from

DesignSpark
How do you feel about this article? Help us to provide better content for you.

Dave from

DesignSpark
Thank you! Your feedback has been received.

Dave from

DesignSpark
There was a problem submitting your feedback, please try again later.

Dave from

DesignSpark
What do you think of this article?
As the demand for smaller, compact electronic and industrial devices grows, it's a logical step that connecting interfaces such as system cables must follow suit. However, whilst these components are reducing in size, they are simultaneously becoming more powerful in order to meet the demands of consumers.
In order to future-proof device technology and embrace the ongoing challenges of Industry 4.0, HARTING and our technology partner HIROSE have developed the ix Industrial, a robust and compact interface that delivers Cat. 6A performance for 1/10Gbit/s Ethernet.
Replacing the RJ45
The RJ45 has long been the go-to choice for Ethernet in the IP20 environment. However, as technology continues to advance, it's apparent that the RJ45 is becoming increasingly unsuitable for use in industrial sectors. For example, the plastic locking tabs are easily broken in busy manufacturing environments, which can lead to contact problems as the connection works loose.
What's more, as devices such as tablets, sensors and cameras get smaller, the size of the RJ45 is becoming problematic. This is because it takes up more and more of the already restricted space available on components, limiting the options for miniaturisation.
The ix Industrial, which is standardised according to IEC/PAS 61076-3-124, tackles both the issues of compactness and durability head on.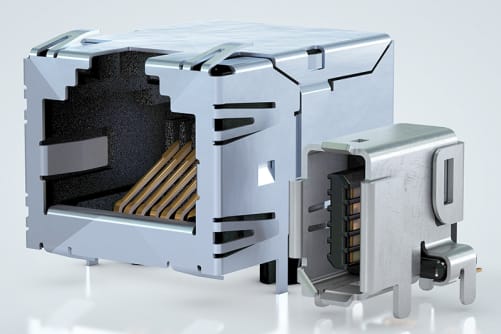 Small yet mighty
Compared to the standard RJ45 socket, the ix Industrial requires 70% less installation space. In addition, it combines both data transmission and power supply into a single interface, further reducing the area required for connectors within your device. Despite its space-saving dimensions, the ix Industrial still produces Cat. 6A performance for 1/10Gbit/s Ethernet at a control level, whilst its high current-carrying capacity supports both existing and future Power over Ethernet (PoE) applications.
Sleek yet sturdy
On top of its smart, futuristic design, the ix isn't afraid of hard work. In order to ensure it can withstand the rigours of industrial environments, the socket and connector are securely locked together by two metal snap-in hooks, whilst the cable and plug benefit from a sturdy crimp connection. This ensures the ix Industrial conforms to shock and vibration resistance levels set out in EN 50155 railway specifications.
In addition, the socket is securely fastened to the circuit board with five THR shield contacts, preventing the conductor tracks from being damaged. The ix Industrial also takes care to safeguard data transmissions. Thanks to its continuous 360° shield design, it guarantees a high immunity to interference, even in EMC-critical applications.
When it comes to practical applications, its durable, strong design and compact size mean the ix Industrial is ideal for use in machinery, robotics, data networks and the transportation and energy markets. This means the ix has the potential to become the future IP20 standard connector for end-to-end Ethernet, supporting the next generation of miniaturised products including flat screen displays, mobile devices and small field equipment.