Dave from

DesignSpark
How do you feel about this article? Help us to provide better content for you.

Dave from

DesignSpark
Thank you! Your feedback has been received.

Dave from

DesignSpark
There was a problem submitting your feedback, please try again later.

Dave from

DesignSpark
What do you think of this article?
CMS-700 - Your Partner for Energy Efficiency
96 Sensors and Maximum Transparency
ABB's CMS-700 control unit is a recent addition to their range of Circuit Monitoring Systems, which enable a multi-channel measurement system in alternating (AC) as well as direct current (DC).
As you will see in the video below. the CMS-700 is made up of a control unit and sensors, allowing fast, efficient and accurate monitoring of the individual lines in a production facility.
96 sensors built into the CMS-700 (96 single-phase or 32 three-phase lines or a mix of the two up to the limit of 96 sensors) enable it to carry out detailed monitoring of energy consumption levels. It is also easy to install, so it is a versatile and efficient solution that can be quickly integrated into installed panels.
Easy Data Collection and Analysis
Using the integrated web server, the CMS-700 control unit provides easy data collection and capabilities for analysis and download that assist energy management. All central units can be accessed remotely using different communication protocols or for further integration into facilities/building management systems.
The result is that the CMS700 provides detailed metering and energy information that can be used in calculations used to meet emissions rates for buildings, in accordance with building regulations.
Here are some of the key features and benefits the CMS-700 offers:
Easy to install on existing systems that are already wired
Fast installation time: components are connected over one flat cable giving an excellent overview in the distribution unit
Compact monitoring system for multichannel branching in alternating current (AC) and in direct current (DC)
Scalability. Users can choose the number of measurement points as required
High levels of data security - encrypted SNMP v3 and SSL certificate
No need for external software: plug & play integrated web server allows for clear visibility of energy consumption at the branch level
Firmware easily upgraded to latest functionalities and security
Localised data storage for up to 12 months. Data easy to export
No ongoing software or cloud-based subscription cost.
High precision, efficient measurements of AC, DC or mixed currents up to 160 A (TRMS) thanks to sensors with a width of 18-25 mm
The parameters are processed via the control unit which manages up to 96 sensors 
Supported by communication protocols such as Modbus RTU, Modbus TCP/IP, SNMP v1/v2 and v3 encrypted
Easy access for data collection (online and historical values) and quick data export provided by the integrated web server
Notification of alarms via e-mail and FTP server
Key applications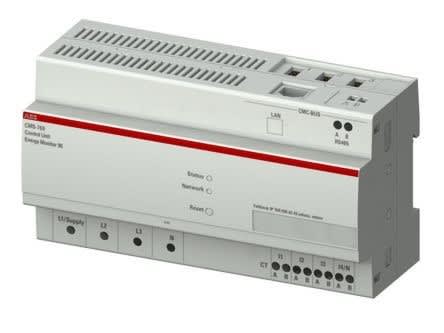 The CMS-700 offers high-precision energy monitoring across a wide range of industrial and other applications fields, including data centres (e.g. consumption monitoring of PDU equipment), shopping centres, hospitals, industrial plants and temporary installations (e.g. where temporary supply needs to be monitored)
Click here to see the full range of CMS-700 energy monitoring devices on sale at RS Components.