Dave from

DesignSpark
How do you feel about this article? Help us to provide better content for you.

Dave from

DesignSpark
Thank you! Your feedback has been received.

Dave from

DesignSpark
There was a problem submitting your feedback, please try again later.

Dave from

DesignSpark
What do you think of this article?
STG-600 mini-PLC

The STG-600 is a highly integrated programmable logic controller providing outstanding graphical programming capability at lowest current consumption and small form factor.
With it´s cutting edge features the STG-600 opens up completely new application fields with space restrictions and high integration level requirements.
The STG-600 does not need any peripheral components to operate. Both inputs and outputs features highly integrated and rugged protection circuits to operate the Mini-PLC in harsh environment.
Due to it´s extremely low current consumption and wide operation voltage range the STG-600 is well suitable for 12 and 24 V battery-powered systems.
These outstanding features open up a variety of application fields in industrial, automotive and maritime technology.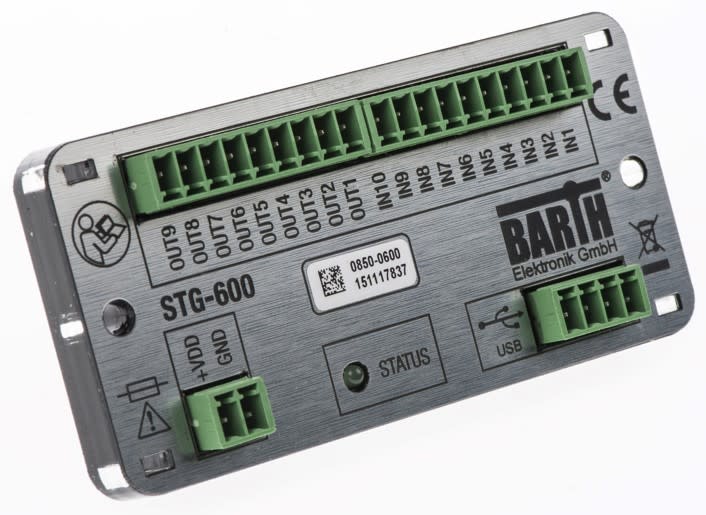 Key features:
Small and universal PLC
8 analog Inputs 0..30 VDC
2 digital Inputs up to 10 kHz
8 Power Outputs up to 1.5 A
1 Power PWM Output 2 A/0..10 kHz
Reliable Solid-State Outputs
Programmable Status LED
USB Connection to PC
Intuitive graphical Programming Capability
Wide Operating Voltage Range 7..32 VDC
Wide Operating Temp. Range -40..+60°C
Ultraflat Housing, Height 10 mm
Vibration resistant and rugged Sealing
Very low Current Consumption
Click here to review the quick start manual
Click here to review the full STG-600 manual
Start your application with a handy Starter Kit
The Starter-Kit STA-600 which provides fastest access to the unique graphical programming capability of the STG-600.


Delivery Contents
Mini-PLC STG-600
miCon-L Software Suite Download
Connectors for Mini-PLC
USB Interface Cable
9V Battery with supply cable
Quick Start Manual
Free miCon-L Software
The miCon-L Software Suite features programming, simulation and test in one unique software design tool. Watch the below video to see how easy it is to program your STG-600 with miCon-L.
 Click here to download the miCon-L Development Suite
For questions about the micon-L software please visit the miCon-L Portal and Forum
View a quality check procedure at Barth Elektronik. The test system is controlled by the Barth mini-PLC STG-500.
Interested in a detailed product review? Watch the below video.