Dave from

DesignSpark
How do you feel about this article? Help us to provide better content for you.

Dave from

DesignSpark
Thank you! Your feedback has been received.

Dave from

DesignSpark
There was a problem submitting your feedback, please try again later.

Dave from

DesignSpark
What do you think of this article?
The need to reduce CO2 emissions has had a significant impact on the automotive and off-road vehicle market. With vehicles working in harsh-environment conditions, far away from public roads and city centres, we are facing a trend of having to use electricity as a primary power source and electrical engines as a brand new replacement for standard diesel engines. European OEMs are starting to launch concepts and solutions to transform a standard fuel consumption system into a fully or partially electrical one.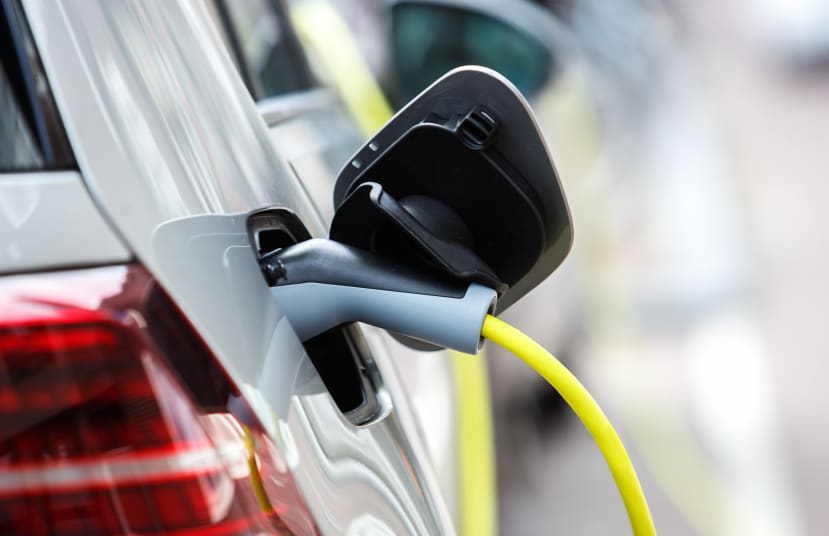 The heart of the system is the Power Distribution Unit (PDU). The PDU brings the Power to the Battery Pack during the charging process and distributes the power when the vehicle is in operation. Power goes to the Motor Control Unit and from there to the Motor itself, but also to the Auxiliary Systems like steering wheel, air conditioning and so on. The Power and Signal transmission between all the components and subsystems is done by multiple connector solutions. High vibration, humidity, dust and extreme temperatures are just some of the challenges these connectors have to face.
At Amphenol we understand these unique interconnect requirements for hybrid and electric vehicle environments. With over 80 years of experience as a premier provider of advanced interconnect products to the world's leading electronics companies, the trend towards hybrid and electric solutions is not a surprise for us. Our engineers all over the world have been working on the largest available product range suitable to these special requirements. At Amphenol we are able to offer the best products for use in any electrical vehicle system as the main power connections to serve any kind of high current and voltage requirements. Our broad portfolio includes products from single to multi-pin solutions, able to transmit high power up to several hundred Amps, shielded or unshielded, field-installable as well as overmolded solutions.
At the centre of this product revolution for the Hybrid and Electric Vehicle (HEV) market is our patented RADSOK® technology. RADSOK® (Radial Socket) is a special contact design based upon a stamped and formed flat grid, uniquely twisted into a hyperbolic geometry to provide robust, high-density contact to the mating pin contact. Most pin and socket technologies rely on the spring properties of the contact elements, which tend to weaken over time. Unlike most other pin and socket solutions, the RADSOK® design utilizes the tensile strength properties of the flat, highly-conductive alloy grid. The hyperbolic construction offers many advantages such as contact coverage of up to 65%, absorption of vibrations as well as stability of the contact elements. Current transfer of several hundred Ampere in addition to a high number of mating cycles is standard for RADSOK®.
HVSL Series
The HVSL product range includes power and signal connector solutions for EV applications. Available in 1, 2 or 3 pins with a rated current from 16A up to 350A @ 70°C for cable sizes from 2.5 up to 95mm2 and achieves IP67/IP69K. The HVSL products are equipped with touch-proof pins to ensure IP2X.  In accordance with AK4.43, LV215, USCAR-2 & USCAR-37 standards, it provides a two-stage locking lever mechanism to open the high-voltage interlock (HVIL) circuit prior to separation of high voltage contacts. HVSL connectors are available with multicore or individually shielded wires and come in overmolded or field-installable condition, both plastic and metal version.
HVPT Series
Amphenol Excel Mate HVPT Series (Pass-Through with cable gland) is available in 1, 2 and 3 positions for cable sizes from 25 up to 70mm2 and achieves IP67/IP6K9K. Light in weight with a plastic shell, HVPT is easy to install granting a reliable connection with 360 degree shielding from the wire to the device. Single way pass through is also available in a metal version (HVPC) for 35 and 50mm2 shielded wires.    
HVBI Series
HVBI connectors provide a convenient push-pull locking system with an additional interlock feature. IP67/IP69K rated, the rugged metal shell ensures an excellent electromagnetism shielding. Different contact sizes and multiple coding positions, as well as colour coding options, are available. HVBI can handle up to 250A rated current @ 70°C and 600V rated voltage with a maximum wire gauge of 70mm².
MSD
Amphenol's MSD (Manual Service Disconnect), MINI MSD and MSD XL are a safe and reliable solution for EV applications. It utilizes a two-stage lever to open the HVIL circuit prior to separation of HV contacts. In accordance with LV215, USCAR-2 & USCAR-37 standards, it's a tool-free solution for disconnecting the internal high voltage battery pack from short circuit. All high voltage conduction surfaces are touch-proof rated IP2X. The MSD products are available in a compact design and offer a variety of fuse ratings.
PowerLok
Amphenol's PowerLok is a well-established solution for applications where customization, reliability and easy installation are required for a reasonable price. The metal PowerLok product range includes solutions from 1 to 4 positions for currents up to 500A @ 85°C and voltage up to 1000. Furthermore, PowerLok fulfils IP67/IP69K. Straight and right-angled cable connectors are available for wire gauges from 2,5mm² up to 150mm². Several keying options to prevent wrong mating make it perfectly suitable for applications where more than one connector is required. PowerLok connectors are fully shielded, equipped with an automatic secondary lock as well as an optional HVIL.
SurLok Plus
The SurLok Plus compression lug is a field-installable, highly-reliable alternative to common compression lugs. Industry standard crimp, screw and busbar termination options eliminate the need to purchase special torque tools. SurLok Plus single pin connectors are environmentally-sealed with protection class IP67/IP69K and follow a quick-lock and press-to-release design. By using latest Radsok® R4 technology, SurLok provides max. rated current of 300A @ 85°C and covers wire gauges up to 95 mm² in a very compact design. In addition to the standard portfolio, a PCB version with direct screw-in feature is available.
UPC
UPC (Ultimate Power Connector) is a plastic power connector series especially designed to be used in the hybrid and electric vehicles market. The 2 and 3 pole connectors incorporate the patented Radsok® R4 technology, with max rated current of 450AMP @ 85°C and covers wire gauges from 35 up to 150mm2. The compact, plastic shell structure is lightweight with a small footprint. UPC is available with EMI shielding and HVIL contacts and it is field installable and repairable.  
ePower-Lite
The ePower-Lite is a plastic power connector series designed to be used in the hybrid electric vehicle market. The series offers 2-pole, 3-pole and 4-pole options. The robust plastic shell can withstand high temperatures up to 125°C and provides dielectric protection for the connector. The compact, plastic shell structure is lightweight with a small footprint and is field installable and repairable. ePower-Lite also includes a CPA to provide connector position assurance that it is mated. IP67 rated, ePower-Lite incorporates the patented Radsok® R4 technology, with max rated current of 120AMP @ 85°C and covers wire gauges from 2.5 up to 25mm2.
HVCO Series
Utilising Amphenol's RADSOK® technology, the HVCO product is the answer for hybrid and electric vehicles charging applications. HVCO meets national standard GB/T 20234.1/2/3-2011, reference with IEC 62196-2 and it is interchangeable with all supplier interfaces. The option for an electronic lock is available to prevent the connector from being unplugged while charging. HVCO is IP55 rated and available in different sizes 60AMP, 125AMP and 200AMP, for wire gauges from 16 to 70mm2.
RadLok
RadLok was designed as a rugged, compact and effective power interconnect solution. Coupling with Amphenol's RadLok Pin, the one finger operated locking feature allows the user to connect any power distribution or storage system in a quick and secure manner. RadLok is a non-waterproof solution able to achieve 500A @ 85°C with a maximum cable size of 150mm2. Offering a great time saving during operation RadLok is a perfect alternative to standard cable lugs that are widely used in the field.