Dave from

DesignSpark
How do you feel about this article? Help us to provide better content for you.

Dave from

DesignSpark
Thank you! Your feedback has been received.

Dave from

DesignSpark
There was a problem submitting your feedback, please try again later.

Dave from

DesignSpark
What do you think of this article?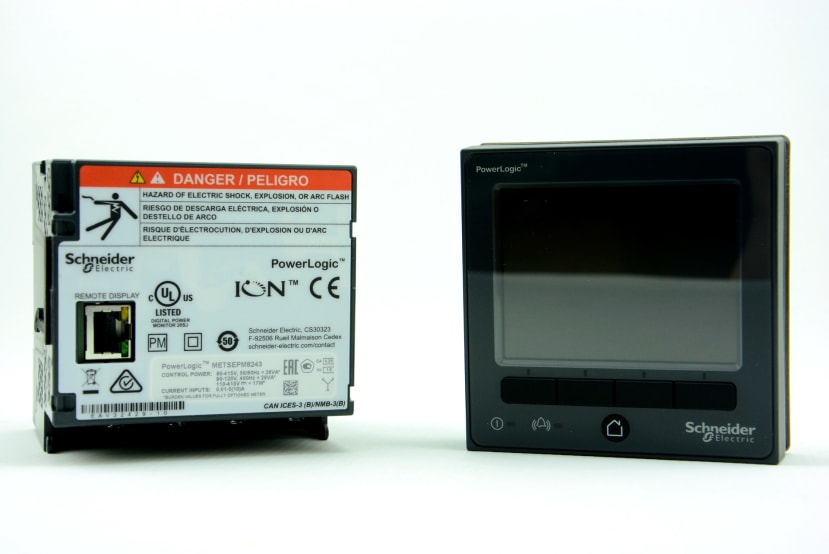 High-performance meters provide a wealth of features for cost and network management applications on feeders and critical loads.
The Schneider Electric PowerLogic PM8000 series of meters support not only energy metering with multi-tariff support, but power quality (PQ) analysis and compliance monitoring to IEC standards. They also boast excellent software support for advanced applications with complex requirements, such as root cause analysis. With flexible interfacing via Ethernet and Modbus RTU, plus support for IEEE 1588 Precision Time Protocol (PTP) for high accuracy time synchronisation.
Applications include sub-billing and cost allocation, demand and load management, billing analysis, and power availability and reliability — with the ability to measure harmonics and dip/swell transients, and to provide PQ compliance monitoring. Typical PM8000 users include industrial sites, data centres, infrastructure operations and healthcare environments.
Key features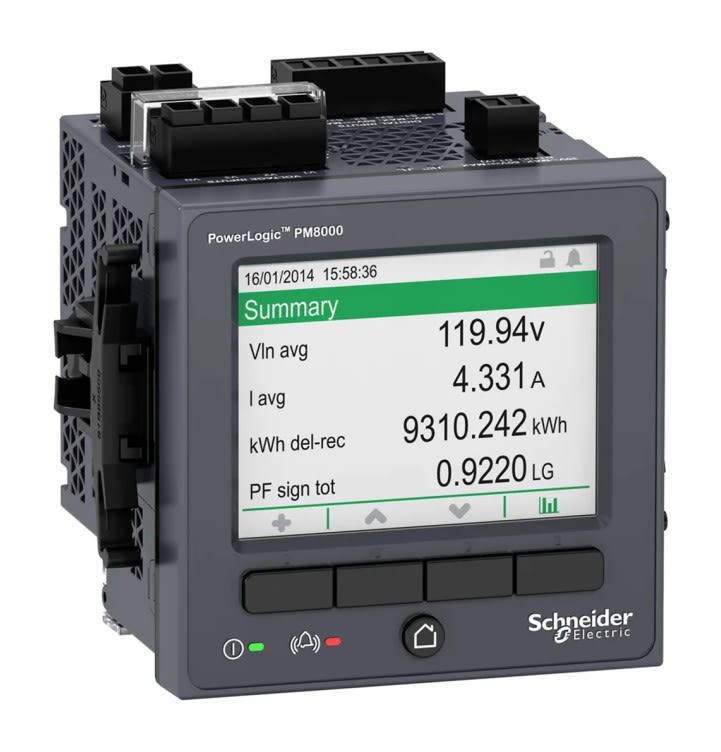 PM8000 meters feature an LCD screen with buttons, which is either permanently attached as pictured above, or in a remote configuration — shown at the very top of this article — whereby the display can be secured to an enclosure door and then cabled to the main unit.
In addition to which, truly remote operation is possible by accessing the PM8000 web interface over a network connection. In the above video, we can see the web interface is used to explore waveforms captured by the power meter.
Other notable features include:
Precision metering
IEC 61557-12 PMD Sx K70 3000m 0.2 (performance measuring and
monitoring functions).
Class 0.2S accuracy IEC 62053-22, ANSI C12.20 Class 0.2 (active energy).
Industry-leading Class 0.5S* accuracy for reactive energy (IEC 62053-24).
PQ compliance reporting and basic PQ analysis
Supports international standards IEC 61000-4-30 Class S, IEC 62586 PQI-S and EN 50160.
Generates PQ compliance reports accessible via onboard web pages, including EN 50160, ITIC (CBEMA) and SEMI curves, and NEMA Motor Derating curve.
Harmonic analysis:

THD on voltage and current, per phase, min/max, custom alarming.
Individual harmonic magnitudes and angles on voltage and current, up to the 63rd harmonic.

High-resolution waveform capture. Triggered manually or by alarm, with captured waveforms available directly from the meter via FTP in a COMTRADE format.
Disturbance detection and capture: sag/swell on any current and voltage channel, alarm on disturbance event, waveform capture with per-event information.
Patented disturbance direction detection: provides an indication of the captured disturbance occurring upstream or downstream of the meter; timestamped results provided in the event log, with a degree of certainty of disturbance direction
Alarming and control
50+ definable alarms to log critical event data, trigger waveform recording, or perform control function.
Trigger on any condition, with cycle-by-cycle and 1-second response time.
Combine alarms using Boolean logic and to create alarm levels.
Alarm notification via email text message.
Flexible remote communications
Multiple simultaneously operating communication ports and protocols allow interfacing with other automation systems; (e.g. waveforms, alarms, billing data, etc.) can be uploaded for viewing/analysis while other systems access real-time information.
Supports Modbus, ION, DNP3, IEC 61850.
Dual port Ethernet: 10/100base-TX; daisy-chaining capability removes the need for additional switches.
RS-485 2-wire connection, up to 115200 baud, Modbus RTU and ION protocols, DNP3 is also supported via RS-485.
Ethernet to serial gateway with Modbus Master functionality, connecting to 31 downstream serial Modbus devices. Also supports Modbus Mastering over TCP/IP (Ethernet) network.
Full-function web server with factory and customisable pages to access real-time and PQ compliance data.
Push historical data via email.
Advanced security: Up to 16 configurable user accounts.
Models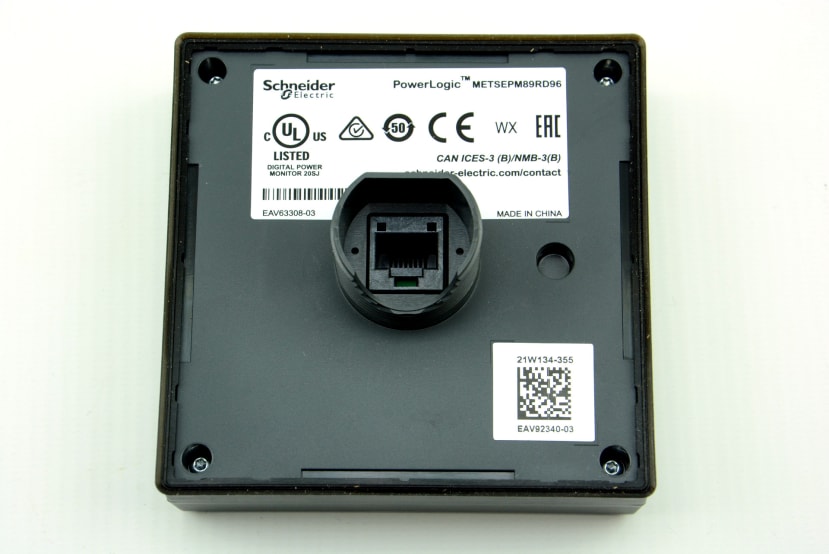 Remote display requires only a 30mm circular hole to be cut in an enclosure for fitting.
The following PM8000 meter configurations are available:
In addition to which the METSEPM89RD96 remote display may be purchased separately (913-9655) . The meter pictured at the top of this article is the METSEPM8244 package which includes a DIN rail-mounted meter plus remote display.
Connections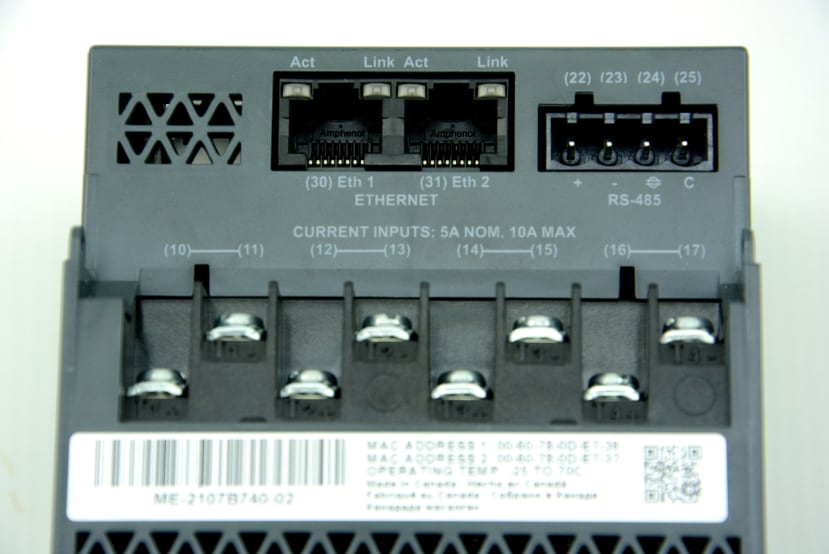 Above we can see the dual port Ethernet connections which allow daisy-chaining, the RS-485 port next to these. Beneath the communications ports, we can see the current inputs, which support 5A nominal and 10A maximum, and which would typically be cabled to current transformers (CTs) so as to permit use with much larger loads.
Here we can see the 3P+N voltage inputs, together with a separate control power input, which might be fed via a UPS so as to ensure that we can continue logging and raise the alarm during adverse power events. There are also digital inputs and outputs, which may be connected to auxiliary equipment. Finally, visible and infrared LEDs which provide metering pulses.
Expansion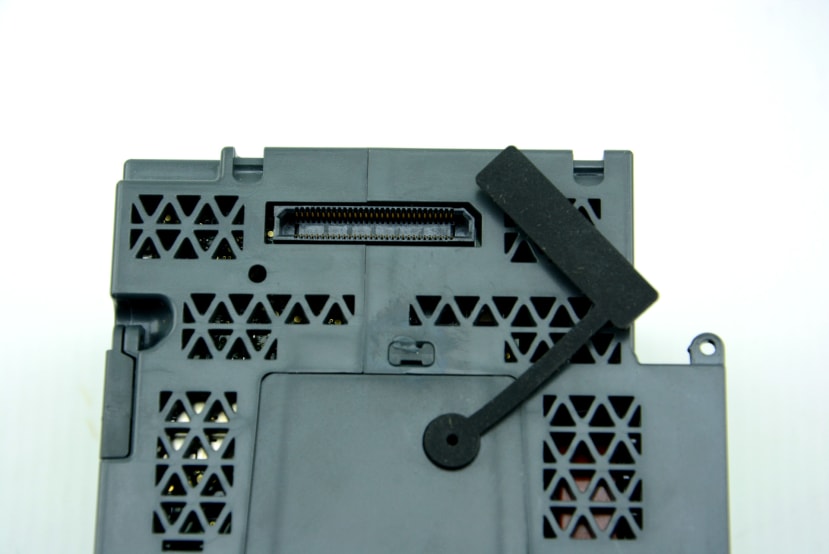 PM8000 expansion port.
Up to 2 expansion modules may be fitted for panel-mounted meters, while DIN rail-mounted meters may be configured with up to 4 expansion modules. Available expansion modules include:
Digital module

6 digital status/counter inputs.
2 Form C relay outputs, 250V, 8A.

Analogue module (247-2138)

4 analogue inputs (4-20mA; 0-30V)
2 analogue outputs (4-20mA; 0-10V) for interfacing with building management sensors and systems.
Time Synchronisation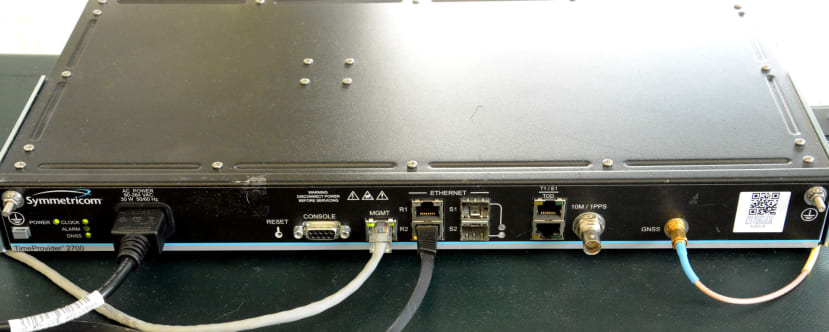 An IEEE 1588 PTP GrandMaster.
High accuracy time synchronisation can be of paramount importance with power quality measurement, as this may be required for logging and correlating network events, and accurately identifying disturbance direction, for example.
PM8000 meters provide a number of options to enable high-accuracy time synchronisation:
IRIG-B.

A GPS receiver using IRIG-B can synchronize the time of a meter up to ± 1 ms of Coordinated Universal Time (UTC).
A dedicated serial network is required to implement a GPS scheme
One of the PM8000 digital inputs must be connected to the IRIG-B network.

GPS over serial.

A GPS receiver can synchronize the time of a meter up to ± 1 ms of UTC.
The PM8000 serial port must be connected to a GPS receiver.

Precision Time Protocol (PTP).

PTP can synchronize the meter time to ± 1 ms of other devices connected to a local area network.
The PM8000 must be connected to an Ethernet network that has a valid PTP Master.
NTP and SNTP are also supported, but provide much lower accuracy of ± 10 to 100 ms and ± 1 second respectively.
GPS over serial will likely prove the most cost-effective high-accuracy time synchronisation method for remote sites with a single meter. PTP meanwhile is perhaps the most scalable solution and fast overtaking older timing transfer standards such as IRIG-B. To find out more about PTP, see the article An Introduction to IEEE 1588 Precision Time Protocol.
Power Monitoring Expert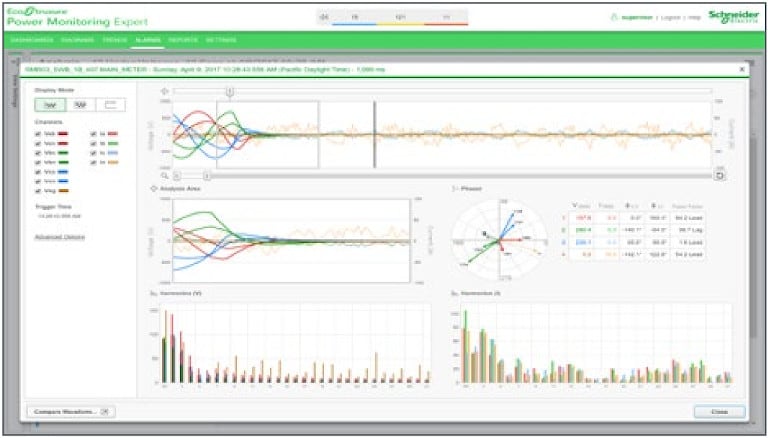 EcoStruxure Power Monitoring Expert (PME) software is a suite of web applications which provide insight into electric system health and energy efficiency. PME connects to smart devices across an electrical system, such as power meters, but also including circuit breakers, RTUs, PLCs and VFDs, for example. Enabling KPIs to be tracked for energy and reliability, sustainability and PQ metrics etc. Advanced analysis helps to ensure reliable network operation, equipment performance, and reduced network outages.
The following web applications are available within PME:
Alarms. View and analyse Incidents, Alarms, and Events; Acknowledge alarms.
Dashboards. View high-level, historical and real-time data in dashboards and gadgets.
Diagrams. View low-level, historical and real-time data in one-line and graphics diagrams.
Reports. Run reports on-demand or scheduled.
Trends. View trends for real-time and historical data.
The combination of PM8000 meters and the PME software enables detailed PQ reporting across an entire network, including:
EN 50160 report.
IEC 61000-4-30 report.
PQ compliance summary.
ISO 50001.
Display of waveforms and PQ data from all connected meters.
50 user-definable data logs, recording up to 16 parameters on a cycle-by-cycle or other user-definable interval.
Continuous logging or 'snapshot' triggered by setpoint and stopped after a defined duration.
Trend energy, demand and other measured parameters.
Forecasting: average, minimum and maximum for the next four hours and next four days.
Software alarms and alarm frequency are categorized and trended for easy evaluation of worsening/improving conditions.
Notable advanced features include the ability to identify disturbance direction, which is to say the origin of a voltage disturbance (sag/swell/transient). A PM8000 determines the direction of the origin of a disturbance as either Upstream or Downstream from the device location. It is possible to identify the likely origin of a disturbance within a power system by combining the direction information from multiple devices in the network. For alarms, the disturbance direction shown in the software is the direction determined by the device that is associated with the alarm. For incidents, it is the direction determined by the representative device for the incident
Wrapping up
As we've seen the Schneider Electric PM8000 series of meters are packed with advanced features for metering and power quality monitoring, with the potential to bring significant value to power distribution networks and critical load monitoring. In a future article, we'll get hands-on with a PM8000 meter and take a look at the basic configuration and key features provided out of the box.