Dave from

DesignSpark
How do you feel about this article? Help us to provide better content for you.

Dave from

DesignSpark
Thank you! Your feedback has been received.

Dave from

DesignSpark
There was a problem submitting your feedback, please try again later.

Dave from

DesignSpark
What do you think of this article?
Working on electrically powered assets without ensuring they are properly powered down it's dangerous and could lead to injury or death. Whether you're testing on two-pole or single pole breakers or other electrical circuit, you always want to test for absence of voltage before beginning any work. These are 3 ways a Fluke Two-pole Voltage and Continuity Tester keeps you safe: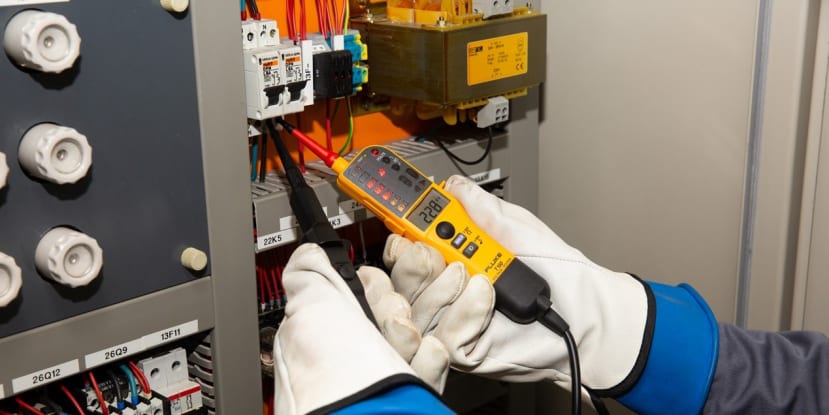 1. Voltage indication four ways
No matter what kind of jobsite you are working on, whether it's loud or quiet, dark or light, or anything in between, one of the four indication methods of the Fluke T150 (750-8444) will ensure accurate absence of operating voltage testing.
These are the four indication methods:
1) Audible signal when detecting voltage or continuity,
2) LED lights that show the voltage level,
3) Digital display and 
4) Vibrate mode.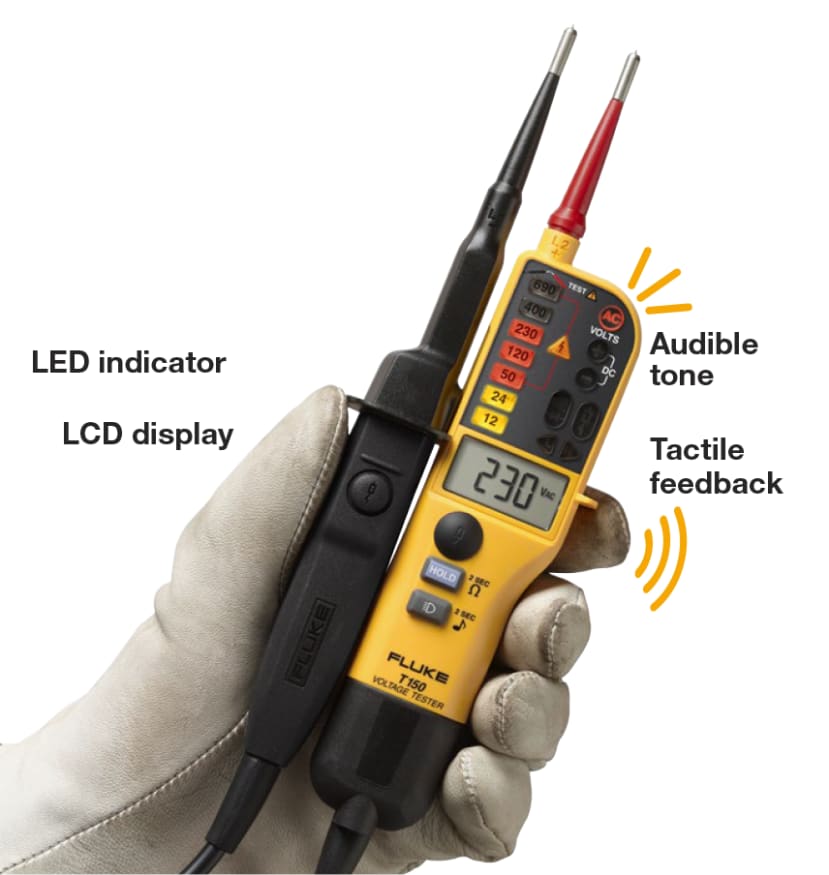 2. Adaptable probe tips
Your chance of accidentally touching the wrong conductor when working in tight spaces gets limited by the push-on tips that can reduce the metal exposed from 19 mm to 4 mm. Those push-on caps can be easy to lose; however, the Fluke's tester has a protector and storage accessory to hold the caps and 4 mm diameter tips. As a bonus, the tool's tip holder serves as an extra hand when opening electrical safety outlets. The probe tips are also threaded, so you can use screw-on 4 mm diameter tips for situations where you need studier tips.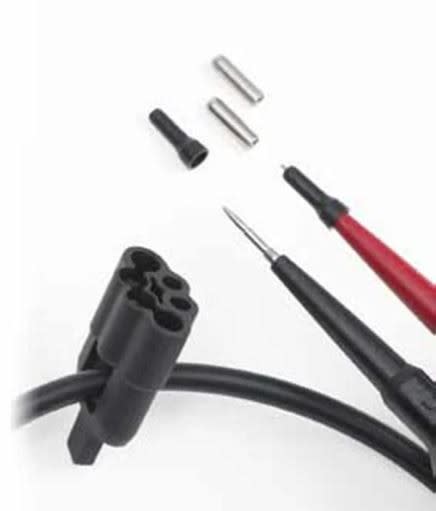 3. Tested beyond safety standards
On any two-pole voltage and continuity tester, the weakest point is the cable, as it is repeatedly bent, twisted, wrapped and put under constant strain. Fluke puts its testers through three times what the EN 61243-3 standard demands. Designed according to IEC EN 61243-3:2014 regulations and HSE GS 38 for the tip caps. You can still verify the absence of voltage, even with discharged batteries. WearGuard™ insulation is also included to keep you safe by making it easier to see damage to test leads.
Fluke Two-Pole voltage and continuity testers range consist of: