Dave from

DesignSpark
How do you feel about this article? Help us to provide better content for you.

Dave from

DesignSpark
Thank you! Your feedback has been received.

Dave from

DesignSpark
There was a problem submitting your feedback, please try again later.

Dave from

DesignSpark
What do you think of this article?
As with any production line it is essential that the equipment is maintained, to avoid failure and costly down-time.
Predictive maintenance can help avoid these issues, by putting in place a planned schedule that periodically or continuously checks the equipment (condition monitoring) so that any significant change in a parameter like temperature or vibration can be used as an early indication (detection) of potential failure, this then means the equipment can be replaced in the most cost-effective manner before the equipment loses performance or fails and hence reduce fewer down times.
RS provide a number of sensors that can be used for predictive maintenance including:
Calex NFC Sensor
This is a smartphone configurable infrared temperature sensor (905-8768) , which can be configured to produce an alarm output if the temperature goes outside of it's pre-set temperature range, allowing an predictive maintenance engineer, to investigate and prevent potential failures.
Key points of this sensor are:
Non-contact industrial temperature sensor
Fully configurable via smartphone app
Voltage output (linear with temperature) and open collector alarm output. Both can be used simultaneously
Measures from 0°C to 1000°C, accurately and consistently
Extremely small, with side-entry cable: ideal for mounting in tight spaces
Fast response time: 125 ms
Low cost, high performance
Operates in ambient temperatures up to 80°C without cooling
Flir AX8 Thermal Sensor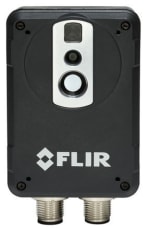 The Flir AX8 is a thermal imaging camera, for continuous condition and safety monitoring, for critical electrical and mechanical equipment.
This sensor helps to guard against unplanned outages, service interruptions and equipment failure.
Compact and easy to install, this device provides continuous monitoring and hot spot detection, of various applications including: electrical cabinets, process and manufacturing areas, data centres, energy generation and distribution, transportation, storage facilities and refrigeration warehouses.
Key features include:
Automatic analysis and alarms
Industrial protocol - Ethernet/IP and Modbus TCP
Compact & easy to install
Multiple video options
View the Flir AX8 Thermal Sensor
SKF Vibration Sensor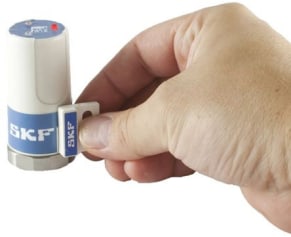 The SKF Machine Condition Indicator is ideal for monitoring non-critical machinery such as gearboxes, pumps, fans, compressors and motors, which all have a constant operating condition.
The device can be programmed via a magnetic key to set alarm levels, switch between operating modes, set vibration limits, set temperature limits and acknowledge and reset alarms.
The device features three LEDs to indicate the machine and bearing condition. Once the device is illuminated, it alerts the predictive maintenance technician to investigate the cause and take necessary action, preventing breakdown and avoid costly down time.