Zerynth: IoT-enable your devices
Speed up your IoT development with Zerynth. Easily program popular microcontrollers in Python and C and connect them to top cloud infrastructures in no time
Download Installers
The Middleware for IOT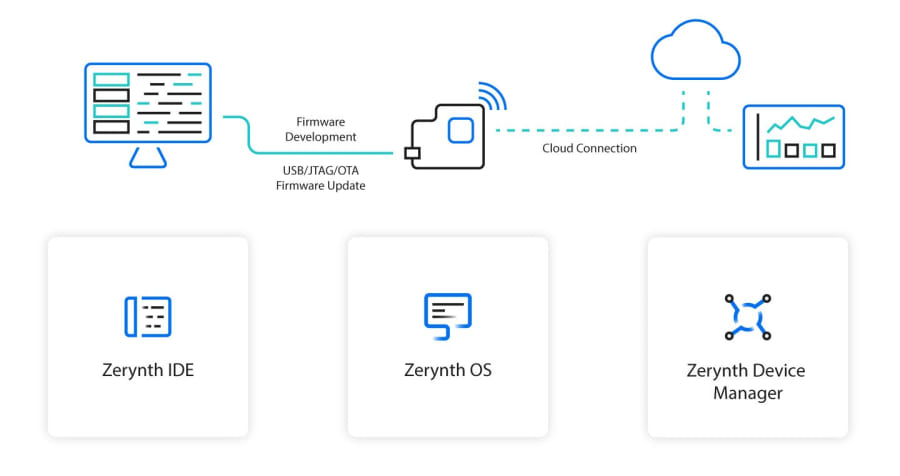 Quick IoT Development
Program in Python and C and connect directly with your microcontroller for fast and secure IoT applications development.
IoT Cloud
Connect directly to your choice of IoT cloud including AWS, Google Cloud, Azure, IBM Cloud, Ubidots, Wolkabout, and many others.
Python + C
Develop more efficiently with Zerynth's unique blend of Python and C
Real-Time Connectivity
Integrate your choice of RTOS and connect with Cloud services
Firmware Over-The-Air Updates
Remotely update the firmware of your embedded device
How Zerynth works
Download
Download Zerynth Studio software and create a Zerynth Account to get the Zerynth OS license.
Install
Install Zerynth Virtual Machine (a multithreaded Real-Time OS that provides hardware independence for your code) onto any of the supported microcontrollers and program in Python or hybrid Python/
Integrate
Use the extensive library collections to integrate Zerynth rapidly with industrial protocols, sensors and actuators
Connect
Connect your board quickly and easily to all the top Cloud infrastructures.
Offline Installers