Dave from

DesignSpark
How do you feel about this article? Help us to provide better content for you.

Dave from

DesignSpark
Thank you! Your feedback has been received.

Dave from

DesignSpark
There was a problem submitting your feedback, please try again later.

Dave from

DesignSpark
What do you think of this article?
By now you are all aware of the term 'Industry 4.0', you should also be aware of what this means, however you may not be aware of how you can achieve Industry 4.0 success without the vast associated costs, time and man power involved in replacing all of your current machinery.
HARTING's answer to this? Digital Retrofit.
Adopting Industry 4.0 does not necessarily have to mean significant capital investment or the creation of a new manufacturing facility – the key in many instances is to optimally apply the specialist technologies now available, in harness with existing in situ equipment, to allow the gathering of data which can then be used to inform production decision-making in real time. 
Specialist Industry 4.0 Connectors (data acquisition and transmission devices) can simply be bolted on to existing plant equipment to gather information in real time and transfer it to the Cloud. This removes the need to redesign equipment or purchase new equipment in a broad array of instances. It is a particularly important point given that many facilities starting operation now will have originally been designed up to a decade previously
For example, immediate low-cost digital retrofit strategy implementations can be carried out to allow significant productivity improvements through real time condition monitoring and predictive maintenance of manufacturing processes on in-line production machinery, resulting in a very positive return on investment.
What is a Digital Retrofit?
A digital retrofit is where you add digitalisation capabilities to an existing machine that is without them or that these capabilities are not up to date. One such way of doing this is with the addition of a modular industrial computer.
Digitalisation capabilities can include;
Enabling ICT Infrastructure of Machinery
Processing data in the production environment
Using smart data such as predictive analytics
Creating human and machine interaction
Enabling the use of mobile devices - dashboards
Creating Auto ID opportunities with RFID solutions
For a company looking to integrate and make the most of Industry 4.0 a 'Digital Retrofit' can be deemed as the right moved forward. Undertaking a digital retrofit project such as integrating a "smart" industrial computer to existing machinery, offers many benefits for end users including:
Create a Smarter Business
Extend the life of existing and old machinery
Program in a language you know
Huge cost savings
Communication with legacy machines
Introducing MICA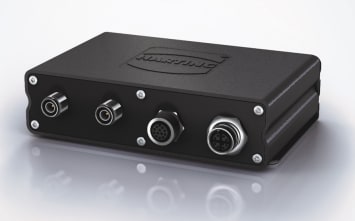 HARTING's new MICA (Modular Industrial Computing Architecture) edge computing device can directly address the above-mentioned issues, upgrading older machines by providing a protocol converting gateway to the central operating software controls of the newer version and at a fraction of the investment cost of such a new machine. This is because, with MICA's modular open platform, the HARTING IIC MICA permits the user to choose the programming language and development environment according to what they are more familiar with. It can create a virtual image of a device or a machine in the digital world. It enables modern interfaces for devices whose communications are outdated. This means that you can convert old machine protocols into OPC-UA or MQTT, in order to connect legacy machines to the developed MES and Industry 4.0 based Smart Factory.
MICA is a small, robust computing unit between physical devices and the higher-level IT system. The cost-effective solution allows you to run computing power at all levels as well as communicate with central IT systems and the cloud. MICA allows fast data analysis and decision-making at the field level network edge along with a memory and collecting capability which provides relief for computer centres.
Small but powerful
MICA is tremendously compacted and even fits on an electrical cabinet DIN rail. With dimensions of 13 x 8 x 3.5cm, MICA can be installed subtly and directly onto a machine. The front panel can be customised with various connectors including M12 and USB to enhance network connectivity.
Robust and maintenance free
The IP67 system is intended to withstand vibrations and extreme temperature variations in harsh industrial and railway applications. MICA can be used in metallic environments and is resistant to dust and moisture. As there is no fan, it is maintenance free and servicing can be performed remotely through a web browser.
Customisable and compatible
MICA's open source approach allows you to completely tailor the computer, for example, you can select the programming language and development environment.
MICA is a modular platform made from open hardware and software components. Unlike single-board computers, the MICA circuit board is separated into three parts – one of which is customisable to your application. The form factor and degree of protection remain unchanged after hardware adjustments.
MICA can multitask
MICA features a powerful 1 GHz ARM processor, 1GB of RAM and 4 GB eMMC flash memory (plus an additional 32GB on a micro-SD card). HARTING's virtual industry computing technology enables multiple programs to run in parallel within the virtual containers. These containers run in individual sandboxes which separate and secure different applications from each other. This enables smart, multitasking to occur for productive operations.
Easy to use
The touch-optimised interface is applied entirely in HTML5 and JavaScript. Designed for end users and administrators, the interface is simple and easy to use.
Reduces costs
The one-time investment for MICA is significantly lower compared to complete industrial PCs. MICA has no licensing fees or leasing fees ensuring it remains a low-cost option. MICA has inexpensive prototyping and development due to the open development environment, even for multiple projects. The power consumption for the base version is less than 5 watts, therefore MICA has low operating costs.
HARTING has experienced the first-hand success of MICA by integrating it into one of their own connector manufacturing lines. See PDF 1 for the full case study.