戴夫来自

DesignSpark
你觉得这篇文章怎么样? 帮助我们为您提供更好的内容。

戴夫来自

DesignSpark
Thank you! Your feedback has been received.

戴夫来自

DesignSpark
There was a problem submitting your feedback, please try again later.

戴夫来自

DesignSpark
你觉得这篇文章怎么样?
As a member of the DesignSpark family, you know that you have access to an unrivaled range of free, high-quality software tools, great articles and projects, support, and even podcasts.
There's strength in numbers and the more members we have in our community, the wider our collective knowledge base and the faster we can support and advise one another.
We want to grow our community – spreading the DesignSpark love far and wide – and continue to strengthen our suite of tools and assets for you; and you can help!
It's easy!
Contact your friends/colleagues/peers and tell them about DesignSpark
Give them your user name and link to register, and recommend they join
Every person that joins quoting your user name bags you an extra entry!
Look out for the first draw in January – you and a friend could both win big
We've just added some new functionality to our registration page, so when you recommend DesignSpark to a friend or colleague, they can tell us that you introduced them. For every single person that registers quoting your DesignSpark user name or email address, you'll get one raffle ticket (virtually of course!) – so the more members you introduce to DesignSpark, the greater your chance to win! Plus, the top referring DesignSpark member (who has the highest number of new members quoting their user name each quarter) will win an exclusive DesignSpark goody bag!
The people you sponsor will not only unlock their free membership and software, but they also join you in the draw. Plus, they can start referring straight away to bag themselves tickets into the next draw.
Every 3 months, we'll draw a winner at random, and that lucky winner PLUS the person they referred, will receive a basket of RS products to the value of $500 USD EACH!
The first draw will take place on Monday 13th January and will include all referrals made between 4th October 2019 and 12th January 2020.
Future prize draws
Draw 2: Monday 13th April 2020 (referrals between 13th January to 12th April 2020)
Draw 3: Monday 13th July 2020 (referrals between 13th April to 12th July 2020)
Draw 4: Monday 12th October 2020 (referrals between 13th July to 11th October 2020)
12th October 2020 will see a SUPER PRIZE DRAW doubling the prize fund to $2,000 ($1,000 each) to mark the first-year anniversary of our member referral programme and will include all referrals from 4th October 2019 to 11th October 2020 – so there's an extra chance for you and your friends to win big.
To get you started, we created some suggested text for email, Facebook/Linked In and Twitter, so you can start spreading the DesignSpark love immediately – see below. Just be sure to add your own DesignSpark user name instead of mine – 'LEONIE' – before you hit send/post!
Plus, if you are an active member of any relevant Linked In Groups, Sub-Reddits or Forums, be sure to share with your peers on those too. 
Who signed up?
You can keep track of who has joined following your recommendation in 'My Activity' at any time: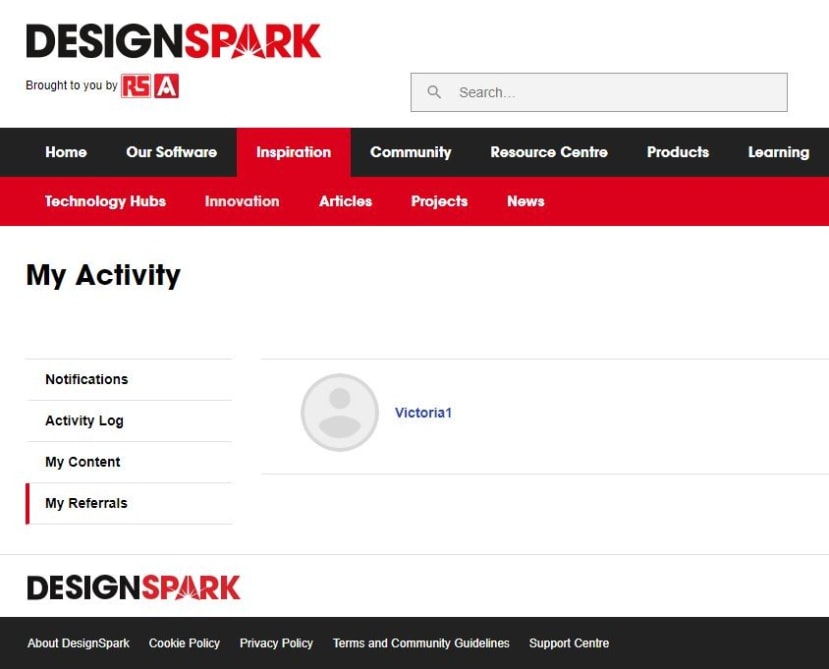 So, start sharing the free DesignSpark love today to maximise your number of entries into January's draw. Remember, every single person listed in your 'My Referrals' page gives you another chance to win!


Suggested Wording to Share the DesignSpark Love!
Twitter
Would you like to win a @fitbit and a $500 @RSComponents voucher? And help me to win the same? Join me on the @DesignSparkRS engineering community and put my username (INSERT USERNAME) into the referral field. Register now at www.rs-online.com/designspark/register #Engineering #Win
Facebook/Linked In
Would you like to win a Fitbit and a $500 RS Components voucher? You can also help me to win the same! To enter you just need to join me on the DesignSpark engineering community and put my username (INSERT USERNAME) into the referral field. You can then invite your friends to register and earn extra chances to win. Register now at www.rs-online.com/designspark/register #Engineering #Win
Email
Subject: We can win $500 of RS products and a Fitbit each! 
Hey
Have you heard about DesignSpark? It's an engineering community that I am a member of. I'd like to recommend that you join me too. We will be entered into a free prize draw to win a Fitbit and $500 worth of RS Components products each. 
It's completely free and you can download professional 3D CAD software and PCB design software too! It's part of RS Components and also provides model and data libraries, newsletters, podcasts, news, and support.
How do we enter? Well, when you register at www.rs-online.com/designspark/register you can say who referred you, so please put my DesignSpark user name (INSERT USERNAME) in the box. You can then send this to your contacts to grab more entries too!
It's a win-win for us both and it's totally free so there's nothing to lose, we could be the lucky winners.
Thanks so much, see you on DesignSpark soon!
***PLEASE FEEL FREE TO EDIT TO SUIT YOUR OWN PERSONALITY!***