Dave from

DesignSpark
How do you feel about this article? Help us to provide better content for you.

Dave from

DesignSpark
Thank you! Your feedback has been received.

Dave from

DesignSpark
There was a problem submitting your feedback, please try again later.

Dave from

DesignSpark
What do you think of this article?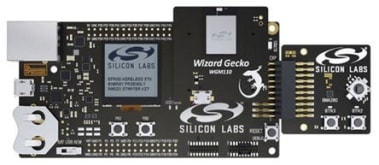 It goes without saying that the Internet of Things is all about connected devices.  But how are they connected?  Most often these are wireless connections and can include:
Bluetooth®
ZigBee®/Thread
WiFi®
Proprietary
Cellular
And variants thereof.  Each technology has differing capabilities and usages as seen below:
| | | | | | |
| --- | --- | --- | --- | --- | --- |
| Wireless Technology | Range | Bandwidth | Power | Network Size (Device Connections) | Usage |
| Wi-Fi | 30m | 54 – 1300 Mbps | High | 2 – 32 | Data, Audio, Video |
| Bluetooth Low Energy | 100m | 1-3 Mbps | Low | 2-7 | Audio, PC, Device |
| ZigBee/Thread | 160m | 250kbps | Low | 3 – 250+ | Automation and Control |
| Proprietary | Miles, Kilometers | 1 – 1000 kbps | Low | 2 – 100+ | Varies |
| Cellular | Miles, Kilometers | 5 – 12 Mbps | High | 1000's | Data, Voice, Video |
While Wi-Fi is often thought of for use in higher speed data transmission like connecting your laptop or mobile device to a home or office network, it is also a popular connection technology for IoT devices.  Why? Wi-Fi is well established, well understood and widely available.  Most consumers are very comfortable connecting a Wi-Fi device to their home network.  While in the typical use case, it is not thought of as low power, with proper consideration and design, it can be.
The Silicon Labs WGM110 Wi-Fi Module is an excellent example.  It is a fully integrated module intended for applications that require good RF performance, low power and ease of design integration.  It includes all necessary elements such as stack, HTTP Server, and multiple protocols such TCP and UDP. 
Like all wireless modules from Silicon Labs, it has a free and complete SDK that includes BGScript, BGAPI and BGLIB to ease application development, Further, the modules are pre-certified to help minimize standards conformance testing and costs.
Key features include:
48 MHz ARM® Cortex-M3
128kB RAM, 1 MB Flash
+16 dBm TX, -98 dBm RX Sensitivity
261 mA TX, 81 mA RX, 22uA deep sleep
UART/SPI/USB, 32 GPIO, 12-bit ADC, Timers
14.4 x 21.0 x 2.0 mm outline
Getting started is easy with the Wizard Gecko Starter kit:
Silicon Labs WSTK main board
WGM110 module
Extension board with buttons, sensors, joystick
Display
Full SDK
There are varied requirements in the market to deliver connected devices spanning connection technologies, hardware such as modules or SoC and software.  The Silicon Labs wireless portfolio offers these options and flexibility.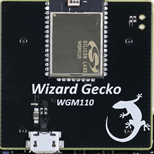 Click here for SLWSTK6120A Wizard Gecko WiFi Module Wireless Starter Kit 111-5839