Dave from

DesignSpark
How do you feel about this article? Help us to provide better content for you.

Dave from

DesignSpark
Thank you! Your feedback has been received.

Dave from

DesignSpark
There was a problem submitting your feedback, please try again later.

Dave from

DesignSpark
What do you think of this article?
Today I am going to discuss a very interesting topic with you, and the topic is none other than "Rapid Prototyping". Before having an in-depth discussion about rapid prototyping, I want to ask a simple question, do you know what is prototyping? So, we define a prototype as, 
"A prototype is a three-dimensional imitation of a product which helps us deduce the final outcome of our design and its functionality."
In short, you just simply ask yourself, "Do you want to know your design would be a hit or miss?" Just Prototype it!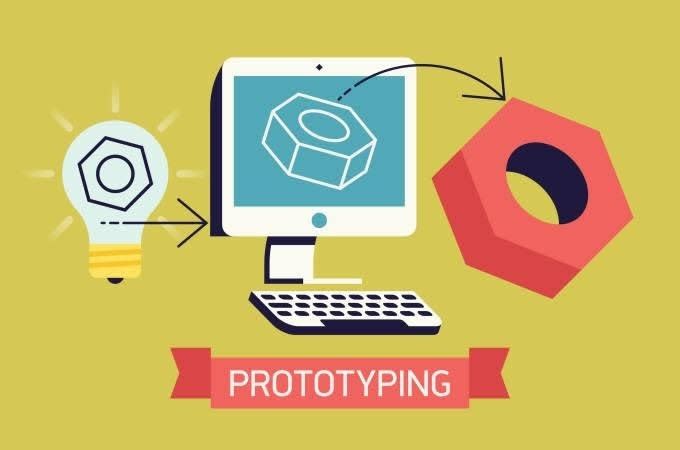 What is Rapid Prototyping?
Rapid prototyping is an immensely famous method of prototyping that includes different  steps and techniques, we would be  discussing  all of it  in  the  next  section, let's define rapid prototyping first;
"Rapid prototyping is a combination of different techniques which involves a step by step process; from making a computer-aided design CAD model, to a three-dimensional product"
We have now discussed the basic definition of rapid prototyping, so I will now explain the steps involved in the process of rapid prototyping.
Making a Computer-Aided Design or CAD Model
The first and foremost thing we do while rapid prototyping an object is making a three-dimensional model of the object or a part of the object that is being rapidly prototyped.
It can be done by using different software such as DesignSparks Mechanical, AutoCAD, Solid Works, Solidedge, Creo, CATIA, and Blender among many others.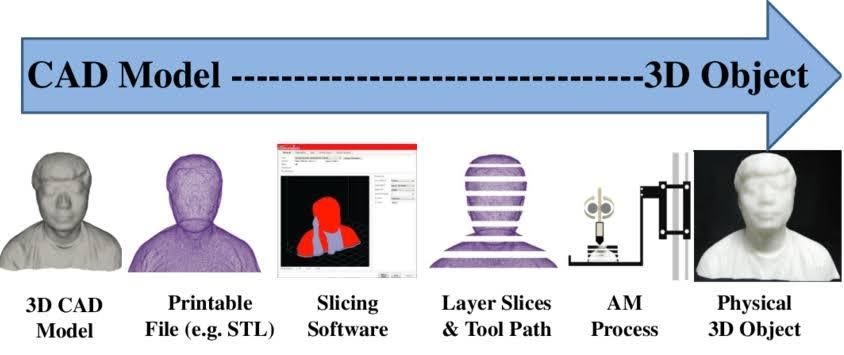 Approval of the CAD Model and choosing the best method for your rapid prototype
After making the 3D model of the object we need to rapidly prototype, we have to get it approved, after which our model is eligible to be 3D printed which is obviously carried out by a 3D printer!
Nowadays there are several types and techniques of 3D printing, we choose the one which suits us the best in terms of end product requirement and finances!
3D printing of the CAD Model
As we have discussed earlier, a suitable technique is chosen for rapid prototyping of our product, but one thing is common in all of the techniques, which is slicing and layering.
Slicing refers to the cutting of Computer-Aided Design into several slices, this process is carried out by a 3D slicer.
Layering refers to layer by layer deposition of the desired chosen material for the rapid prototype, the layers, later on, combine to make a single three-dimensional product.
A 3D printer requires to translate the CAD model into STL file format, after doing so, the process of slicing and layering starts, afterwards, combining all the layers into a single three-dimensional product marks the end of the process!
Procedures Used in Rapid Prototyping 
I hope, by now you have a clear idea about the process by which an object or a product is rapidly prototyped. Following are some of the techniques we use for rapid prototyping;
Selective Layer Sintering or SLS
Binder jetting
Material jetting
Selective Laser Modeling or SLM
Digital Light Processing or DLP
Stereolithography, SLA or VAT Photo Polymerization
Digital Light Processing or DLP
Laminated Object Manufacturing or Sheet Lamination
Industries Using the Process of Rapid Prototyping
Rapid prototyping is a very diverse method of prototyping and without any second thought or opinion, I can surely say it is almost present in every other industry we have.
Some of the operations which include rapid prototyping are;
The medical industry uses rapid prototyping in making artificial implants such as artificial limbs, teeth, and bones.
A building is rapidly prototyped first in form of a scalable model when it comes to large malls, Bridges, and commercial projects.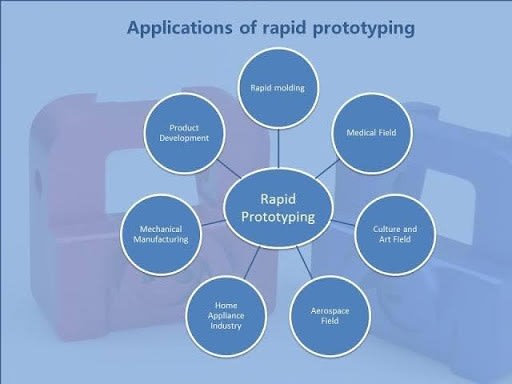 Imitation jewellery is also rapidly prototyped on large scale for production which is labelled as limited edition pieces among the consumers.
The automotive industry involves the mass production of rapidly prototyped parts used in cars and other automobiles.
Individual assembly parts can also be modelled with the help of rapid prototyping, there is no need to produce the whole product again if a certain part is broken or missing, isn't it amazing?
The aerospace industry also implies rapid prototyping, a part of an aircraft that used to be designed in years, now can be designed and rapidly prototyped in weeks and months!
Benefits of Rapid Prototyping
When rapid prototyping wasn't a thing, people used to work on a project for months and even years, just to discover at the end that their design was flawed or wasn't good enough, rapid prototyping came to the rescue and saved time, money and above all, it saved emotional investment of the young enthusiasts who were trying to bring something new to the market.
You can experiment with a variety of materials and designs when you are rapidly prototyping an object, it saves money and time. With the experimental analysis, you can choose the best one without going into mass production or large-scale development of a project.
Rapid prototyping is not only used in the 3D modelling of an object for attracting investors but it is also used for mass production of certain products, making the production process much cheaper and profitable for the company.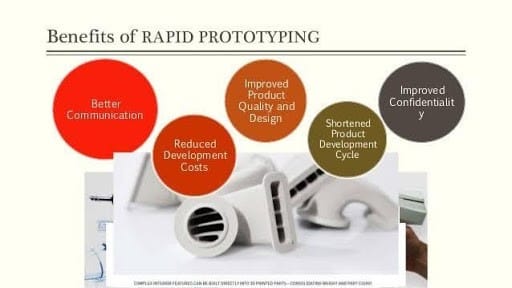 Limitations of Rapid Prototyping
Rapid prototyping can lead to unachievable expectations of the results regarding a product, in simple words, you can draw certain perspectives and dimensions in DesignSpark Mechanical, AutoCAD, Solidworks, but everything is not achievable in real life when 3D printing is carried out.
Our 3-dimensional world is far different from the real world and its dimensions, with the advancement in technology we can achieve the designs of 3D prototyped models to a greater extent but they can not be identical.
Material procurement and testing on a small scale when a product is rapidly prototyped can generate different results than the instance when the material is being used on a large scale.it can turn out to be fragile, unbuildable, or less cost-effective when used on large scale.
Post-processing is required in some of the techniques used in 3D printing, which can be a bit problematic sometimes.
Anyhow, the benefits, in this case, outweighs the limitations making the rapid prototyping process cost-effective, time-saving and profitable, what else do we need in this era!