Dave from

DesignSpark
How do you feel about this article? Help us to provide better content for you.

Dave from

DesignSpark
Thank you! Your feedback has been received.

Dave from

DesignSpark
There was a problem submitting your feedback, please try again later.

Dave from

DesignSpark
What do you think of this article?
What is NFC?
NFC or Near Field Communication is a type of RFID (radio frequency identification). You'll often get an RFID tag to open the doors in a hotel or office. It is an industry standard, defined in 2003 by NXP, Sony and Nokia. The first devices were launched in 2011.

NFC standards cover communications protocols and data exchange formats, and are based on existing RFID standards including ISO/IEC 18092 and those defined by the NFC Forum. NFC operates on the unlicensed RF ISM band at 13.56 MHz. Data rates range from 106 to 424 kbit/s. Theoretical distance is 20cm, most practical is 10cm, but most users "touch". For more information, see the not-for-profit NFC forum website http://nfc-forum.org/
NFC Technical Overview
NFC is a set of short-range wireless technologies, involving an initiator (or Poller) and a target (or Listener); the initiator actively generates an RF Field that can power a passive target. This enables NFC targets to take very simple form factors such as unpowered tags, stickers, key fobs, or cards. NFC peer-to-peer communication is possible, provided both devices are powered.
NFC tags contain data and are typically read-only, but may be writeable. They can be custom-encoded by their manufacturers or use NFC Forum specifications. The tags can securely store personal data such as debit and credit card information, loyalty program data, PINs and networking contacts, among other information. The NFC Forum defines four types of tags that provide different communication speeds and capabilities in terms of configurability, memory, security, data retention and write endurance. Tags currently offer between 96 and 4,096 bytes of memory.  Supported data rates are 106, 212 or 424kbp/s (the bit rate 848 kbit/s is not compliant with the standard ISO/IEC 18092).
NFC devices can be either passive or active:
Passive
The initiator device provides a carrier field and the target device answers by modulating the existing field. In this mode, the target device may draw its operating power from the initiator-provided electromagnetic field, thus making the target device a transponder. Passive devices include credit cards.
Active
Both initiator and target device communicate by alternately generating their own fields. A device deactivates its RF field while it is waiting for data. In this mode, both devices typically have power supplies, such as mobile phone and payment terminal.
NFC devices are full-duplex—they are able to receive and transmit data at the same time. Thus, they can check for potential collisions if the received signal frequency does not match the transmitted signal's frequency.
Applications for NFC
The most common applications are:
Contactless, cashless payment ("Tap-to-pay", "One-Tap-pay", "ApplePay", etc).
NFC is also being adopted in Identification: authenticity, inventory management;
Ticketing (e.g. direct delivery of ticket to smartphone);
Time and attendance recording;
Physical access (door entry by key fob, wristband, cards);
Secure log-in to computer systems;
Transportation (access, log journey and pay)
Local service information such as an active hub, or even a passive poster!  (such as maps, timetables, or even museum information).
How To Test If Your NFC Device Is Compliant
Keysight's 3000T InfiniiVision oscilloscopes support trigger functions on NFC-compliant waveforms. This is a unique and low-cost test solution for R&D engineers.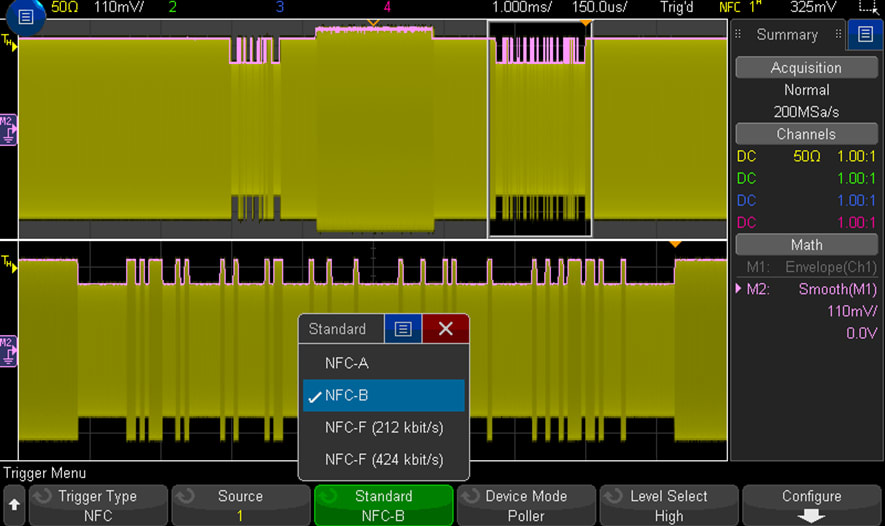 Example screenshot of NFC-B waveform
Keysight's DSOXT3NFC automated NFC test software provides thorough physical layer testing with fast throughput (although not complete conformance testing). It is a low-cost test solution that includes a broad range of the most critical tests to ensure quality and reliability. A PC controls a Keysight Trueform waveform generator to produce a variety of test signals based on various NFC standards, and then the response of the device is captured and measured on a Keysight InfiniiVision 3000T oscilloscope. The measured results are then compared against published NFC specifications for pass/fail conditions. The DSOXT3NFC software also provides complete report generation with statistical and margin analysis capabilities.
Keysight's automated NFC test software guides the user through selection and configuring tests, making the oscilloscope connections, running tests and evaluating the test results.
The software lets the user select individual or multiple tests, shows the user how to make connections to the test equipment and device under test based on selected connection type, automatically checks for proper test equipment configuration, automatically sets up the equipment for each test, provides detailed information for each test that has been run and lets the user specify the thresholds at which marginal or critical warnings appear and creates a HTML report of completed tests
The complete test system is based on the DSOX3014T (725-0454)
InfiniiVision X-Series Oscilloscope (100MHz, 4ch or higher), a 33512B Function/Arbitrary Waveform Generator,  a Poller/Listener/Calibration combo antenna/coil (Keysight or user supplied), Keysight automated NFC compliance and debug test application, call-able from user's test executive and an external PC, as shown in the picture below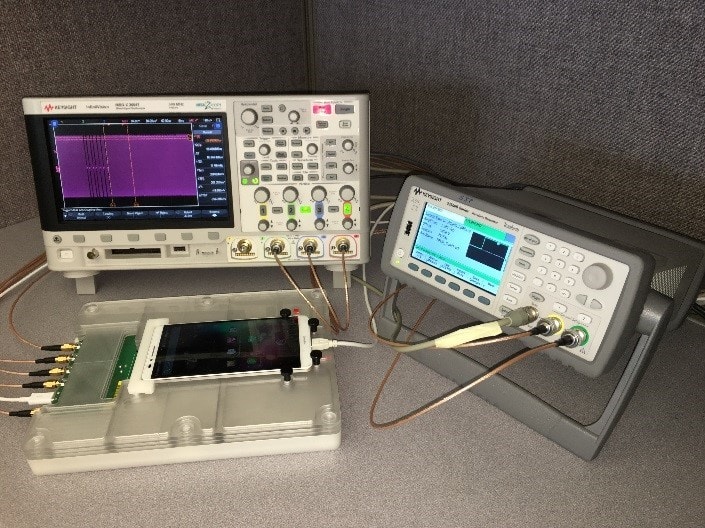 Test instruments: Oscilloscope, AWG, Antenna and DUT.
The strategy for R&D and production is to produce Pass/Fail tests, check functionality with parametric test results also being available within a test time target of less than 1 minute.
The major tests that are required by the NFC forum include:
Resonant Frequency Test
Where the scope captures envelope of swept frequency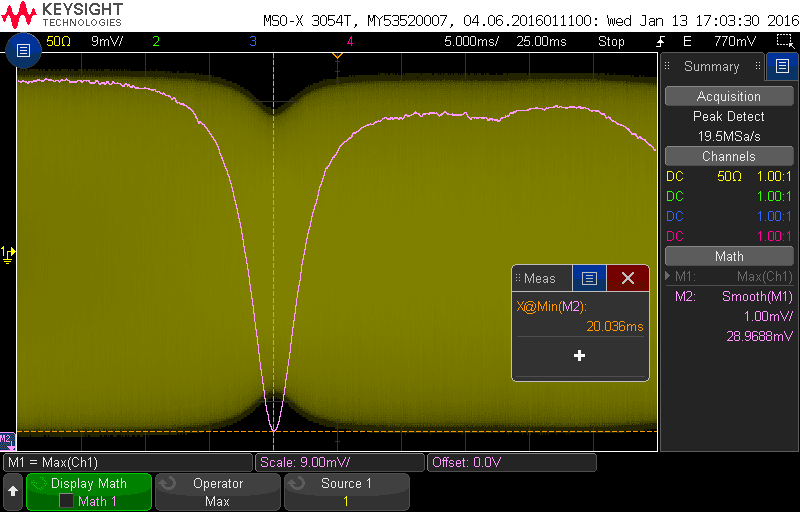 Resonant Frequency Test.
Poller Test
DUT Generates a Command and understands a Response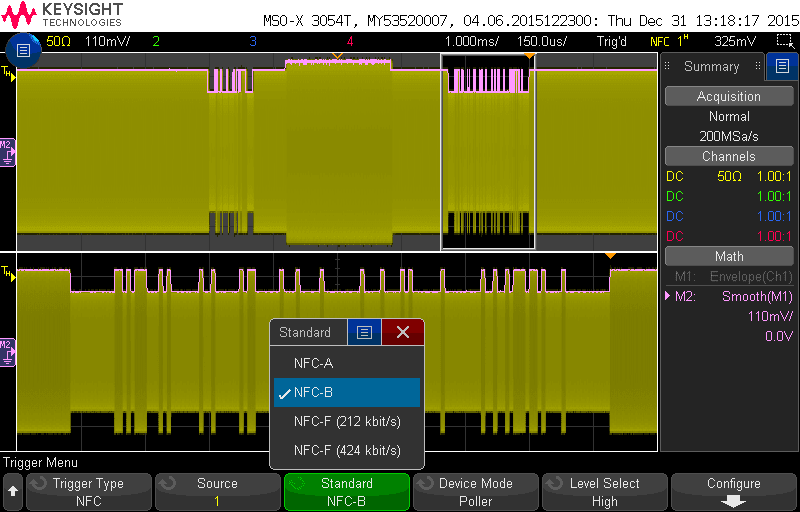 Poller Test.
Pass/Fail Listener Test
DUT Decodes a Command and generates a Response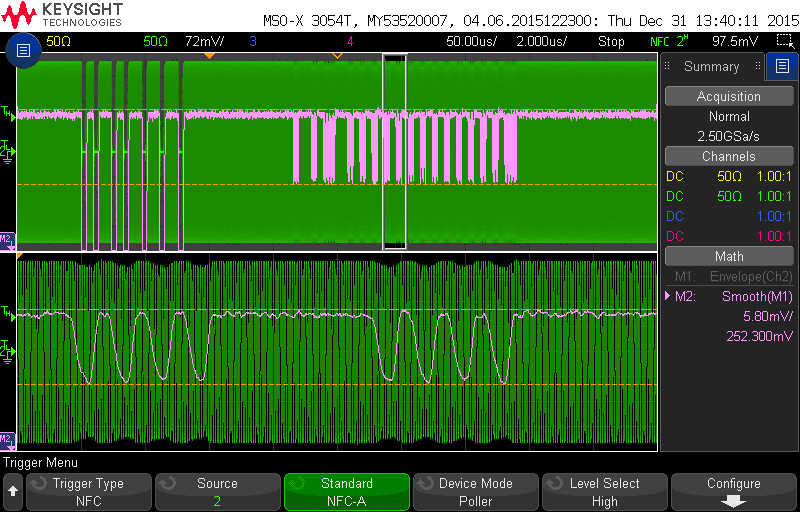 Pass/Fail Listener Test
Customers often have their own antenna, if not, Keysight manufacture Poller-3, Listener-3 size equivalents with Resonant Frequency Coil - with 5mm, 10mm or 15mm spacing. A diagram of the antenna and control arrangement is below: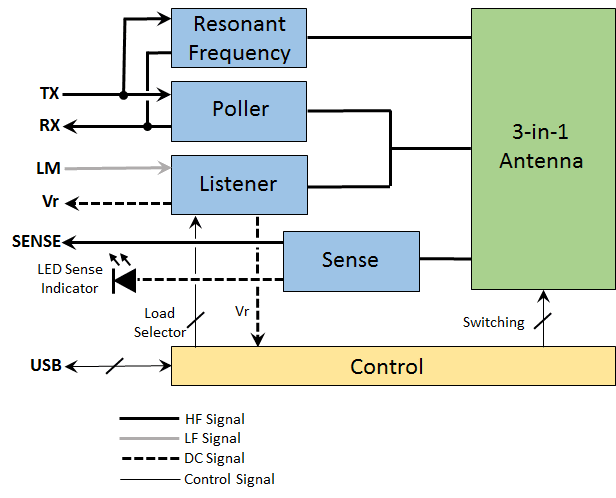 Block Diagram of Programmable NFC Poller/Listener Antenna
Getting Results
Once the NFC device is positioned within the test system, the user can define which specific tests they want to run and to which specifications (NFC A, B or F). All of the instrument configuration files specific to that test standard are then automatically loaded into the waveform generator and oscilloscope, the test is run and a report is generated. A screenshot of an example report is below: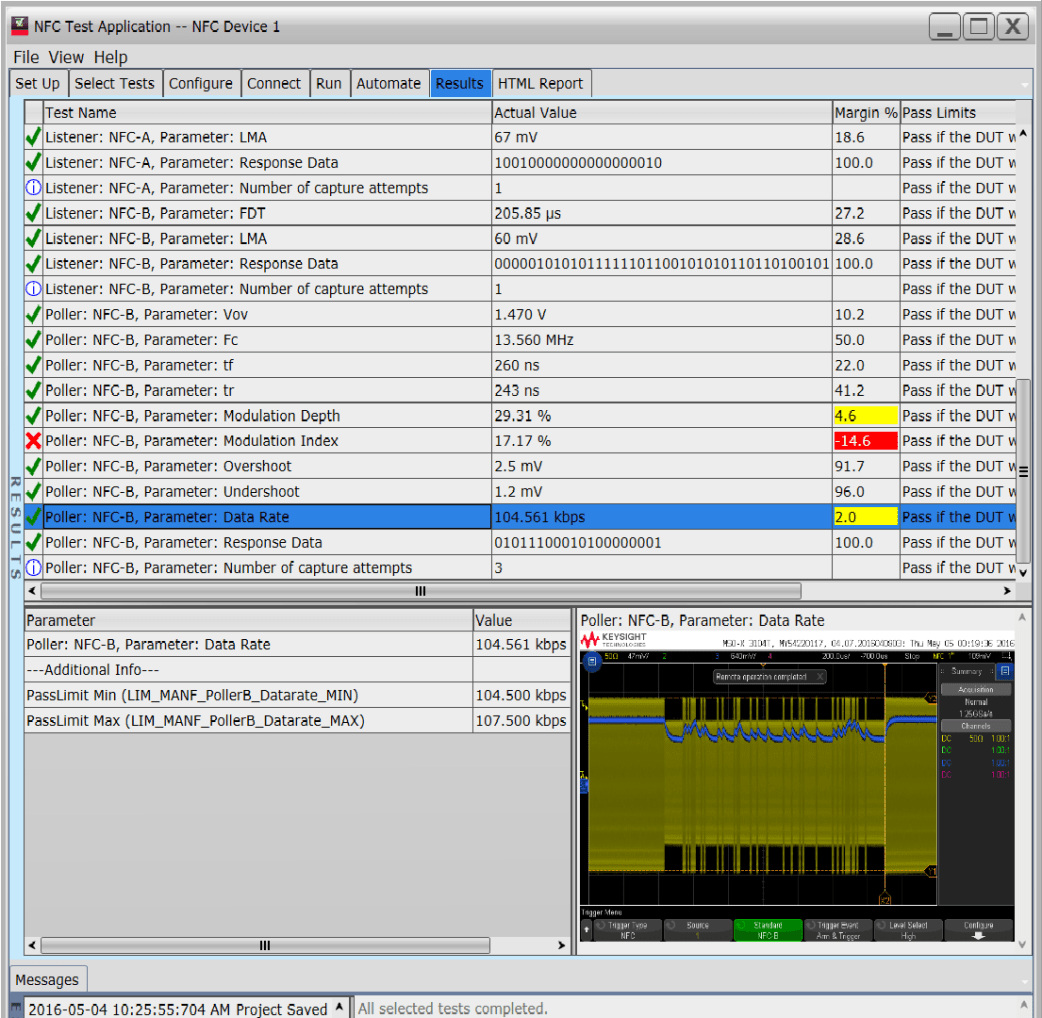 Example NFC Test Report. This lists the tests that have been performed with pass/fail and parametric results.
In summary engineers have for the first time a low-cost scope-based solution – much lower cost than a dedicated "one-box tester" – and with the added advantage that the instruments can be re-deployed for other tasks when the project is completed. It provides for a comprehensive test coverage for R&D, production and test.
All parts required for NFC testing are available from RS: