Dave from

DesignSpark
How do you feel about this tutorial? Help us to provide better content for you.

Dave from

DesignSpark
Thank you! Your feedback has been received.

Dave from

DesignSpark
There was a problem submitting your feedback, please try again later.

Dave from

DesignSpark
What do you think of this tutorial?
This tutorial requires:
DesignSpark PCB V11.0.0
When opening a project (*.prj) file using Open from the File menu, a Project window is displayed: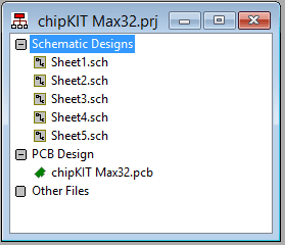 This project window gives you access to a range of options available at your fingertips.
Schematic Designs - This section shows the schematic designs in the project, each representing a different sheet of the whole design.
PCB Design - This shows the single PCB design that was created from the schematic sheets using the Translate To PCB option.
Other Files - This section lists other documents containing information relating to the project. Any document types apart from PCB or Schematic designs can be added, for example Word documents, PDF, Excel etc.
Simply click on the + or - icons to open or close the sections. To open designs for editing, double-click on the required file name. You can also double-click on any of the Other Files to open the file using the appropriate application.
You can right click on any of the file entries to access a small context menu with some options for operating on the files in the project.
Open - opens the selected file.
Remove From Project - takes the selected file out of the list of files that belong to the Project. The underlying file itself is not deleted.
Rename - change the name of the selected file in the project. You will be asked for the new name to use, and also whether you want to keep a copy of the original file.
Duplicate - make a duplicate (copy) of the selected file in the project. You will be asked for the new name to use. Note that you cannot copy PCB files as you can only have one PCB in a project.