Dave from

DesignSpark
How do you feel about this article? Help us to provide better content for you.

Dave from

DesignSpark
Thank you! Your feedback has been received.

Dave from

DesignSpark
There was a problem submitting your feedback, please try again later.

Dave from

DesignSpark
What do you think of this article?
About us
We are a team of dedicated students and alumni from the University of Warwick, committed to developing an original, innovative Tunnel Boring Machine.
Founded in 2020, we were successful in our first attempt at becoming 1 of 12 finalists out of 400 applicants (Top 3%) in the 2021 Not-a-Boring Competition hosted by Elon Musk's The Boring Company in Las Vegas; and this year, we placed 3rd in the finals of the second iteration of the Not-a-Boring Competition.
We have had a great response from the industry as a whole, with encouragement from British MPs, and sponsors such as BAM Nuttall and Bechtel as well as being published in Business Insider and documented on the BBC; and have recently been shortlisted for 3 awards from the 2022 NCE Tunnelling Festival and E&T innovation Awards!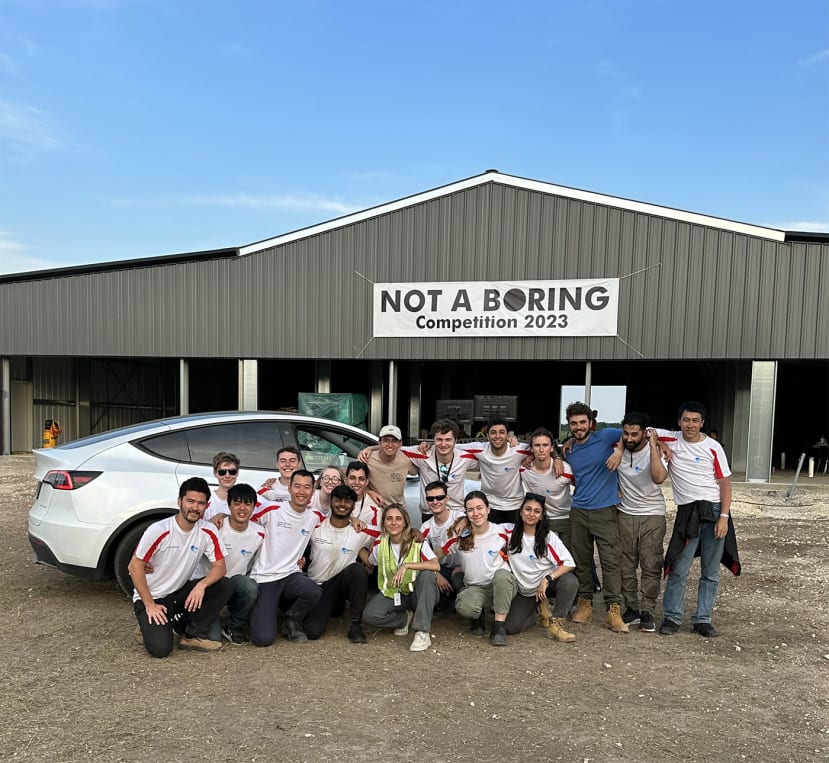 This year
For the 2023 Not-a-Boring Competition, we were once more successful in reaching the final round of the competition, and the only UK team to be invited. Between March 26th and April 2nd of this year, we competed against the other 5 finalists from around the globe at The Boring Company HQ in Bastrop, Texas.
Outside of our control, US Customs chose our cargo for a thorough inspection which caused delays. All other teams received their cargo on Sunday morning, whereas we received ours on Wednesday afternoon giving us half the time to prep our launch site and TBM. Despite this setback, after comprehensive functionality- and safety assessments by TBC staff, we were one of only three teams (out of 6 teams) to be given approval to launch our machine. Unfortunately, our Hydraulic Power Unit (HPU) had been irreparably damaged in transport, preventing us from launching on Saturday.
Nevertheless, we managed to pass 95% of all safety checks that are thoroughly carried out by The Boring Company's experts, due to the commitment and competency that the team demonstrated throughout the week.
None of these achievements would have been possible without the outstanding team-work and problem-solving of our young engineers, as well as constant collaboration with industry experts and suppliers. Our members showed strong commitment and a high sense of responsibility and shared accountability, which enabled us to perform under such difficult timing and operational constraints.
It also wouldn't have been possible without the support of our sponsors and partners, and we are particularly thankful for the product donations we received from RS Grass Roots during the year leading up to the competition!
Why tunnelling
As a team, we are striving towards a sustainable, accessible transportation system for all. Tunnels have a minimal impact at the surface, optimising space for other activities while reducing noise pollution and increasing air quality. As part of Elon Musk's vision, the loop is enabling 3D transport by building a network of underground tunnels, providing multiple layers and access points to buildings and services. With the world's increasingly congested roads causing pollution, reduced air quality and the rise of climate change, this will enable a more efficient system, saving individual's time along the way and preserving valuable land. Tunnelling development could also enable the Hyperloop network to provide high-speed transportation, working by a pod travelling in a vacuum-like tube, with minimal friction. However, to enable the fruition of both loop and hyperloop, the traditional tunnelling sector needs to be accelerated to permit faster boring.
Our future
We are delighted to say we have already passed the first stage of the 2024 Not-a-Boring Competition and are once again on our way to the finals of what will be the 3rd consecutive competition!