Dave from

DesignSpark
How do you feel about this article? Help us to provide better content for you.

Dave from

DesignSpark
Thank you! Your feedback has been received.

Dave from

DesignSpark
There was a problem submitting your feedback, please try again later.

Dave from

DesignSpark
What do you think of this article?

New value for control panels
The Control Panel is at the heart of all manufacturing faciltities. Any improvement in Control Panel design will result in a benfit for the facility also.
Improvements in panel building is one way to ensure industrial processes remain effective and cost efficient.
Omron introduce their Value Design for Panel concept. This marks a real turning point in panel building. By improving and unifying panel products, Omron are able build-in greater efficiency and productivity in this sector. Omron sets out the panel evolution by way of new products, wiring techniques and technologies, giving control panel manufacturing one huge leap forward.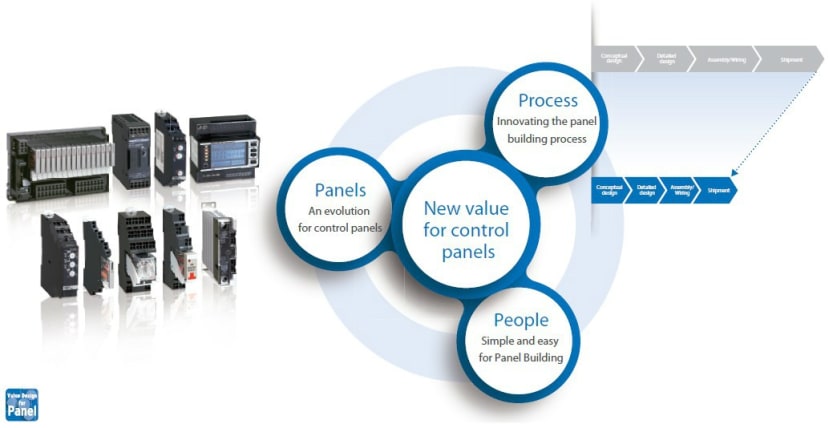 Panels : an evolution for control panels
Process : Innovating the Panel Building Prosess
People : Simple and easy for Panel Building
Panels
Space saving
With the new slim versions, more devices can be mounted in the space available, thus increasing the control panel functionality without the need of larger cabinets. This is ideal for retro fitting, or similarly, allowing for a more space-conscious design, whist giving a much more uniform appearance.
Reduce dead space
By using unified modules with all the same height, the dead space between wiring ducts and module is dramatically reduced.

Vibration resistance
Terminal blocks with push-in plus technology allows you to set up panel wiring without the need of any tool and most importantly without any further retightening. Push-in plus terminal blocks can accept a wide variety of cable, with or without terminations, holding them strongly and securely, creating a robust control panel.  
Faster wiring
The combination between push-in plus terminal blocks, and the unified and redesigned I/O terminal position reduces the overall wiring effort by up to 60%, thus giving greater time savings for installation. The clear division of the INPUT from OUTPUT terminal helps prevent connection failure and improves the panel building efficiency.

People
Easy wiring
Terminal blocks with push-in plus technology are as easy as to insert as an earphone jack, but they are also designed to hold cables firmly in place. The spring inside the terminal block has indeed been designed and manufactured to ensure low push in effort but high pull-out force. Push-in terminal blocks have also been designed to have a front wire release system. By holding a screwdriver in place, operators can now work with both hands free, greatly reducing installation time and increasing process efficiency.

Value Design for Panel product family
Value Design for Panel certified articles include a wide array of different products and modules which will make it easy to design and build a panel fitting to almost any requirements.
You can find them all very soon from RS Components
DesignSpark Related Articles