Dave from

DesignSpark
How do you feel about this article? Help us to provide better content for you.

Dave from

DesignSpark
Thank you! Your feedback has been received.

Dave from

DesignSpark
There was a problem submitting your feedback, please try again later.

Dave from

DesignSpark
What do you think of this article?
Introducing the team
This year was The University of the West of England Formula Student team's 9th year bringing a car to the competition, having competed in Class 1 since 2014. The season began with the aim of building the successes that led to last year's best-ever finish of 6th place. The focus for 2022 was to refine and build upon the strengths of the UWEFS7 while bringing an added emphasis on maximising handling and reliability.
The team is run as a society through, the student's union, and so the member base is composed of students studying various degrees, including mechanical, aerospace, electronics, robotics, business, media, product design, history, and zoology.  This gives us access to a wide variety of skills and interests beyond that of just engineering students.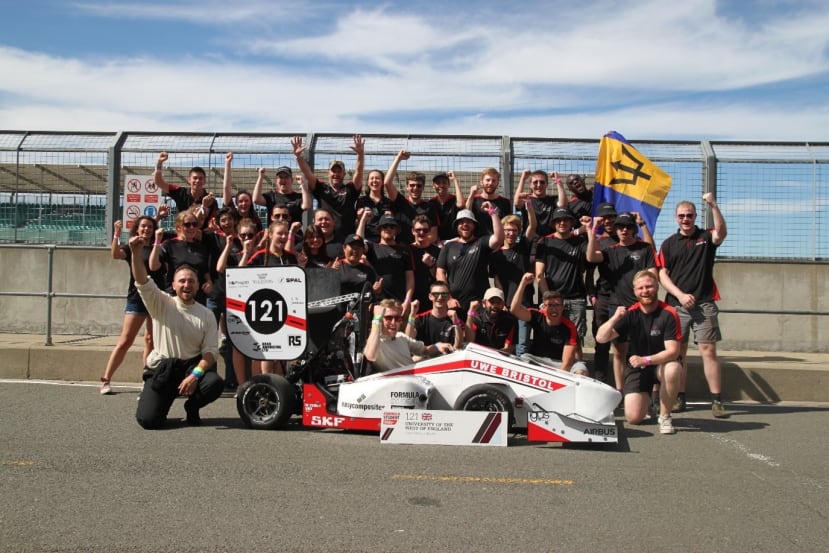 Journey to FSUK 2022
This year posed many challenges, mainly stemming from the lockdowns.  The team entered FS UK 2021 in the 2nd year vehicle class, which meant there was limited experience, amongst team members, in making a completely new car.  There were also acquirement issues in getting things like new wheels.  Despite these hurdles, we managed to create a car which we could take testing.
We had multiple days of testing in the weeks leading up to the comp.  All of which produced issues to be solved, but after weeks of work, and many late nights, we had a running car which could compete at Silverstone. 
We passed the scrutineering on Friday and were ready then to take on the dynamic events on Saturday and Sunday.
Improvements
Our focuses this year have been reliability, driveability, and weight reduction. This year's car is lighter than last year's by roughly 10 kg.  We've also spent more time tuning the ignition timing of our Triumph 675 Street Triple, meaning our overall power-to-weight ratio has increased.
In order to improve our drivability, we incorporated a quick shifter and slipper clutch. This increased the confidence in our drivers and meant we were about to get more out of the car.
The car also came with an overhauled electronics system, enabled by the generous support from RS Components. This new loom was manufactured with a focus on usability and reliability. This meant moving the engine control unit to a more accessible position, which made problems easier to diagnose.
FSUK Results
This year was our best result at FSUK, including another win, this time in the business presentation event.  The team scored solid points in Saturday's dynamic events, coming 3rd in the skid pad, 4th in the sprint, and 7th in the acceleration.  The drivers skilfully navigated a cooling issue in the 25-degree heat to bring the car home and lead the team to a new best finish of 2nd overall (1 point ahead of 3rd place).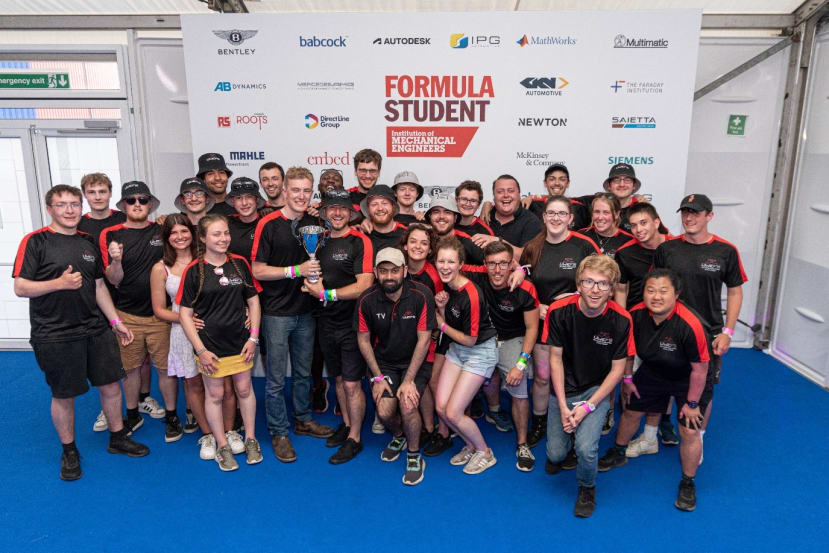 Future plans
After coming 2nd, our next goal is to win FSUK, and place respectably in international competitions.  We plan to do this by continuing to improve on the previous year's car, saving weight, getting plenty of testing, and winning the static events.  We plan to do this with the continued support of our sponsors, which without their backing, our results this year would not have been achievable.
Follow us on:
Instagram: https://www.instagram.com/uwe_formula_student/
Facebook: https://www.facebook.com/uweformulastudent/
Twitter: https://twitter.com/UWE_FS