Dave from

DesignSpark
How do you feel about this article? Help us to provide better content for you.

Dave from

DesignSpark
Thank you! Your feedback has been received.

Dave from

DesignSpark
There was a problem submitting your feedback, please try again later.

Dave from

DesignSpark
What do you think of this article?
Upgrading the electronics on a machine to make it more efficient often focusses on PLC's, maybe the HMI, the drives and sensors but leaves electromechanical components untouched. But installing the right contactors can also help to improve energy efficiency.
The drive to save energy
Countries around the world have committed to reducing emissions of carbon dioxide and greenhouse gases by around 33% within 10 years, so manufacturers are under pressure to reduce the energy they consume during production, driven at least in part by legislation introduced by the government.
Different countries have different reasons for needing to save energy. Energy-saving targets are now common in most industrialised nations, with penalties for failing to hit them. Even if industrial producers don't need to comply with legislation at a national level they also always be under pressure to save costs, and cutting energy consumption is one way of doing that. A few kilowatt-hours saved adds to the bottom line in dollars, euros, or whatever the local currency is.
Don't forget the contactors
So what actual changes are those manufacturers making out on the plant floor?
Usually, when engineers and facilities managers consider improving energy efficiency in a plant or a machine, they might typically look at large equipment that obviously consumes big amounts of energy - the air conditioning or heaters or big motors. They'll then invest in a new process or drives to reduce and to optimize energy consumption with the aim of improving productivity at the same time.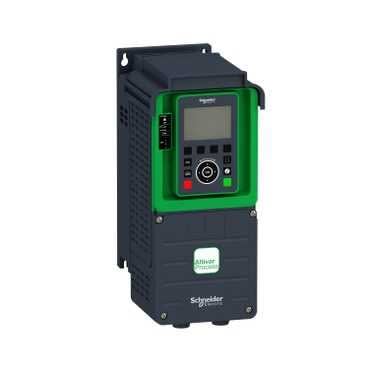 Schneider Electric estimate that Altivar Process Variable Speed Drives can reduce energy usage in machinery by up to 30%
But energy efficiency doesn't just stop with this larger equipment. To generate real savings it's important to consider everything, even components that are usually not visible.
The right contactor can help you reduce energy and cost! Fewer components … continuous power.
Usually, contactors are electromechanical and are often overlooked when a machine is being upgraded. Engineers will focus on upgrading logic controllers, HMIs, drives, and sensors but will forget the smaller electromechanical components and these often get left untouched.
To save on energy costs, it is sensible to consider upgrading the contactors at the same time as other equipment, and whether it's an upgrade or new build, to install the latest and most energy-efficient technology.
For instance, contactors can now benefit from electronic coil control which makes them up to 80% more energy efficient than some traditional electromechanical AC or DC contactor coils. Clearly, changing a single contactor isn't going to save you heaps of energy, but if an industrial plant has machines with thousands of them in, the sheer volume will generate savings that soon begin to add up.
There are other ways in which contactor technology can help you save. Importantly, newer contactors often require fewer materials, making them more eco-friendly, and older contactors need an interface relay to connect to the controller and its inputs/outputs (I/O). New generation contactors have a higher rating which allows a direct I/O connection, which again reduces the number of components needed.
And reducing consumption and components has a knock-on effect: transformers and DC power supplies can be smaller; cabinet fans can be smaller because less energy is consumed and less heat is given off.
Schneider TeSys D Green contactors are part of the company's eco-friendly Green Premium line, which is RoHS compliant, and designed and manufactured to comply with strict industry standards
The latest generation of electronic control coils reduces the number of standard parts required by a factor of 10 when compared to electromechanical contactors and with only four voltage codes, you cover from 24v to 500v in AC or DC voltage, helping to simplify the supply chain and other procurement requirements. Reduced inventory, easier maintenance, and lower costs.
Last, but by no means least, when power supply unreliable and goes out, or if a dip in voltage causes a contactor to open, if a contactor opens up, the machine stops. Restarting wastes valuable time and energy. The way to avoid such problems is to adhere to SEMI F47, a certificate for immunity to voltage sag.
Schneider offers a full range of contactors, safety relays, power supplies that meet the voltage sag immunity SEMI F47 requirements so help factories make equipment more reliable and more productive.