Dave from

DesignSpark
How do you feel about this article? Help us to provide better content for you.

Dave from

DesignSpark
Thank you! Your feedback has been received.

Dave from

DesignSpark
There was a problem submitting your feedback, please try again later.

Dave from

DesignSpark
What do you think of this article?
As our first unboxing video of 2021, DesignSpark presents the onsemi RSL10 Mesh Platform (203-9029) based on ultra-low-power RSL10 Bluetooth Low Energy system-in-package module. 
The development kit enables the implementation of Bluetooth Low Energy (BLE) mesh networking, which is an integral part of various applications, from home automation and asset tracking to predictive maintenance.
The kit consists of two RSL10-based mesh nodes with multiple environmental sensors present on the board, a Strata Gateway node, which enables connectivity to the Strata Developer Studio™, three USB cables and a ring magnet.
To power the nodes, you can use a battery or power directly from a 5V rail by adjusting the location of the jumper across a 4-pin header. If you choose the first option, make sure to select the battery from the recommended list provided in the user guide.
Let's have a look at the different components of this platform a bit more closely.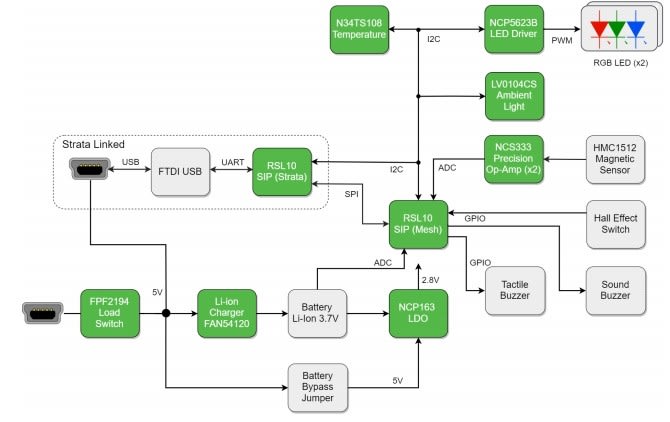 RSL10 SIP
Starting with the RSL10 system-in-package, as you can see it is a heart of the mesh nodes as well as a gateway node. The SiP itself integrates RSL10 radio system-on-chip, antenna and all passive components. The chip is based on Arm® Cortex®−M3 Processor and a 32-bit DSP Core. It supports Bluetooth low energy technology and 2.4 GHz proprietary protocol stacks all while not compromising on power consumption and size.
Sensors
Moving on to the sensors, each mesh node has N34TS108 low voltage, digital-output temperature sensor with a dynamically-programmable limit window, and under- and over-temperature alert functions.
Next is the LV0104CS ambient light sensor that comes in a very small package and has characteristics similar to that of human eyes.
Both of these sensors use I2C serial communication protocol to communicate with the RSL10.
The third type of sensor present on the mesh nodes is Honeywell's HMC1512 magnetic field sensor that utilises the principles of Anisotropic magnetoresistance or AMR for detection of rotational movement which is useful for implementing functions such as dimming within the IoT environment, followed by onsemi NCS333 chopper-stabilized op-amp to amplify the signal from the sensor.
Lastly, the mesh nodes contain omnipolar MLX90248 Hall effect switch sensor from Melexis that can detect the presence of the magnetic field applied on the device.
Indicators
The mesh node also features several dual LEDs and corresponding RGB LEDs with 5-bit current-controlled dimming through NCP5623B as well as 2.4 kHz tone indicator. Optional tactile buzzer from Adafruit can be added using the reference designator J2.
Power & Battery
The platform can be powered either from a 5V rail or battery controlled by a bypass jumper. FPF2194 load switch is used for overcurrent protection. The board contains FAN54120 Li-ion single-cell battery charger with a fixed float charge voltage of 4.2V and NCP 163 LDO regulator.
| | |
| --- | --- |
| Battery Type | Li-Poly/ Li-Ion Single Cell |
| Battery Capacity | 70mAh - 1250mAh |
| Float Charge Voltage | 4.2V |
| Nominal Voltage | 3.7V |
| Connector | JST-PH |
| Protection Circuit | Required |
In the video above, we will run a few demonstrations in the Strata Developer Studio and discuss some of the scenarios when the features of RSL10 Mesh platform can be implemented.