Dave from

DesignSpark
How do you feel about this article? Help us to provide better content for you.

Dave from

DesignSpark
Thank you! Your feedback has been received.

Dave from

DesignSpark
There was a problem submitting your feedback, please try again later.

Dave from

DesignSpark
What do you think of this article?
This Spectrum Analyser software transforms a sub $200 SDR receiver into a low-cost Windows/USB-based Spectrum Analyser for the lab. Up 'till now, the higher spec (12 or 14 bit ADC ) USB-based SDR receivers have proved very handy for spectrum views of any chunk of spectrum of several MHz bandwidth. But having the capabilities of a real spectrum analyser has until now been harder to obtain.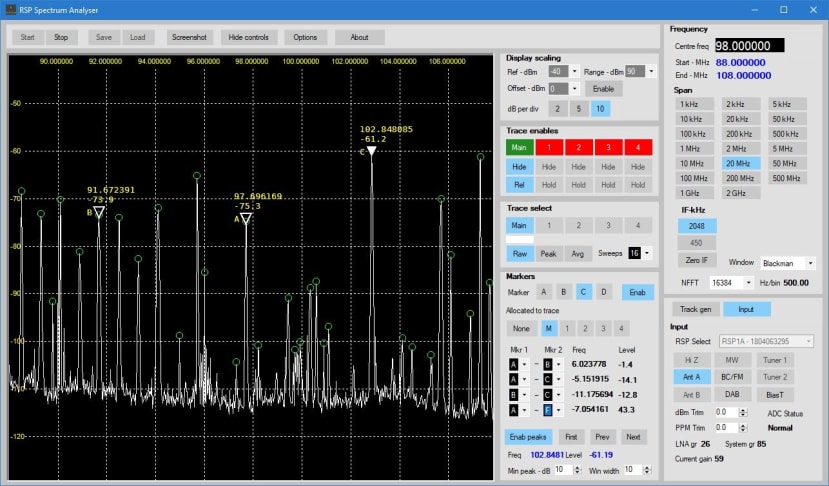 This Spectrum Analyser software has been developed by Steve Andrew specifically for the RSP line of SDRs. This is a very much upgraded version of the original alpha release and includes many new features as well as removing the limitations imposed on the previous version. New features include multiple traces, a versatile marker system with maths, peak find and display functions, Zero or non-Zero IF options and an upgraded tracking generator system. Currently supported are all the SDRplay SDRs which are:
RSP1 (no longer available, yet still supported with this software)
RSP2 RS item: (124-9619)
RSP2pro RS item: (125-7958)
RSP1A RS item: (150-3954)
RSPduo (single tuner mode) RS item: (174-7945)
Steve writes " It's  been a bit long in arriving but I hope you think the wait will have been worthwhile. The response to the original version was quite gratifying and certainly spurred me on to get a much-enhanced version completed. This new release includes many new features as well as removing the limitations imposed on the previous version."
Full details of this new software and where to get documentation and the software itself can be found here:  https://www.sdrplay.com/spectrum-analyser/