Dave from

DesignSpark
How do you feel about this article? Help us to provide better content for you.

Dave from

DesignSpark
Thank you! Your feedback has been received.

Dave from

DesignSpark
There was a problem submitting your feedback, please try again later.

Dave from

DesignSpark
What do you think of this article?
With modern industrial machinery progressing, the number of sensors required to boost their performance has increased. They have to survive in increasingly harsh environments, placing more of a demand on connectors.
At the same time, almost every application that communicates and uses data anywhere in the world is connected using optical fiber. A combination of rugged sensors and optical networks is being driven by the needs of the evolving factory automation systems. The next generation of automation and the Internet of Things (IoT).
Sensors are now required more on production equipment, communication masts, and bridges, continuously transmitting data to the cloud, monitoring electronic systems' performance – part of IoT and Industry 4.0. Connectors in these systems are also now being used in the harshest conditions whether that be indoors or outdoors, buried underground or submerged underwater.
Sensors to measure distance, humidity, and temperature           
An increasing amount of sensors are being embedded in equipment. From photoelectric for measuring humidity, temperature, proximity, and distance, these sensors are being designed to send data to and from the cloud. These feed data back through networks of bridges and gateways, fieldbuses and repeaters channelling all this data will most definitely require fiber-optic connections.
Using a light transmitter and a photoelectric receiver, photoelectric sensors, in particular, can be used to detect distance, presence or absence of an object. To give an example, some photoelectric automation sensors can be used to detect objects up to 40mm away.
Saving some space
Reducing the number of devices in the equipment, these new sensors eliminate the need for a reflector or receiver; this makes the sensor sub-system smaller. Fitted into harsh environments, a water and dustproof seal is imperative. Robust casings that can withstand physical impact are also vital.
Both inside and outside of the factory, temperature and humidity sensors provide more data about the performance of industrial machinery. Smaller and more robust sensors can be embedded and designed into key places within the equipment. This can help flag up potential problems ranging from higher temperatures to excess condensation.
In order to be effective, these sensors have to be connected to local gateways that connect back to the cloud. This is where fiber links have become increasingly popular as they are not affected by electric fields that fluctuate in these environments.
The need to protect delicate optical fibers
A standard fiber connector is not sufficient enough for these gateways, this means measures have to be taken to protect the optical fiber from moisture and other foreign bodies. To keep the local gateway small and aggregate the data from multiple sensors, compact connectors are needed but these connectors also need to survive harsh environments.
Several types of rugged connectors for optical links are available, but these have to offer standardized connections in IoT and Industry 4.0 applications so that specialist equipment and engineers are not needed to terminate the connections.
Bulgin's sealed standard fiber interface connectors are UV and salt spray resistant as well as being sealed to IP68 and IP69K. These connectors are capable of being immersed in up to 10m of water for up to two weeks and these IP ratings mean the fiber is protected from dirt and dust and extreme temperatures.
Protection from water, dust, shock, and temperature are all key considerations for both connectors and sensors in the next generation factory automation and the Internet of Things. Being able to aggregate sensor data is a fundamental part of the new Industry 4.0 systems. This is enabled by compact, rugged sensors with reliable; secure connectors all linking back to the cloud.
Bulgin's slimline photoelectric sensor range provides a cost-effective and flexible solution, with high levels of mechanical and electrical stability.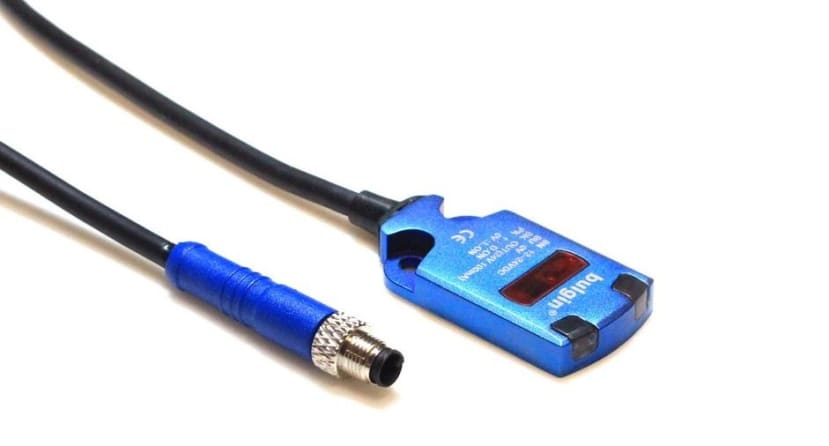 Bulgin Photoelectric Sensor
Simple and secure design enables a watertight and dustproof seal to any standard M5 interface. The sensors are made with a robust Stainless Steel 316 case, sealed to IP67, making them well-suited to manufacturing and industrial automation operations.
Product codes: SLLP3002M5 (187-4861) , SLDP3002M5 (187-4862) , SLLN3002M5 (187-4863) , SLDN3002M5 (187-4864) , SLLP4002M5, SLDP4002M5, SLLN4002M5, SLDN4002M5, SLLP3002CL (187-4865) , SLDP3002CL (187-4866) , SLLN3002CL (187-4867) , SLDN3002CL (187-4868) , SLLP4002CL, SLDP4002CL, SLLN4002CL, SLDN4002CL
For more information, visit https://www.bulgin.com/en/products/range/sensors.html