There's so much you can do with a low cost SDR Receiver
Follow article
We can thank radio amateurs and other wireless hobbyists for bringing about the availability of low-cost software-defined radio receivers. It was they who recognised the potential of taking a relatively crude USB radio/TV scanning dongle and using it to explore more of the RF spectrum.  
Over the last few years, SDRplay has built on the14-bit ADC technology from Mirics Semiconductor, to provide a series of rugged general coverage receivers all of which operate seamlessly from 1kHz to 2GHz. This has been achieved by designing numerous high-performance bandpass and notch filters all of which can be controlled by SDR software. All these radios need is an antenna and a USB cable to connect them to a computer which runs the SDR software and provides power.
There are currently 3 production models of SDRplay RSP (or Radio Spectrum Processors) as shown in the comparison table below.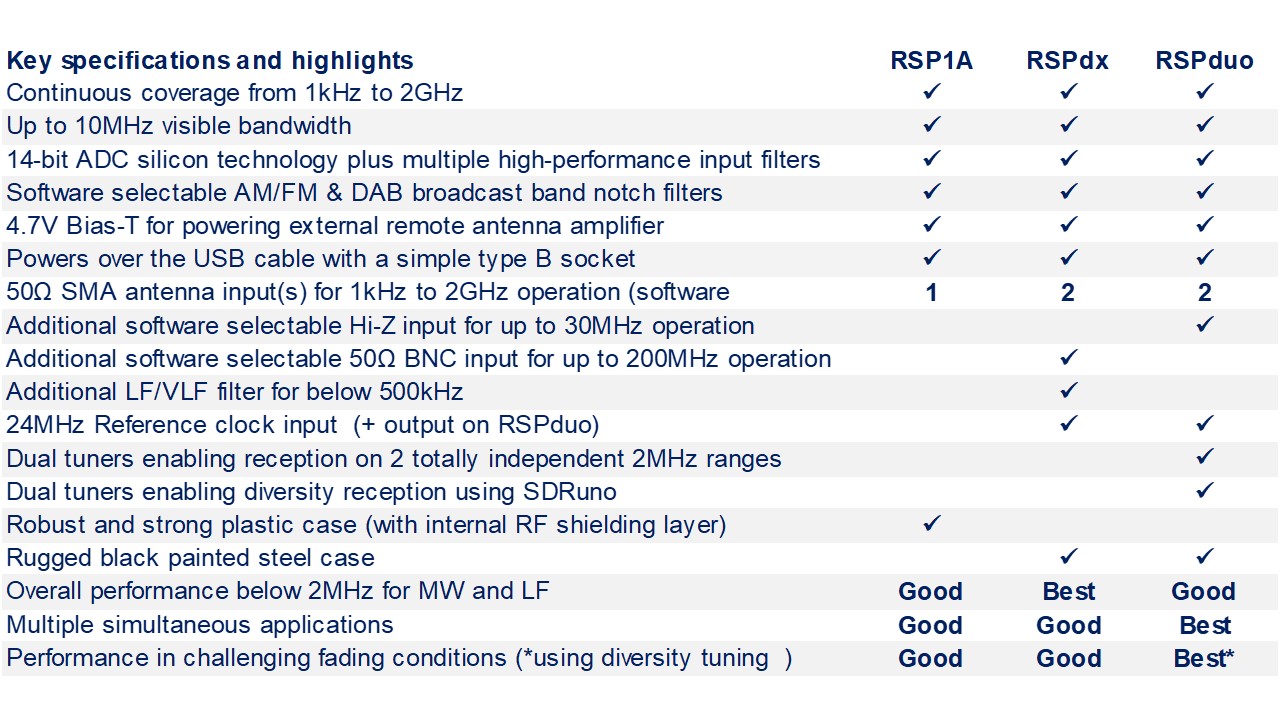 SDRplay provides its own windows-based SDR receiver software call SDRuno. Built into SDRuno is all the functionality you would expect in a modern communications receiver including demodulators for the most popular forms of audio decoding. There's also an integrated scanning function and most importantly a calibrated RF power measuring facility complete with the ability to record measurements over user-selected time periods to create a .csv file for further charting or data processing. 
The most noticeable difference when comparing an SDR receiver to a traditional one is the ability to actually see the chosen spectrum of interest – up to 10MHz at a time in the case of these RSPs. Software selectable antennas enable practical coverage of all frequencies from VLF to UHF and microwaves.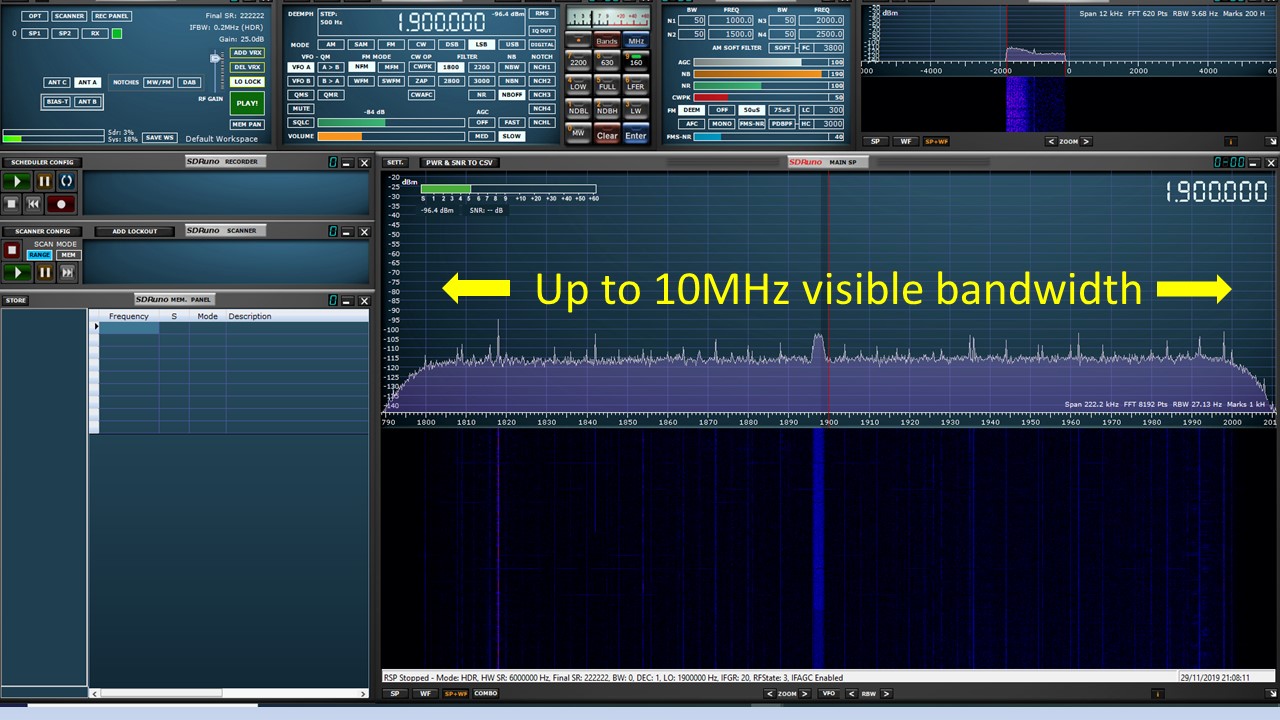 Above: Showing SDRuno SDR software as it appears on a windows PC display
Full documentation for SDRuno can be found here:  https://www.sdrplay.com/docs/SDRplay_SDRuno_User_Manual.pdf
The spectrum display within SDR software like SDRuno provides a real-time graphical display of the spectrum being looked at. It's great for seeing and measuring absolute signal levels, antenna comparisons, hunting sources of interference and so on.  However, a traditional spectrum analyser has additional sweep, sample and hold functions which require dedicated software – this is what has been provided by an Australian named Steve Andrew who has this currently working for all RSPs apart from the new RSPdx ( this should become available in 2Q20). For more  about the Spectrum analyser software, go to www.sdrplay.com/spectrum-analyser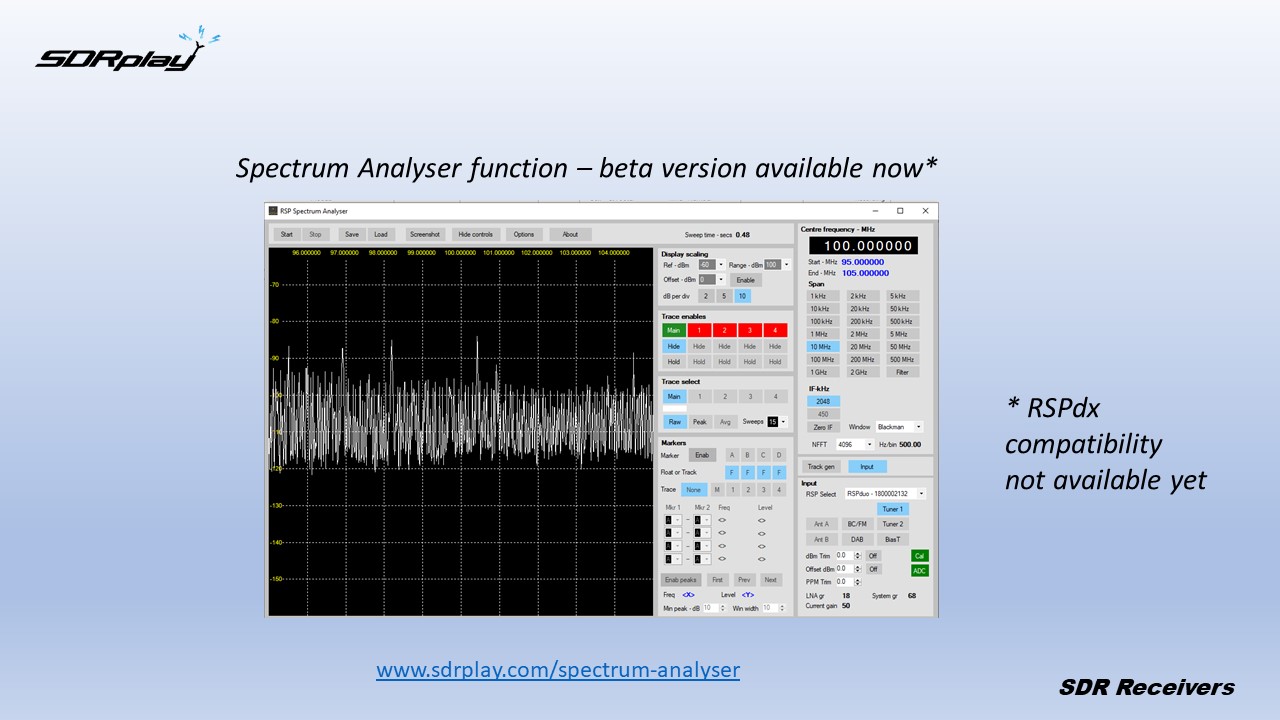 Regarding the newest member of the RSP family, The RSPdx is a replacement for the highly successful RSP2 and RSP2pro SDR receivers, which have been extensively redesigned to provide enhanced performance with additional and improved pre-selection filters, improved intermodulation performance, the addition of a user-selectable DAB notch filter and more software selectable attenuation steps. The RSPdx, when used in conjunction with SDRuno a special HDR (High Dynamic Range) mode for reception within selected bands below 2MHz. HDR mode delivers improved intermodulation performance and fewer spurious responses for those challenging bands. SDRuno and SDR-Console for windows, fully support all features of the RSPdx in all modes. The EXTIO plugin (for applications like HDSDR) and the SoapySDR library (for applications like CubicSDR) support the RSPdx (excluding HDR mode).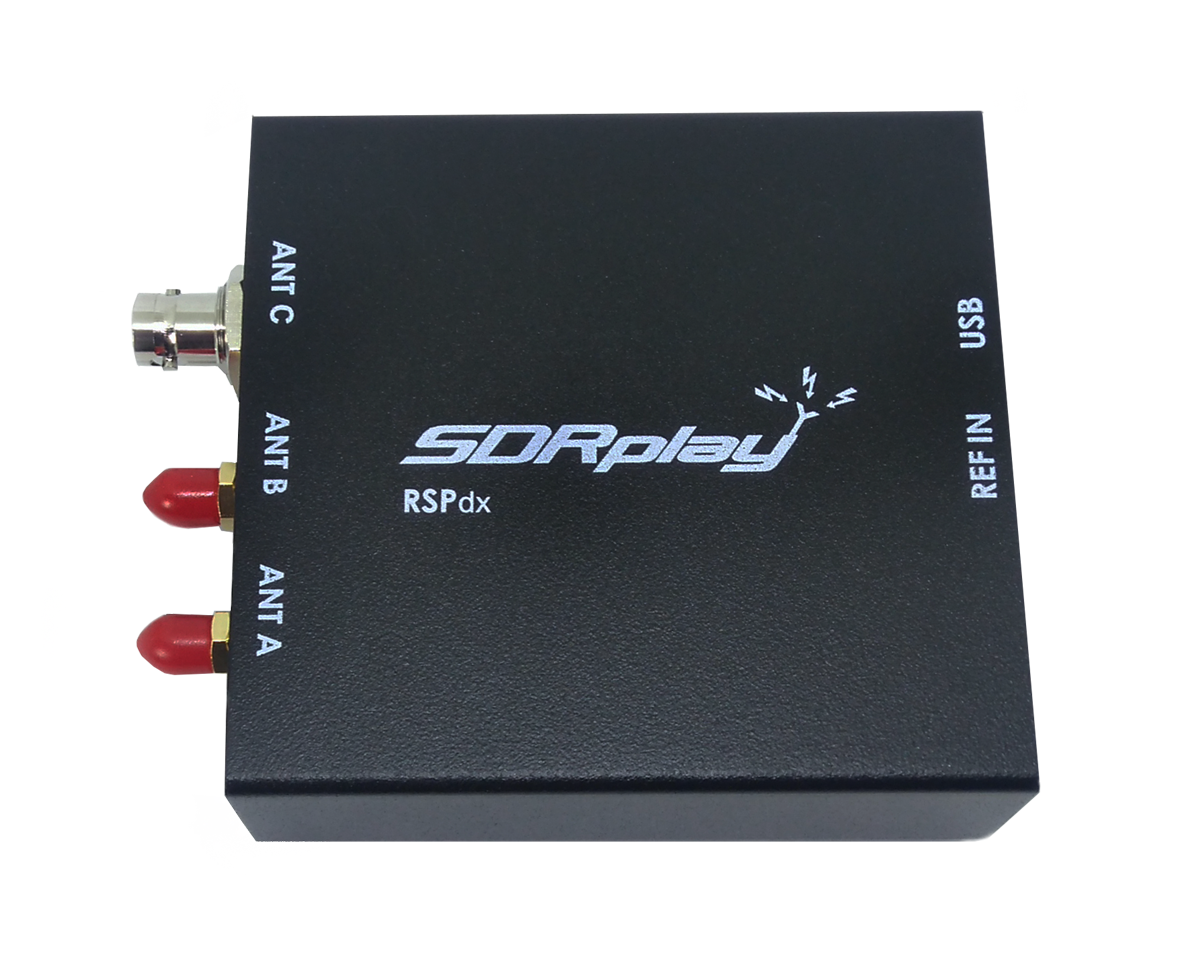 Above: The RSPdx, the newest member of the SDRplay family of SDR receivers
The datasheet can be found here: https://www.sdrplay.com/rspdx/ 
Here's a list of the applications for which an RSP can be used:
Amateur
Shortwave radio listening
Broadcast DXing (AM/FM/TV )
Panadaptor
Aircraft (ADS-B and ATC)
Slow Scan TV
Multi-amateur band monitoring
WSPR & digital modes
Weather fax (HF and satellite)
Satellite monitoring
Geostationary environmental satellites
Trunked radio
Utility and emergency service monitoring
Fast and effective antenna comparison
Industrial
Spectrum Analyser
Surveillance
Wireless microphone monitoring
RF surveying
IoT receiver chain
Signal logging
RFI/EMC detection
Broadcast integrity monitoring
Spectrum monitoring
Power measurement
Educational/Scientific
Teaching
Receiver design
Radio astronomy
Passive radar
Ionosonde
Spectrum analyser
Receiver for IoT sensor projects
Antenna research
Finally, there are many technical people using Linux for all sorts off development projects, where they just need a reliable wideband SDR receiver function as a subsystem – here is a link to useful information about SDRplay API support for Linux users: https://www.sdrplay.com/some-guidance-for-linux-and-gnu-radio-users/
More links for where to get help:  Software and Documentation can be found within the 'Downloads' pages on the SDRplay website – go to https://www.sdrplay.com/downloads/    - this is being updated regularly. Newer products like the RSPdx may not immediately have so much 3rd party software available as it takes time for developers to update their software for compatibility. Please check specific availability if you are not wanting to use SDRuno for Windows. 
There's a searchable catalogue applications help and user-guides on https://www.sdrplay.com/apps-catalogue/  
There are even more links to useful SDRplay related uses on the SDRplay YouTube Channel: https://www.youtube.com/c/SDRplayRSP
Comprehensive support is offered directly by SDRplay which is a British company with engineers in both the UK and USA: https://www.sdrplay.com/support/ 
All the RSPs are available to buy from RS Components:
RSP1A:  (150-3954)
RSPdx:  (193-5621)
RSPduo:  (174-7945)
Why not take the chance to win the newest addition to the offer, the RSPdx:  (193-5621) by taking part in our easy to enter February Giveaway, DesignSpark #LoveElectronics.