Dave from

DesignSpark
How do you feel about this article? Help us to provide better content for you.

Dave from

DesignSpark
Thank you! Your feedback has been received.

Dave from

DesignSpark
There was a problem submitting your feedback, please try again later.

Dave from

DesignSpark
What do you think of this article?
By Ka Ming Kim, CHAU | Pak Yeung, CHAN | Ka Lam, CHAN
To take care of a pet properly, pet training and discipline are important. It includes the meal time should be regular and the amount of food should be fixed in each meal. Moreover, a pet should start eating only when its owner gives a command. However, Hong Kong people are always busy and it is very time-consuming to do the training. Currently, there are some pet feeding machines on the market (e.g., automatic feeders, traditional smart feeders, spins, and two-meal feeders) but they cannot provide pet training properly (see Figure 1). In this project, a smart pet feeder is proposed to provide pet training and discipline (see Figure 2a). It can recognize some actions of a pet (e.g., sit properly) and feed the pet if the actions can be recognized. Thus, the pet has been trained to take the actions and it can get the award (i.e., the meal) if it can do them properly. The recognition is done by AI (Artificial Intelligence) recognition with TensorFlow in Python. A camera is placed on the top of the feeder and it is connected to a Raspberry Pi. The camera captures the image and sends the image to the Raspberry Pi. The Raspberry Pi recognizes the image to identify whether the pet is sitting or not (see Figure 2b). If it is sitting, the food lid opens and the pet can eat the food (see Figure 2c). A business plan and a price comparison with existing competitors are also provided by the team (See Figure 3).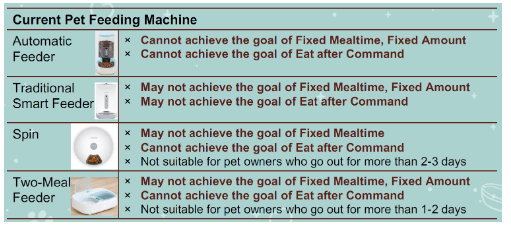 Figure. 1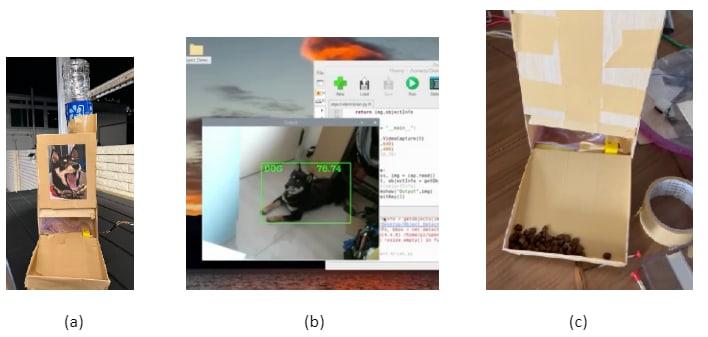 Figure. 2
Figure. 3
The demonstration video is shown below.
Comment by judges: The team can present the idea properly. However, the product does not look good and the outermost shell can be much better. There are some suggestions for further improvement.
The design of the case can be much better. It is not a good idea to make it with paper. The material can be plastic. Moreover, the operation of the food lid is not very well.
The recognition feature is reasonable. But the team cannot prove that it works in other dogs too. Moreover, there is no proper procedure for users to build the recognition by themselves.
It is much better if the case can store a large amount of the dog food and it can allocate a fixed portion of the dog food to a dog each time.
No setting is provided for users to set up the product. It seems everything is hard-coded.