Dave from

DesignSpark
How do you feel about this article? Help us to provide better content for you.

Dave from

DesignSpark
Thank you! Your feedback has been received.

Dave from

DesignSpark
There was a problem submitting your feedback, please try again later.

Dave from

DesignSpark
What do you think of this article?
Imagine what the fundamental of a project is? It's always the small, or smallest part possible. As an equipment designer, engineer or technologist, it rarely comes to mind that they need to pay attention to cables and wires. What mostly concerned them might probably be the insulation colours, number of conductors, the gauge and the voltage rating. However, as a fundamental and important start, cable is critical to all applications and failure should not be an option when it comes to the safety of your equipment.
Selecting the correct cable for your application is essential to overall system reliability, performance and safety, at the same time, they should be available in different size and construction so that you can always focus more on your design than spending time picking the cable. In addition, customers' awareness for material safety are raising and so as the environmental friendly attributes. That raises the strong wishing of the design of what it's called "smaller solution".
What is a smaller solution?
A smaller solution to the bigger problem is to how to integrate a smaller and lighter cable into a big application. Here comes the EcoCable Mini. It was developed in response to the need for 300V cable. With the better performance and minimum impact, EcoCable Mini uses its mPPE insulation and jacketing to provide application advantage in a smaller, lighter cable. Its size makes routing and installation even easier, saving more time during production and maintenance. Even more convenient, it is available in over 250 standard configurations including four shielding options.

Benefits of using EcoCable Mini?
The exact benefits you can get from using an EcoCable Mini is sound.
They are up to 32% smaller and 44% lighter
They are halogen free and fully recyclable (But NOT low smoke)
They have lower outgassing than PVC (Up to 92% lower!)
They can be for communication applications
They are low in specific gravity
Their temperature range from -40C to 80C
Their bend radius are 10X Cable Diameter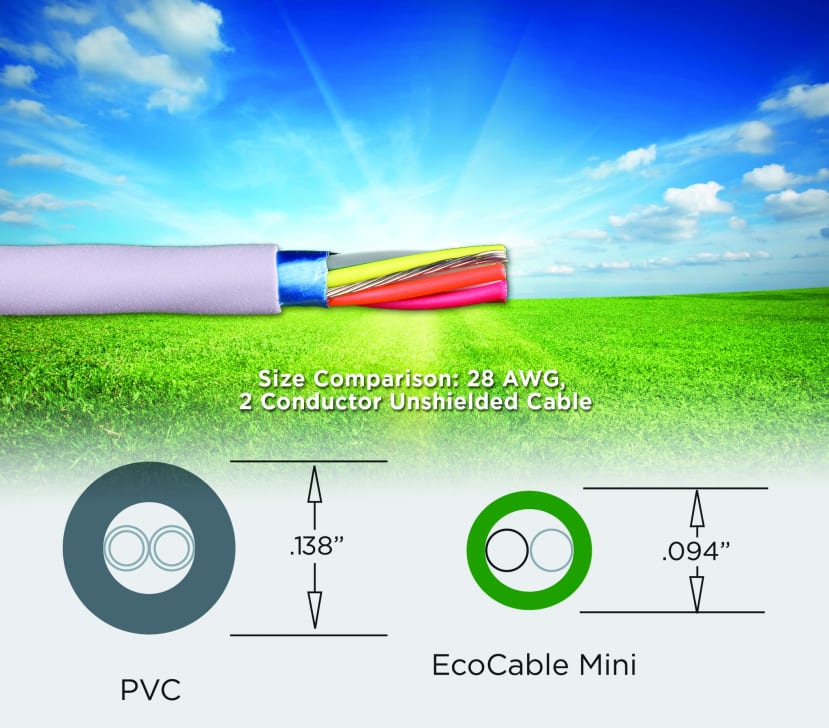 While they can be widely used in different industries, the core applications go to:
 

Medical

Selecting the right cable and wire solutions when designing the latest medical devices is paramount to ensuring that your products continue to earn a reputation for quality, reliability, and performance.

 
 
 

Semiconductor

From wafer handling to packaging, Alpha Wire can help you make semiconductor equipment faster, more reliable, and easier to maintain.

 
 

OEMs

Continuous uptime requires reliable, high-performance material handling equipment. Modern material handling systems are flexible, intelligent, and capable of combining speed wtih efficiency. The right cable can affect reliability and uptime by ensuring robust connectivity and maximum signal integrity. Alpha Wire products elevate production from ordinary to high performance.