Dave from

DesignSpark
How do you feel about this article? Help us to provide better content for you.

Dave from

DesignSpark
Thank you! Your feedback has been received.

Dave from

DesignSpark
There was a problem submitting your feedback, please try again later.

Dave from

DesignSpark
What do you think of this article?
Technological improvements, new products and ideas triggered a significant trend reversal in automotive lighting. The results of which will continue to manifest themselves in the coming years. The functions of light are changing from pure illumination to an emotional design element.
Light is becoming an integral element of interior design and is increasingly included in the vehicle design language. Classic functions of light are merging into large-scale applications that flow seamlessly into one another. The technology behind them is literally receding further and further into the background. In many places, the light sources are designed in such a way that they either couple out relatively inconspicuously via light guides or are "hidden" behind decorative parts made of a wide variety of materials. When not illuminated, they are often concealed behind largely opaque materials. Very powerful LEDs, however, can shine through these.
The human eye can perceive even the smallest differences in colour. Therefore, homogeneous lighting of the interior is essential.
Picture: OSRAM
New technologies bring light into motion
In static applications, elongated light guides are often used where light is coupled in from one or both sides and then, coupled out as homogeneously as possible over the length of the light guides. In addition, there are solutions where RGB LEDs are closely placed next to each other with linear light point arrangement. The wide colour and brightness range of TOPLED® E1608 from ams OSRAM (search TOPLED E1608 on RS to see the full range locally) is the ideal component for this application. Each LED in the chain illuminates a defined section of the application surface. This makes it possible to use the light points in a spatially-resolved manner. This enables dynamic functions in which not only the light colour but also the light position can be controlled, opening countless application possibilities.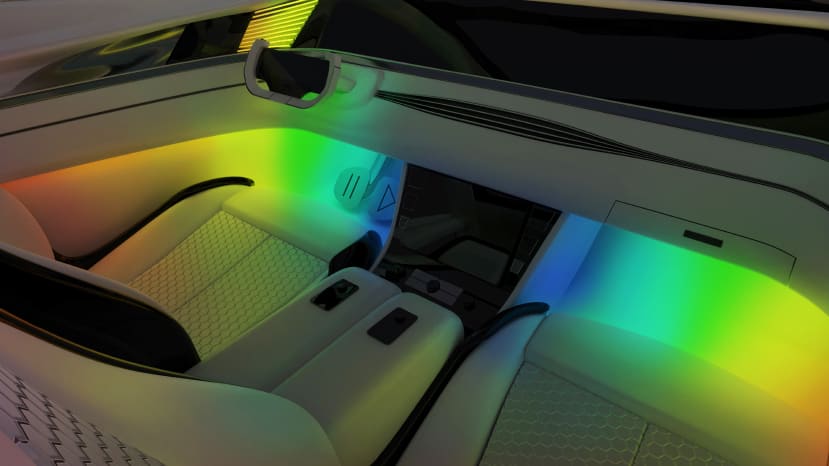 In addition to design aspects, coloured, dynamic lighting solutions can also make a major contribution to greater safety in the vehicle. RGB LEDs span a very wide colour space and thus enable a wide range of design possibilities.
Picture: OSRAM
Various studies have shown that the focus can also be directed in a specific direction by a light spot or a light sequence in the area of peripheral vision. With a dynamic light strip running just above the windshield, the driver can be alerted to the location of a hazard. This gives the driver extra reaction time because he or she does not have to look for the danger. This function plays a central role in semi-autonomous vehicles.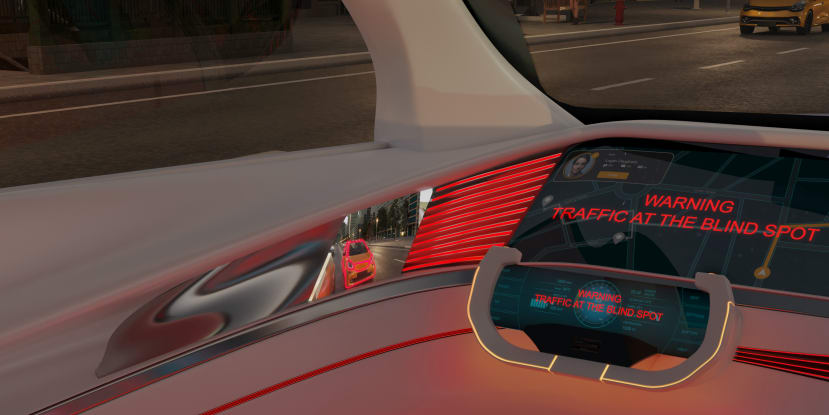 The latest technological possibilities can specifically control the driver's attention and thus, for example, direct his or her gaze back to the traffic scene.
Picture: OSRAM
The driver can also be shown where to focus his or her attention in less critical situations, including visual support of the navigation system.
In addition, initial studies also show that symptoms of motion sickness can be alleviated if a dynamic, visual effect replicates the movement detected by the inner ear.
Light creates emotion
The colour of light is associated with different emotions. In the morning, on the way to work, colder, invigorating effects help. In the evening, a more warm, relaxing colour is probably preferred in the vehicle interior. There is data that shows the targeted use of certain wavelengths, especially blue, influences the melatonin balance and the circadian rhythm of humans. However, this requires a comparably high dose of light at a specific angle and over a relatively long period of time. Functions such as these are technically possible. Whether it makes sense to integrate them into vehicles will become clearer in the coming years and will depend to a large extent on the corresponding usage scenarios. For example, will customers be willing to pay for these functions or if the psychological effect of a light colour would be the better choice?
With the increasing integration in or behind trim parts, the available installation space must also be considered. Very small systems are needed to minimize the amount of wiring on the board. RGB LEDs with integrated driver and communication functions, which are used in a simple daisy chain, are ideal here. These can be individually controlled via an appropriate protocol. For this purpose, it is possible to use interfaces to the standard vehicle bus and run the special LED protocol on the LED side.
Last, but not least, the colour is expected to appear identical in every light spot. Production tolerances for the RGB chips, the light guide and trim materials pose particular challenges for the technical implementation of the system. The ability of the human eye to detect even the smallest colour differences must also be considered. On the LED side, this problem can be solved by transmitting the colour and brightness values measured in the final inspection to the system for very accurate colour matching. Each OSIRE® E3323 from ams Osram (search OSIRE E3323 on RS to see the full range locally) has an individual "data matrix code" on the top of the housing, which allows access to the respective measurement data during production of the system.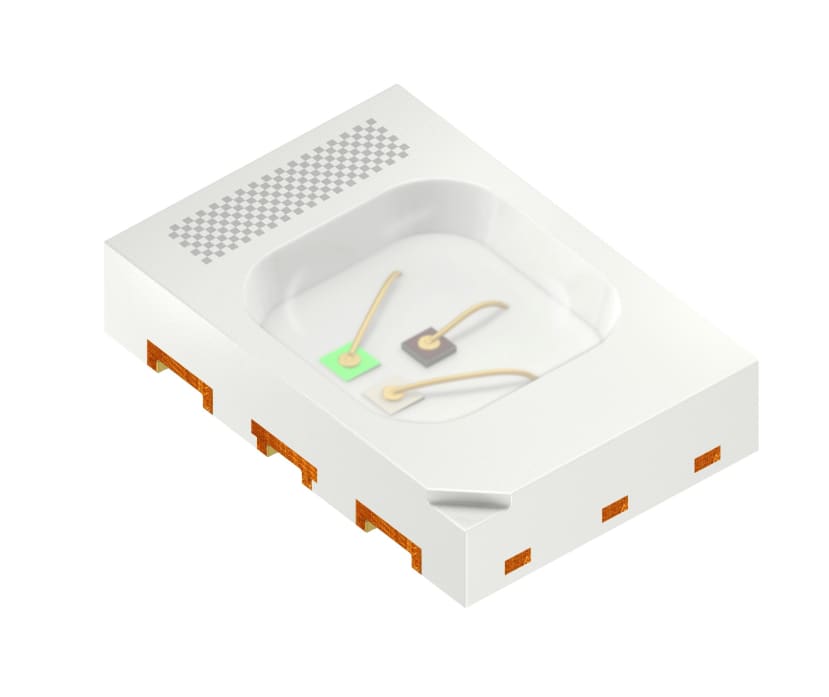 RGB LEDs such as the OSIRE® E3323 allow extreme design freedom and, thanks to a special data matrix code, make it easier to read out important measurement data for system design.
Picture: OSRAM
The countless possibilities of colour selection via RGB, in combination with the very good colour rendering of white LEDs, allow previously undreamed-of design ideas. But light will also play an essential role beyond colour. The visualization of information on displays will continue to develop, for example, towards more organic shapes integrated into the design. The backlighting of displays will play an essential role here because it ensures good legibility and rapid perception of information by the driver.
The current pandemic has brought another important aspect to our attention. Hygiene is indispensable, especially in ride share. Here, too, light - even if invisible to the human eye - will help: Disinfection of air and surfaces by means of UV-C radiation is a promising approach. It is clear that the number of light-based applications in and around vehicles has been rising steadily for years - and this trend will continue for some time.
Summary:
In general, it can be expected that design, technology and networking with the passenger will become more seamless. For example, the displays, which today still often appear as foreign objects, can be fluidly embedded in the design and gently transferred into the ambient light of the surrounding trim parts via lighting effects. Operating elements will also be further integrated into the materials and design, with backlighting playing a central role in their localization.
What does this mean for the system architecture in the vehicle? As in other areas, the popular, but ageing LIN bus is reaching its limits. With a transmission rate of 20 kBit/s and a very manageable number of bus nodes, there are limits to creativity and the time-critical display of location-resolved warning displays. Therefore, these functions also meet the trend to rely on CAN-FD with up to 8 Mbit/s, FlexRay with 10-20 Mbit/s, or even Ethernet in the future as a bus system that should offer a sufficient transmission rate with several hundred Mbit/s for many years. However, it will certainly be challenging to control these functions almost in real-time, synchronously and without noticeable latency.