Dave from

DesignSpark
How do you feel about this article? Help us to provide better content for you.

Dave from

DesignSpark
Thank you! Your feedback has been received.

Dave from

DesignSpark
There was a problem submitting your feedback, please try again later.

Dave from

DesignSpark
What do you think of this article?
TOPLED® E1608: The new low power LED standard for automotive interior lighting
More than 28 years ago TOPLED® was launched by OSRAM Opto Semiconductors as the worldwide first LED in SMD technology. This was the start of a successful path of a new LED standard, followed by a numerous of SMD packages like Power TOPLED® and Advanced Power TOPLED® to cover most of the automotive interior traditional and exterior signaling applications. These LEDs revolutionized the Automotive interior world and were improved over and over with newest chip and package technologies to the needs of the applications. The desire to provide smaller packages with lower profile without sacrificing the light output compared to the TOPLED® package increased over the time encouraging the engineers at OSRAM Opto Semiconductors to come up with TOPLED® E1608 about three years ago. And again, this LED package is becoming the new standard for automotive as well as industrial applications.
Over the last three years, this LED has been improved in terms of robustness, colour variety and intensity. Meanwhile TOPLED® E1608 is AEC-Q102 qualified making it an outstanding candidate for most of the traditional automotive applications and beyond. Main area of these applications is cluster backlighting, button backlighting and meanwhile also ambient lighting. In the future of autonomous driving era more are more applications are required using small size LEDs for more and better information exchange between car and human for interior as well as exterior field.
With an emitting area of only 0.6 x 1.23 mm applications with space restrictions can be covered particularly in combination with light guides. This is important for slim light indicator designs as well as pixelation features.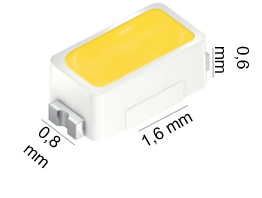 Picture © OSRAM: TOPLED® E1608 (1.6 mm x 0.8 mm x 0.6 mm) LxWxH
A thin light guide can be designed using an array of these LEDs with a gap of 1.7 mm between the LEDs. This results to a uniform and extremely bright backlight unit. For a white backlighting with a light guide of 20 mm width, it means a luminance of over 35.000 cd/m² with LEDs positioned at one side of the light guide along its length. Other shapes can also be realized for different applications, i.e. round for ambient or map lighting.
Picture © OSRAM: TOPLED® E1608 for shallow light guide/ trim slot width ≥ 0.8 mm
TOPLED® E1608 white portfolio at RS Components
Due to the small package size of TOPLED® E1608 a monochromatic matrix display with any colour can be designed with a pixel pitch as close a 1.3 mm. This is possible by positioning the LED with a 45° rotated angle.
Picture from OSRAM: Matrix Display using TOPLED® E1608
Another advantage of the small size of TOPLED® E1608 is the flexibility to offer multi-colour solutions for tunable ambient lighting. The most common configuration for a multi-colour solution is the combination of the colours red, green and blue, because it allows to cover a large colour gamut. Depending on application requirements suitable combinations of the available colours and brightness levels can be chosen.
TOPLED® E1608 color portfolio at RS Components
Blue - (203-4957)
Ice Blue - (203-4962)
Green - (203-4959)
Pure Green - (161-1886)
True Green - (203-4972)
Yellow - (203-4984)
Orange - (203-4964)
Red - (203-4968) , - (203-4966)
Super Red - (203-4970)
A significant advantage is that different colours can be added to hit specific colour points with higher accuracy or just make colour adjustment less sophisticated. This is for example the case when you add white light. The combination below shows how simple a RGBW LED can be realized at a size smaller than a PLCC2 package using four of the TOPLED E1608 packages.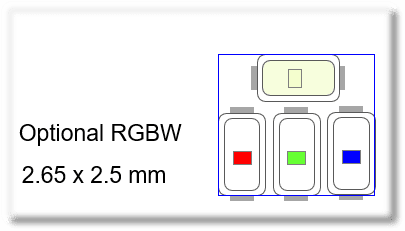 Picture from OSRAM: Combination of various LEDs to build a multi-colour LED
Same as the bigger brother, TOPLED® E1608 is offered in various colours, binning currents and intensities, covering almost all the interior applications. And yet, more is to come once the need for different colour and performance is required.
Despite of new upcoming application trends, functional illumination continues to play a major role in the car interior.
Find more details and information material of the well-proven and future-orientated TOPLED® E1608 here.