Dave from

DesignSpark
How do you feel about this article? Help us to provide better content for you.

Dave from

DesignSpark
Thank you! Your feedback has been received.

Dave from

DesignSpark
There was a problem submitting your feedback, please try again later.

Dave from

DesignSpark
What do you think of this article?
When designing and implementing a physical application for industrial IoT. You may require mm accuracy due to size constraints for a router to be integrated within your design along with all the required functional interfaces and security requirements for your project. Siretta has a wide choice of routers for you.
For example. The QUARTZ-GOLD (219-8152) router comes in at an amazing 103mm x 73.5mm x 23.5mm which makes it one of the smallest 4G LTE Industrial Routers in the market today.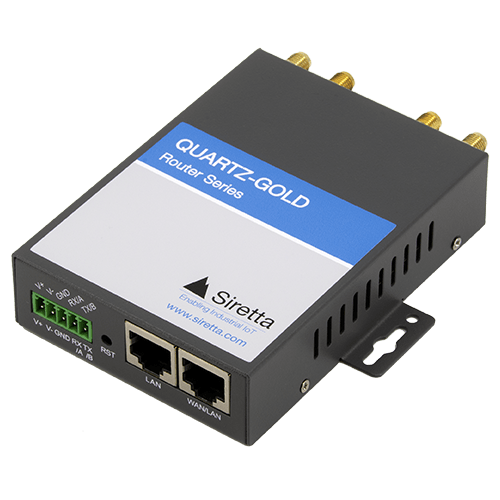 Its robust steel casing ensures the intricate electronics are shielded from any magnetic interference so that transmission of data is not compromised. It has impressive 2 x Gigabit Ethernet ports for hard-wired connectivity (one of which can be configured as a WAN) as well as cellular connectivity to ensure the heartbeat of your application is operational. 
With additional GPS, RS232 and optional RS485 interfaces, the QUARTZ-GOLD packs a punch in its class. There is also no compromise in security either with a suite of Firewall and VPN features to ensure your data is not breached.
When designing a compact system that requires the full functionality of a cellular router. Size sometimes does matter…