Dave from

DesignSpark
How do you feel about this article? Help us to provide better content for you.

Dave from

DesignSpark
Thank you! Your feedback has been received.

Dave from

DesignSpark
There was a problem submitting your feedback, please try again later.

Dave from

DesignSpark
What do you think of this article?
The success of the machines, which use igus plastic bearings to reduce weight and vibration, has created a fast growing microbusiness in Sunderland that is relocating to a new factory, creating jobs and now plans to design and make other products. With an estimated 3 million registered tattoo artists in China alone, tattooing is big business globally with a growing middle-class and international market where tattoos have lost their stigma of the past.
Richard "Bez" Beston, a former video computer graphics designer and programmer, self trained as a tattoo artist after a chequered career in the gaming business, that saw him missing out on millions when his first company was sold to a US competitor.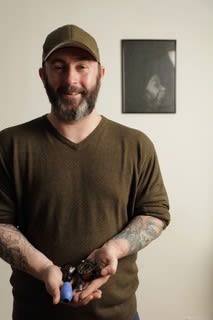 After building an international reputation for tattooing intricate designs – specialising in original pieces involving sci-fi themes – and creating the North East's biggest tattoo studio TripleSix, five years ago Bez "got bored of tattooing" and self-trained as a design engineer, learning CAD software to design and build tattoo machine prototypes using custom-made igus components.
"Tattooing globally has ballooned and the quality has increased," Bez comments. "Training tools and videos on tablets have opened it to artists from different backgrounds, and there is less copying now which used to be rife. You can train in under a year whereas an apprenticeship used to be two to four years."
Physical problems are common among tattoo artists: the noise of the motor and repetitive strain on the hand and wrist effect artists who can tattoo up to 12 hours a day. Bez says tattoo machines were very basic, the choice was limited and the supply chain for parts was slow. He thought he could design a better lighter machine, with lighter plastic components, that would have a better feel and a deliver a smoother, more accurate connection with the subject's skin. Smaller, plastic moulded bodies reduced the weight, although also artists like a metal body for quality so EGO is also available in an alloy body. Bez also redesigned the needle mechanism from a coil system to a rotary system, using customised igus bearings.
The lighter, lubrication-free standard bearings damp the needle mechanism in the early models, while the later V2 model uses a new linear needle motion, converting rotary motion to a linear drive using rails, designed by Bez, producing far more accurate puncturing and has removed the side-to-side vibration. He also devised a rubber damping – or "power triangle system" – based on a car suspension's rubber bushing. "Colour coded, each rubber produces a different grade of feel to finetune," he says. "At one extreme the needle pushes into the skin and it takes longer to come out. Turning the damper around gives you a softer hit but quicker retraction, for a different effect."
A combination of the plastic bearings, more fluid linear action, lighter weight, smaller size and rubber moulded grip – also designed by Bez – reduces wrist strain, vibration and noise, allowing the artist to work on a subject for hours with no strain or noise effects. The igus parts are custom-made and lubrication free. "We want zero maintenance for our machines. Igus have been very good, many suppliers don't provide custom-parts in these small quanities," says Bez.
The EGO machines, whose apparent simple styling belies some clever engineering design, have been well received by the market. Even the rubber mould grips, also designed by Bez, are popular dentists and could be used for people with hand problems to improve grip.
Sales of each model, the Vertex and V2, are about 1,500 units per year. A new third machine, SWITCH, is similar to a pen and also very light for even more accurate tattooing, has just launched. It sold 150 units in the first week. Exports are about 30 per cent and growing, where Bez is close to securing an export license for India, a top three global tattoo market. His company, TripleSix, has a joint venture in China where a Chinese partner manufactures and distributes the machines under license, paying a royalty and minimising illegal copying that would be impossible to control without a JV.
With a strong brand, expanding sales, no debt and self-marketing on social media, with the manufacturing operation set to move into a bigger facility in Sunderland in March, Bez is now itching to do something else. His vision is to open a creative Hub, where people can book time, design and discuss new products and work out how to manufacture them.
"I want to bring some manufacturing back to the North East," says Bez. "We've had supplier problems, for example, our first UK CNC supplier took over a month to deliver and the sticker under the mould said, "Made In China". People [in the UK] don't want to make short batch runs. But with 3D printing and new processes, why can't we make more products without mass manufacturing in China?"
New products on Bez's drawing board include a customised, potentially 3D printed crutch, for leg injuries and other body-supporting products.
For information about Richard "Bez" Beston and the EGO machines: https://triplesixstudios.com/
 and https://www.killerinktattoo.co.uk/tattoo-machines/ego-tattoo-machine
For more information about the range of specialist bearings from igus, visit: www.igus.co.uk or call igus directly on: 01604 677240.