Dave from

DesignSpark
How do you feel about this article? Help us to provide better content for you.

Dave from

DesignSpark
Thank you! Your feedback has been received.

Dave from

DesignSpark
There was a problem submitting your feedback, please try again later.

Dave from

DesignSpark
What do you think of this article?
Whilst many food machinery and production line processes are now controlled using touch screen interfaces, there are applications that continue to use traditional switches such as pushbutton switches. This may be due to the presence of moisture, or where operators might be wearing gloves and find that touch screens may work less reliably.
Switches used in food and beverage machinery and food factory automation can be contaminated with foodstuffs and may need to be regularly and thoroughly cleaned. So, they are often subject to extreme cleaning regimes such as jet washing and cleaning with chemical disinfectants, and this can have an adverse effect on lifetime and reliability.
The overall resistance of control switches to water ingress and regular cleaning regimes is vitally important. Modern control switches are generally sealed to IP67 and this is considered adequate for most low-pressure hose-down or temporary immersion cleaning, but for some applications that need frequent or even daily cleaning with high pressure, high-temperature jet washes then IP69K ingress protection may be needed.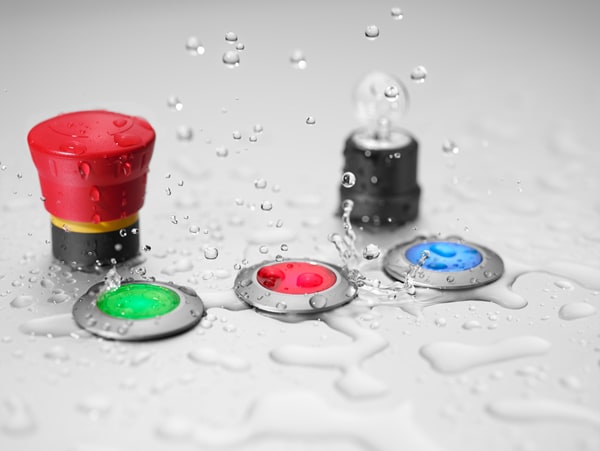 EAO Series 45 range of 22mm and 30.5mm mount industrial switches offer IP69K protection and a rugged metal or plastic construction
See the range at RS here
In addition to considering water ingress protection, there is also a need to consider the material of the switches themselves to ensure that the components visible at the front panel have sufficient resistance to chemical cleaners and disinfectants. Long term exposure to alkaline cleaning agents can cause chemical cracking of some plastics, corrosion of metals and may also degrade the internal seals or switch-to-panel seals. So, the use of either high-grade chemical resistant plastics or food-grade 316L stainless steel is an important consideration.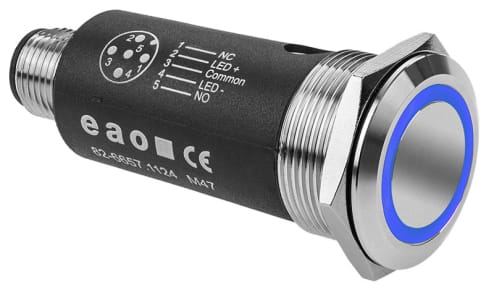 For example, the EAO Series 82-66 family of switches utilise 316L stainless steel and chemical resistant Triton® plastics in their construction, as well as an optional IP67, sealed M12 rear connector. See the range here
The presence of crevices where food can be trapped can also be an important consideration and to prevent this the design and installation of switching controls needs careful consideration and may require so-called flush-mount switches that protrude by only 2-3mm from the panels to allow for easy cleaning and/or the use of silicon rubber switch covers to prevent contamination into the switch actuator.
EHEDG (European Hygienic Engineering & Design Group)
Where there is a need for a fully sealed food-grade switch certified to meet EHEDG regulations, products such as the EAO Series 84 IO-link switches are an ideal solution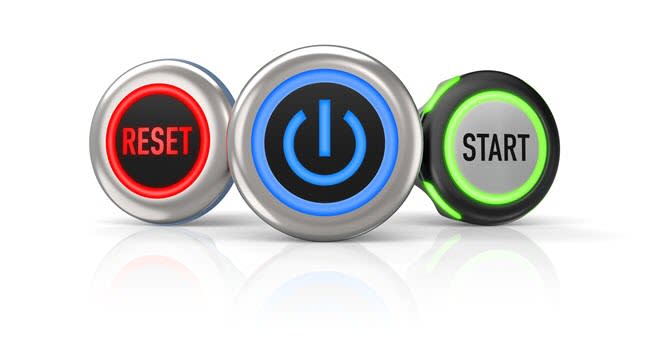 The 84-ACKS range offers:
Crevice free construction
Capacitive switching with no moving parts
IP69K front sealing and an IP67 rear sealed M12 connector
Food grade stainless steel, and blue coloured, chemical resistant panel seal,
IO-link interface allows for programmable RGB illumination of the button legend
IO-link adjustment of the capacitive actuation sensitivity against moisture or gloved hands
Smart connection to higher-level bus systems for IoT integration and remote monitoring
See the Serie 84-IO-link range here
EAO is an expert partner for human-machine interfaces and has a deep understanding of the requirements, the environmental demands, and the technical functionality of machines that allows us to develop innovative, intuitive, reliable, and safe products and systems for food manufacturing and many other industries. EAO's most popular switches are available from RS Components.