Dave from

DesignSpark
How do you feel about this article? Help us to provide better content for you.

Dave from

DesignSpark
Thank you! Your feedback has been received.

Dave from

DesignSpark
There was a problem submitting your feedback, please try again later.

Dave from

DesignSpark
What do you think of this article?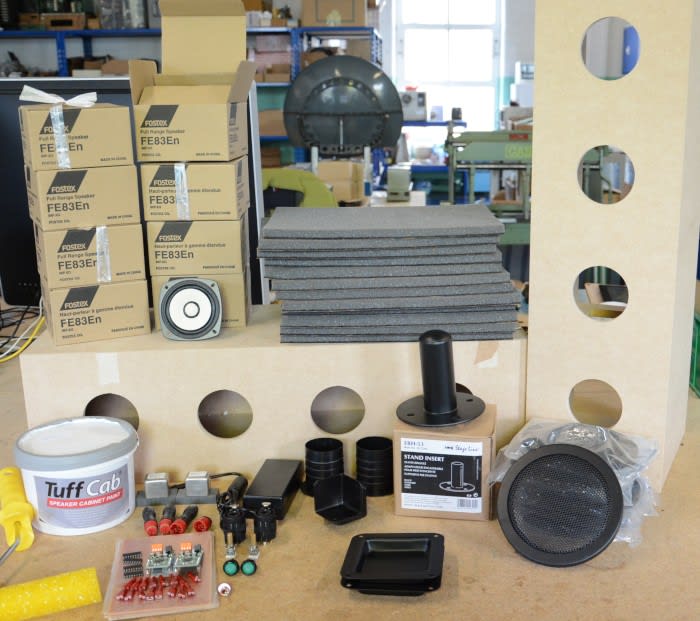 A highly portable and efficient PA system for use with the Red Tin DJ system at music festivals.
The ideal companion to a 12 Volt DJ system built in a tool box is obviously a 12 Volt sound system.
I have seen various cobbled together 12 volt P.A. systems at festivals over the years, usually powered by an old car battery, a solar panel, or a combination of the two. It has to be said that they invariably had a home made look and sound to them, often put together from car audio parts and covered in grey synthetic carpet. I definitely wanted something a bit more stylish.
I decided the system needed to be easily portable (preferably carried by one person), simple to set up, durable, efficient (suited to battery/solar power) and, of course, it had to be red.
Powered speakers, rather than separate speakers and amplifier, would be the easiest to transport and connect up. With all this in mind, after some discussion on various options with a supplier of loudspeaker cabinets kits, these were ordered and were delivered a few weeks later. These will then be driven by integrating two MAX9744 Click Boards (165-1405) , providing a total of 80 watts of highly efficient class D amplification and well suited to 12v operation.
The more I thought about it, the more I realised this was going to be an interesting undertaking involving household DIY skills as well as the electronics.
Speaker Drivers and Bananas
To simplify things we had decided on a cabinet that housed full range speaker drivers rather than a 2 or 3 way option that would involve a crossover.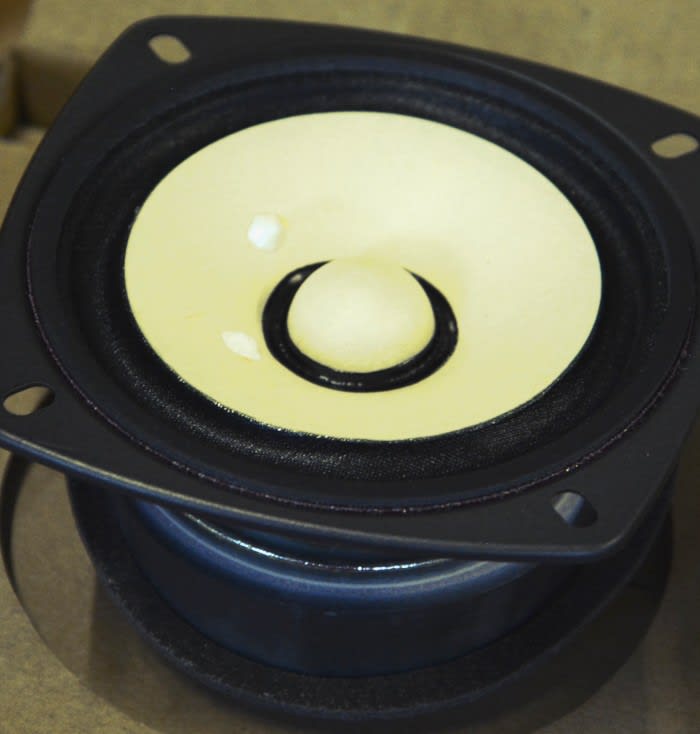 We opted for 4 Fostex FE83En drivers per cabinet. These get good reviews and being particular popular in Japan. I noticed the cones were slightly yellow in colour, which seemed a bit unusual and when I did some research, I discovered this was due to the banana pulp used in the manufacture of the cone material. Different manufacturers add different fibres to the paper pulp when making their cones, to add stiffness and tear resistance. Eucalyptus, kapok and hemp are fairly common. Fostex favours banana, which is part of the hemp family.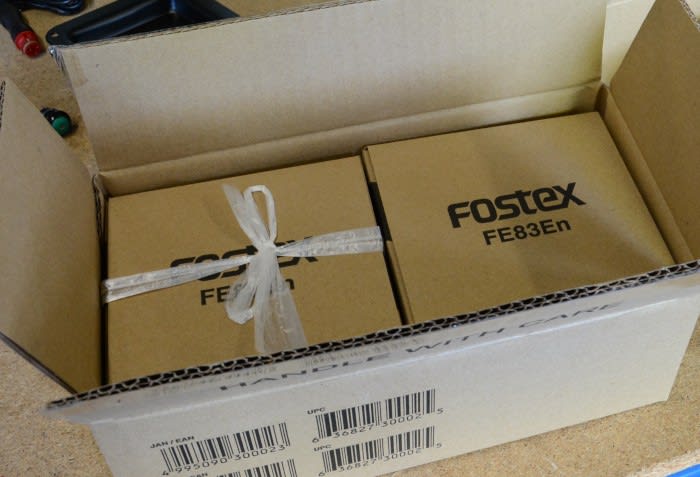 Unpacking the speaker drivers I noticed that in each box of 2, one had string tied round it and one did not. I can only assume this is so the first one can be lifted out by the string to make unpacking easier. That really is a nice attention to detail.
Cabinet making
The final cabinet design is slim and elegant, 180mm wide by 225mm deep and 650mm high. With the addition of a carrying handle on top this will make them easy to carry.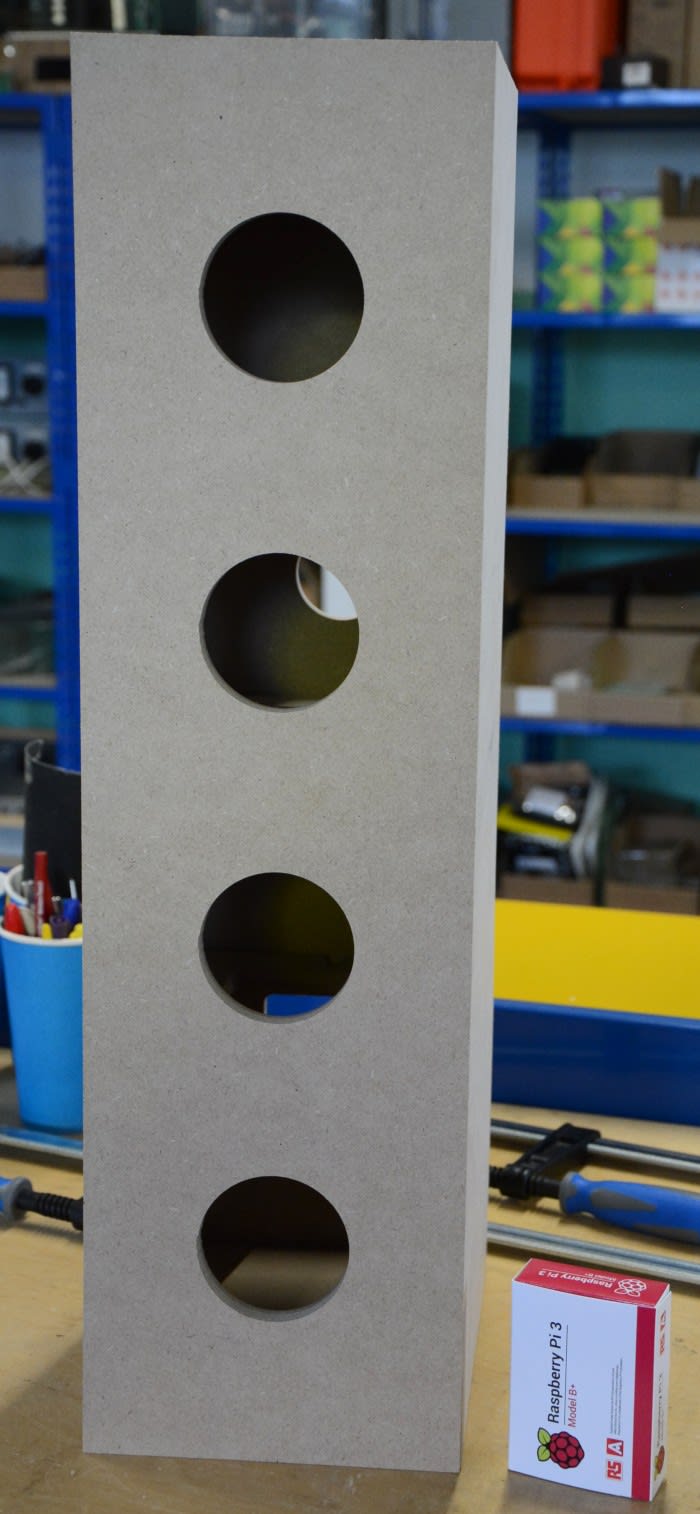 (Raspberry Pi box to give an idea of scale)
Included with the kits, as well as the panels for the MDF cabinets, was all the necessary mechanical/accessory hardware: 
8 Fostex FE83En Speaker units
8 black speaker grills
2 ports ( ?description)
2 back panels
2 Stand inserts
16 black metal corner protectors
a big pile of adhesive backed acoustic foam sheets
All I need to do is glue the panels together, before painting them and then fit the speakers, protective grills and stand inserts etc.
I read up on speaker cabinet construction and carefully studied the pictures of cabinets glued and clamped, to see how it was done. Practising putting the cabinets together without glue seemed good advice, particularly as the wood glue I had was extra fast drying and the temperature in the workshop was hovering around the 25°C mark.
Helpfully, the cabinets had arrived assembled and taped together, rather than actually packed flat, so I could see exactly how the panels all fitted. This also gave an opportunity to plan how the amplifiers, baluns, connectors and cabling was going to fit. They would fit best just above the bottom baffle, so I decided to cut a small slot in the edge of the baffle to run the connection from the amplifier to the back panel where the power and audio connections would be.
For painting the cabinets I sourced an acrylic coating specifically designed for the purpose, which promised to be durable and hard wearing and, when applied with a roller, has a nice textured finish. Most importantly it came in a pleasing shade of Cardinal Red.
Amplifiers
What the kits did not include was the amplifiers or any of the electronic components.
A Class-D amplifier was the obvious choice for this project being small and efficient, and I had heard good things about MikroElektronika Click Boards. The 2 x 20w (165-1405) would be just the job. I am not intending this to be used on the main stage at Glastonbury, but rather for small after-parties or impromptu outdoor events, so the 2 x 20W per unit would be plenty loud enough.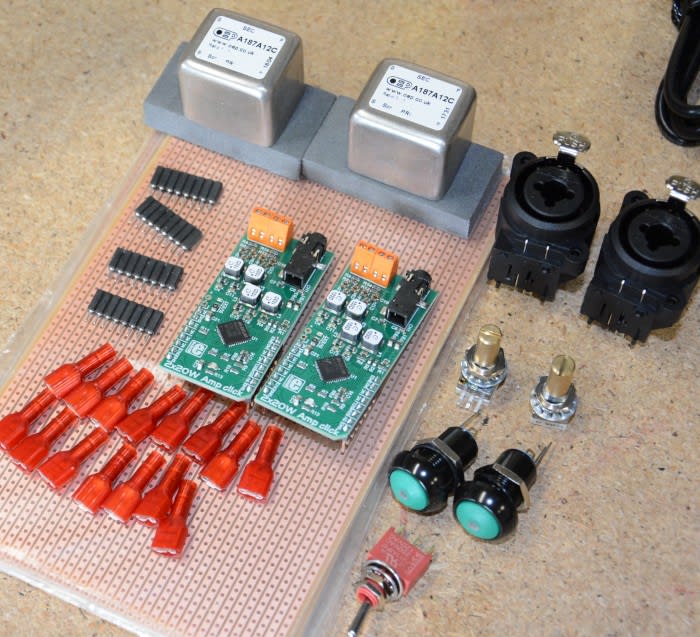 The other components needed were: 
Exciting times ahead
Some time spent glueing, clamping, painting, drilling and soldering lie ahead, and then the real fun begins when we connect it to the Red Tin.