Dave from

DesignSpark
How do you feel about this article? Help us to provide better content for you.

Dave from

DesignSpark
Thank you! Your feedback has been received.

Dave from

DesignSpark
There was a problem submitting your feedback, please try again later.

Dave from

DesignSpark
What do you think of this article?
Power solutions from TDK solve spacing needs for light and small System on Modules (SoM) cards and other small form factor applications around Xilinx Artix UltraScale+ FPGAs.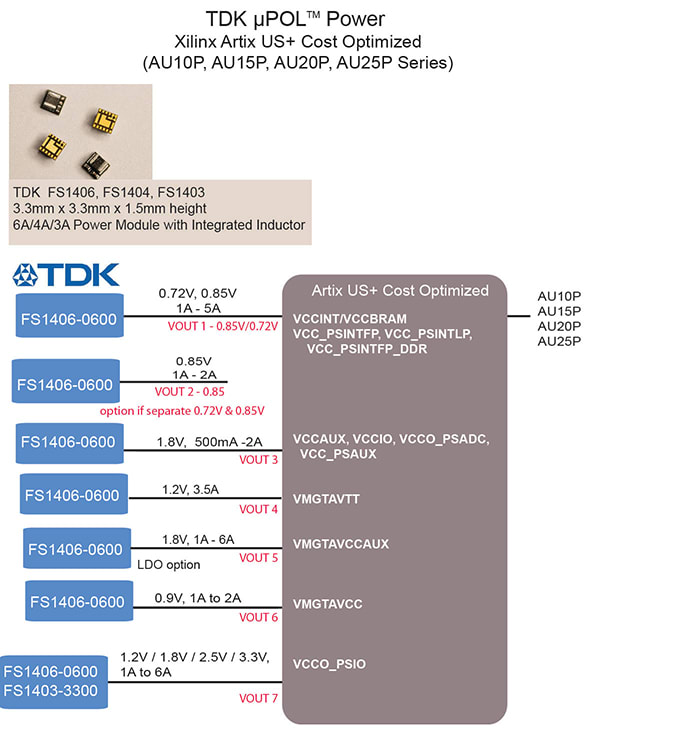 FPGAs and SoCs require various DC-DC voltage regulation.  TDK's FS1406, FS1404 and FS1403 are chip embedded power modules with minimum BOM and design flexibility. 
FS1406, FS1404 and FS1403 power modules included the integrated inductor at an industry best 3.3m x 3.3mm x 1.5mm height package. 
The attachments includes:
power map
fast design schematics for power rails for the Xilinx Artix UltraScale+.
 Also available from TDK is the OrCAD (DSN) schematics that can be imported into DesignSpark PCB.