Dave from

DesignSpark
How do you feel about this article? Help us to provide better content for you.

Dave from

DesignSpark
Thank you! Your feedback has been received.

Dave from

DesignSpark
There was a problem submitting your feedback, please try again later.

Dave from

DesignSpark
What do you think of this article?
Since October 2016 Siemens LOGO! 6 is declared a phase-out product. What does it mean and what else should convince customers to change to the current logic controller range LOGO! 8?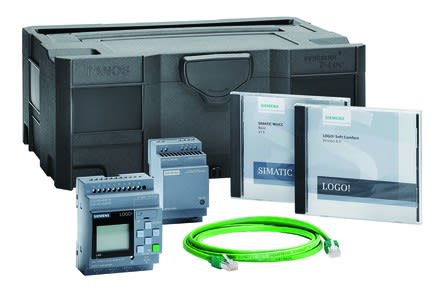 100% more function blocks - The number of function blocks in the Comfort V8 software has been expanded to up to 400. For LOGO! 6 it is only 200.
Data transfer to the controller now standardized - Whereas LOGO! 6 has used a special memory module, LOGO! 8 allows the use of a standard micro SD card to copy the program to the controller.
Ethernet - LOGO! 8 comes with an Ethernet interface that allows communication with up to 8 logic controllers in a network. Also, the port allows communication to other devices like SIMATIC S7 PLC or HMI panels.
Web Server - an integrated webserver can be used for remote control and monitoring of the LOGO! 8.
CMR module - This new module offers communication via SMS. It can exchange data with LOGO! 8, send SMS automatically, or read out control commands from the SMS and introduce them in LOGO! 8.
Use LOGO! 8 in a KNX system - The LOGO! CMK2000 communication module was designed for the use of LOGO! 8 in building technology. With this module, LOGO! can be integrated into a KNX system as the intelligent controller. Up to 50 communication objects can be configured via KNX.
Better display - the display is considerably improved – as compared to LOGO! 0BA6 – with greatly increased contrast and now 6 lines with 16 characters each. This means that message texts can be formulated much more clearly and there are more diagnostic options via the display. The selectable background lighting in the colours white, orange and red helps to highlight alarm states, for example. These advantages also apply to the external text display TDE of the LOGO! 8.
Users can still use their LOGO! 6 programs on the LOGO! 8. The Comfort V8 software supports this transition in just a few steps. See how it is done below.
Attention: If you wish to migrate from LOGO! 0BA6 to LOGO! 8, you have to use the current expansion modules, if needed. Older models are not compatible with LOGO! 8.
Please find a summary of the below in the official RS migration guide for Siemens LOGO! 6.