Dave from

DesignSpark
How do you feel about this article? Help us to provide better content for you.

Dave from

DesignSpark
Thank you! Your feedback has been received.

Dave from

DesignSpark
There was a problem submitting your feedback, please try again later.

Dave from

DesignSpark
What do you think of this article?
The team arrived at Silverstone on Wednesday to set up camp and the garage for a steady start on Thursday. Scrutineering began on Thursday, and all teams were working flat-out to get their cars through scrutineering. Due to the limited track testing that SFR12 had undergone, we were faced with a couple of unexpected issues in scrutineering, such as our aero exceeding the legal 'bounding boxes', which required some creative reworking in the garage. Nonetheless, we were finally able to pass the examination!
SFR12 passed all the safety checks after some big shifts from the team, but a few setbacks left no time for us to compete in the first dynamic events of the weekend; acceleration and skidpan. Whilst this represented a set of points lost, we were still able to get out for the big-ticket 'endurance' event.
Unfortunately, the lack of track-testing was evident again - drivetrain issues struck twice, and we only completed 4 laps of the circuit. The driver's feedback was positive and the car looked quick, so it is clear that SFR12 is a great baseline to build on next year.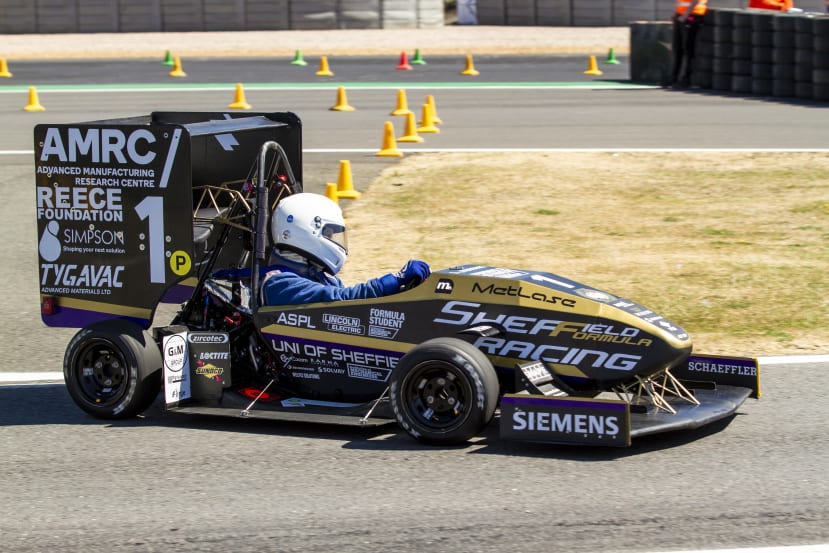 Despite our lack of running, our performance in the competition's static events provided good points haul and we ranked 17th Overall.
We were disappointed to not have seen the car race for longer, however, we have learned plenty from the experience. Our first line of action for next year is to keep testing SFR12 to learn about it as much as possible. Building on SFR12 and pushing our technological capabilities will be the focus of next year. We also plan to work with more sustainable composite materials such as flax fibre and bio-resins, working towards not just speed, but clean, green speed.
We are excited to begin the design process soon and are optimistic that 2023 will provide a return to our success, with a car more reliable and quicker than ever. Keep an eye out for team updates and exciting announcements!