Dave from

DesignSpark
How do you feel about this article? Help us to provide better content for you.

Dave from

DesignSpark
Thank you! Your feedback has been received.

Dave from

DesignSpark
There was a problem submitting your feedback, please try again later.

Dave from

DesignSpark
What do you think of this article?

Congratulation to all the winners! Looking forward to their sharing on DesignSpark.
Winners: ChrisAnderson1, Sikula, Electronic_Engineer
Do you want to have a handy USB Oscilloscope for your projects?
Grass Roots and Digilent are offering students and early career professionals the chance to win a set of Analogue Discovery 2, with Audio Adapter and Transistor Tester!
We have 3 sets to giveaway, in return for DesignSpark content.
I'm interested! What do I do? 
Now closed!
You have until Friday 22nd October, 10am (BST) to:
Sign up to DesignSpark or login if you are already a member
Use the message box below to tell us how you would use the Analogue Discovery 
Read and accept the Terms & Conditions
If you are successfully chosen to receive one of the sets, we would like you to share your experience with the product to DesignSpark. This can be:
Product Review
Unboxing
Using it in a project
Tell me more about Analogue Discovery 2
Analog Discovery 2: 100MS/s USB Oscilloscope, Logic Analyzer and Variable Power Supply (134-6480)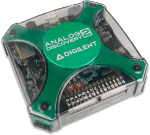 Digilent Analog Discovery 2 is a USB oscilloscope, logic analyzer, and multi-function instrument that allows users to measure, visualize, generate, record, and control mixed-signal circuits of all kinds. It is small enough to fit in your pocket, but powerful enough to replace a stack of lab equipment, providing engineering professionals, students and electronic enthusiasts the freedom to work with analog and digital circuits in virtually any environment, in or out of the lab.
The analog and digital inputs and outputs can be connected to a circuit using simple wire probes; alternatively, the Analog Discovery BNC Adapter and BNC probes can be used to connect and utilize the inputs and outputs.
You can also check out the following:
Any Questions?
Please use the comment box below to ask all your questions!
Sign up here to keep in touch with future Grass Roots opportunities! :)
Submit your idea below:
This competition is closed.