Dave from

DesignSpark
How do you feel about this article? Help us to provide better content for you.

Dave from

DesignSpark
Thank you! Your feedback has been received.

Dave from

DesignSpark
There was a problem submitting your feedback, please try again later.

Dave from

DesignSpark
What do you think of this article?

With 8 questions to the right Siemens inverter drive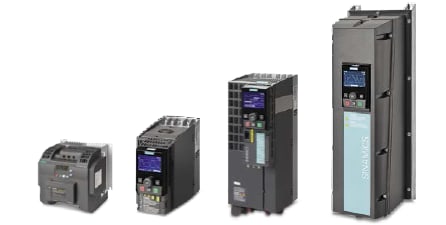 1. How is the motor connected?
 230V / 400V (delta/star)     
 400V / 690V (delta/star)
2.What is the supply voltage?
3. What is the power or rated current of the motor?
4. For which application will the inverter be used?
Low overload: for applications with low dynamic requirements (i.e. constant load; continuous operation) like centrifugal pumps, radial/axial fans, positive displacement blowers, radial compressors, vacuum pump, agitators, etc.
High overload: for high dynamic applications (i.e. alternating load, cycle operation) like conveyor belts, gear pumps, eccentric screw pumps, mills, mixers, crushers, lifters, countersinks, centrifuges, etc.
5. Which degree of protection is required?
6. Is integrated safety technology required?
No requirement for safety functions (V20)
Yes, safety functions are required:
=> Is the basic function sufficient (Safe Torque Off)? (G120C, G120)
=> Or is there a need for increased safety requirements such as SS1, SBC, SLS, SDI, SSM? (G120)
7. Is communication required? If yes, using which bus systems?
No, communication is not required – terminal to terminal
Yes, communication is required – via:
=> PROFINET, Ethernet/IP (G120C, G120)    
    => PROFIBUS (G120C, G120, G120P)
=> USS/Modbus RTU (V20, G120C, G120)
=> BACnet MS/TP
=> CANopen (G120 with CU250S-2-CAN)
8. Is an inverter with integrated filter (Class A / Class B) required to maintain electromagnetic compatibility (EMC) acc. to EN 61800-3 ?
Inverter with filter class B for compliance C1 (G120)