Dave from

DesignSpark
How do you feel about this article? Help us to provide better content for you.

Dave from

DesignSpark
Thank you! Your feedback has been received.

Dave from

DesignSpark
There was a problem submitting your feedback, please try again later.

Dave from

DesignSpark
What do you think of this article?
4 years ago with the help of some clever engineers, DesignSpark put a Superman action figure into a homemade capsule attached it to a weather balloon and launched him into the stratosphere where he jumped out and landed… in a tree. Since then he has travelled the world to Maker Faires, events and schools, inspiring the next generation of engineers. He's even appeared in the National Geographic Awesome 8 book and been on Italian TV.
The time has come to do something equally awesome, a challenging engineering project with an inspiring theme, but what?… Fortunately, my Eureka moment wasn't too far away. Taking a bath one evening, relaxed and lying back looking up at the ceiling, I was suddenly hit by a rogue shampoo bottle that came plummeting off the shelf and striking my knee before plunging into the water with a gigantic SPLOSH! And that's when an idea came bubbling up… a deep sea adventure!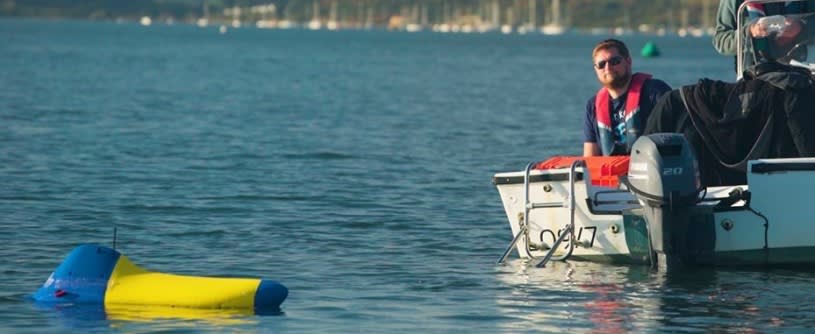 Above - Dory v2 testing at Brownsea Island - Poole Harbour, Dorset, UK
Project SeaQuest started as project Atlantis, the idea was to do the reverse of the Superman in Space adventure by going deep down into the ocean and back in a 3D printed capsule. However, not long into scoping the idea, it became apparent it wasn't going to be easy!
Water, and in particular sea water, is a challenging substance...
A minuscule quantity can disable electronics.  
It can begin to corrode insufficiently sealed power connectors in a short time.
Water, and in particular Sea water is hard to penetrate with radio waves at depth.  You don't have to go that far below the surface before sending and receiving wireless signals back to the surface gets incredibly difficult.  This would mean we would lose control and contact with it at relatively shallow depths.
It also gets darker as you go deeper, so visibility reduces and that doesn't make for a great video.
That's when I decided that a 3D printed model boat would be a more feasible option.  I made friends with some guys from The Mid Thames Model Boat Club, and then rounded up a small team of engineers. Then using the Imperial College Advanced HackSpace in London as a base, we set a plan in motion to design, build and test a 3D printed model boat, add some electronics and send it across the sea to arrive on the shores of another country and get a  World Record in the process. How hard can it be? It's just a 3D printed model boat with some radio gear and an autopilot... Simple right!? Well actually,  it turns out it's not! In fact, it probably would have been a whole lot easier to send something into actual orbit! Water is an incredible substance, it can find its way into the smallest hairline crack and short out electronics. It's also incredibly powerful and unpredictable.

Above - On the bench with Nemo v3 at Imperial College Advanced Hackspace (3am in the morning!)
The past 6 months has been an amazing roller coaster ride of highs and lows, We've built a number of prototypes along the way, affectionately known as Nemo, Dory and Bruce. We've been on lakes, the sea and also in the worlds biggest water test tank at Qinetiq Haslar UK.
During our journey of discovery we've had;
3D printing fails 2 days into a 3-day print
Boats warping in hot cars,
Exploding hulls from overfilling with expanding foam
Water frazzling electronics
Boats catching on fire because the engine control units overheat.  
Water corrosion in connectors within minutes of exposure.
Issues with self-righting, propulsion, steering and auto navigation,
And challenging conversations with the French Coast Guard...
But!!! We're close to a design that works reliably, and if all goes well over the winter,  we'll have a self-guided 3D printed model boat ready to make a world record attempt in the spring.
From January you can follow the story of how we designed, prototyped and tested the boat design.  We'll share the problems we've encountered and how we overcame them as well as all the successes we had along the way. If all goes well we'll be ready to set a World Record in the Spring of 2019, as yet we're still deciding what that attempt will be!
If you heading to the Electronica show in Munich November 2018, you can see one of the prototypes on the RS Components stand (Hall C5 Booth 147) in the DesignSpark zone.
Pictured above enjoying Afternoon Tea at the Beale Park Boat Show (Reading UK) with an early 0.4 scale prototype - Founding Team SeaQuest members, left to right - Pete Wood (DesignSpark RS), Richard Ibbotson (retired engineer), Gary Fletcher (Imperial College Advanced HackSpace London),  Oumkeltoum Lazraq (Engineer & Hacker in Residence Imperial College)