Dave from

DesignSpark
How do you feel about this article? Help us to provide better content for you.

Dave from

DesignSpark
Thank you! Your feedback has been received.

Dave from

DesignSpark
There was a problem submitting your feedback, please try again later.

Dave from

DesignSpark
What do you think of this article?
DesignSpark has launched a partnership with SD3D to provide our members with an instant and easy to use 3D printing quotation tool and Instant Print Platform. This platform will empower our members to seamlessly utilize 3D printing for mechanical prototypes and low volume production runs. Files can be exported from our award winning DesignSpark Mechanical CAD software uploaded directly to our website's 3D Printing Quotation area.

The SD3D Instant Print Platform is changing the way individual hardware engineers, research labs, universities and businesses approach their manufacturing strategy from the first prototype through a 10,000 unit production run.

They provide;
Instant 3D printing quotes on a variety of materials and quantities.
The Instant Print Platform handles low cost prototyping all the way through fast and affordable production runs.
Bridge the gap from prototype to production by using automated systems to deliver the lowest cost and lead time.
Eliminate the risk of purchasing expensive tooling and delaying your product launch for DFM modifications. Get customized and real-time production how you want it and when you want it.
The link below will take you to 3DSD, where 3DSD's terms and policies will apply
About SD3D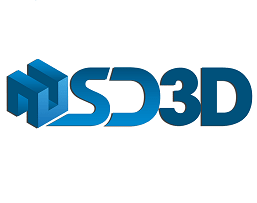 SD3D is an automations technology company specializing in creating 3D printing solutions for businesses. They are developing an end to end automation platform to empower fully autonomous 3D manufacturing from design to doorstep. Utilizing their technology, SD3D offers customizable and innovative 3D manufacturing services along with consulting in factory optimization, allowing businesses to reach the highest efficiency levels within their own facilities. For more information, visit SD3D's website at WWW.SD3D.COM