Dave from

DesignSpark
How do you feel about this article? Help us to provide better content for you.

Dave from

DesignSpark
Thank you! Your feedback has been received.

Dave from

DesignSpark
There was a problem submitting your feedback, please try again later.

Dave from

DesignSpark
What do you think of this article?
At RS we have implemented a new process of recycling our own post-industrial waste, which couldn't directly be reused during production. We collect our own industrial waste by collecting per material (and most materials per colour), shredder this per material and make it homogeneous by compounding and then extruding it again. This process has been fully implemented and is ready to be improved and expanded!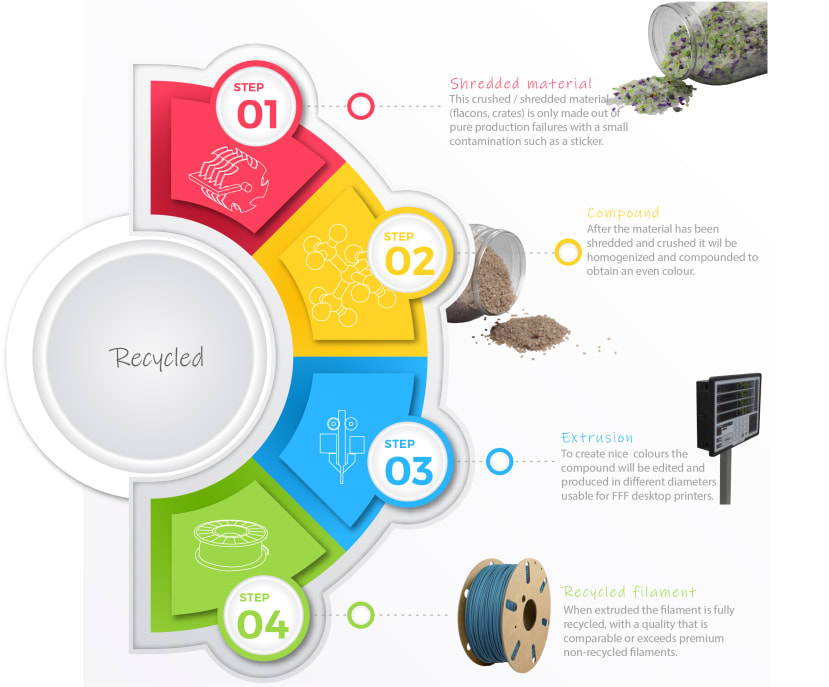 PLA is one of the best sellers in the 3D printing world. Naturally, reducing the waste streams of our PLA is our priority. As a recycled material, our RPLA (97% recycled) is now available in 8 different colours. We found out that print performance is almost the same (if not better) as our regular PLA.
Features and Benefits:
Post Industrial waste (>97% recycled)
Sustainable packaging with filaments that are spooled on easy to recycle and dispose recycled cardboard spools while packed in recycled carton boxes. 100% plastic-free packaging
Easy to print at low temperatures
Low warping
Limited smell
Good first layer adhesion to several (un)heated print surfaces
Compatible support material: PVA
The RS Pro Recycled PLA 3D Printer Filament is coming soon, so keep an eye on this article for more information.