Dave from

DesignSpark
How do you feel about this article? Help us to provide better content for you.

Dave from

DesignSpark
Thank you! Your feedback has been received.

Dave from

DesignSpark
There was a problem submitting your feedback, please try again later.

Dave from

DesignSpark
What do you think of this article?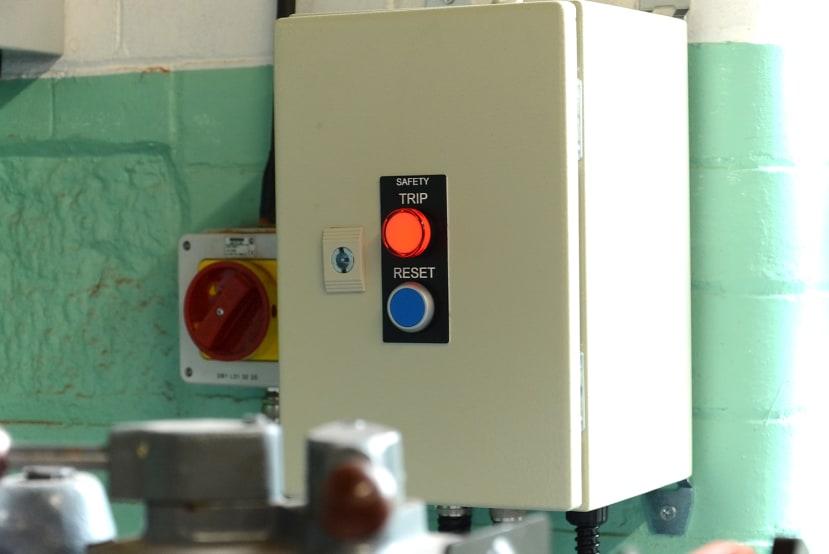 Building up a safety control box and connecting the lathe.
Introduction
In part one of this series we explored the HSE requirements surrounding lathe guarding and the retrofits that had been performed to start meeting these requirements. In this article, we'll be building up the safety control box that interfaces with the emergency stop button and chuck guard, and cuts power to the lathe.
Component Selection
We started by selecting the necessary components to build the safety circuit, including a single-channel safety relay from Phoenix Contact (893-7720) that is designed to monitor one set of NC (normally closed) contacts, and control two series contactors with position feedback.
This model also features a manual reset and a monitoring output, so we selected a suitable reset pushbutton (145-0613) and red panel-mount indicator (763-7909) .
A nice, large mushroom head emergency stop button from Eaton (793-3575) was selected, along with a matching enclosure, also from Eaton (847-5159) .
Initially, we picked an ABS enclosure to house all the controls but decided to swap this for a steel enclosure (842-8305) — despite plastic being fine we felt more comfortable using a steel box to contain three-phase equipment and wiring.
Since the safety relay requires 24V to operate, a compact DIN rail-mounted power supply from XP Power (212-4968) capable of 1.5A output current was selected. This not only has enough current to run the safety relay and two contactor coils but also leaves headroom for future additions, such as a digital readout (DRO).
To terminate the wiring connections on the lathe itself a smaller ABS junction box (454-955) was purchased that provides ample room for a number of terminals. This box will terminate cables from both the chuck guard switch and emergency stop button, and then terminate single cables inside a length of conduit to the main control box.
Due to isolation requirements between the low voltage signals and three-phase power lines, we utilised a length of 16mm flexible conduit (731-4246) with suitable connectors (731-4268) that would carry any required signals.
Two contactors with 24V coils and a NC contact from Siemens (392-7835) were selected. These were chosen with the running current of the lathe in mind and for their compact size, which is particularly important in the small box we selected.
With all the components selected, ordered and in-hand we proceeded to begin assembly of the control box.
Assembly
Our selected steel enclosure included a mounting plate which makes assembly of the control box far easier — most of the components can be installed without having to attempt to squeeze hands into the enclosure.
We started by deciding on the orientation of the DIN rail inside. At first, we considered having the rail mounted vertically but eventually settled on two shorter horizontal sections of rail. This also aided in providing separation between the 24Vdc circuits and the three-phase motor power.
Components were then sat on the rail to figure out an optimal layout, which turned out to be 24V PSU and distribution and the safety relay on the top rail section, with the two contactors, 240V AC distribution and a fuse holder for the PSU on the bottom rail.
Due to the contactor connection layout, running 24V circuits close to 230/415V circuits was unavoidable, but we tried to reduce this as much as possible.
Components were then snapped onto the rails in their respective locations and we began terminating all the mains connections, including between the contactors and then to the L1 phase distribution to provide 230V to the PSU.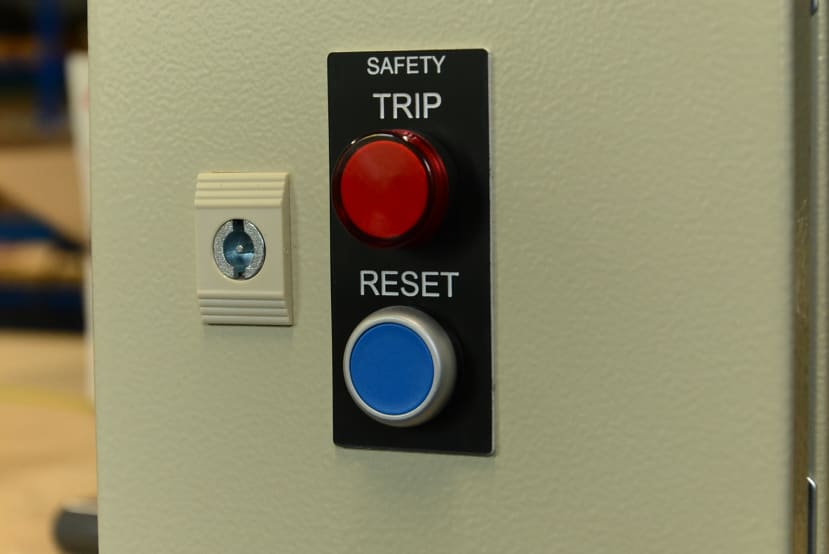 Before terminating any more circuits the front panel was drilled to accommodate the reset push button and safety trip indicator lamp. A panel label was laser cut from a sheet of IPI Laserables II, which features a thin top acrylic film bonded onto a thicker substrate. This can be engraved in a laser cutter to remove the top film and produces a pleasing, hard-wearing label.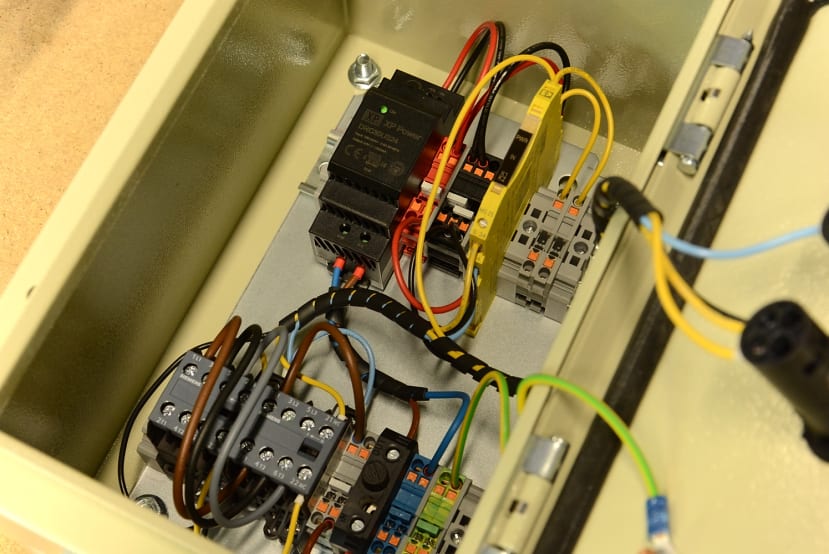 With the front panel controls installed, the rest of the wiring was completed. This included the reset circuit that connects the button and two contactor auxiliary contacts in series, the trip indication lamp and then the emergency stop circuit — this was connected to two terminals for termination once the box was mounted on the wall.
The steel enclosure also features a removable gland plate and this was used to install three conduit glands separate from the enclosure. The existing conduit that connected the rotary isolator to the lathe was moved to the gland plate, and a new shorter section of conduit was installed in its place to contain a new set of power conductors.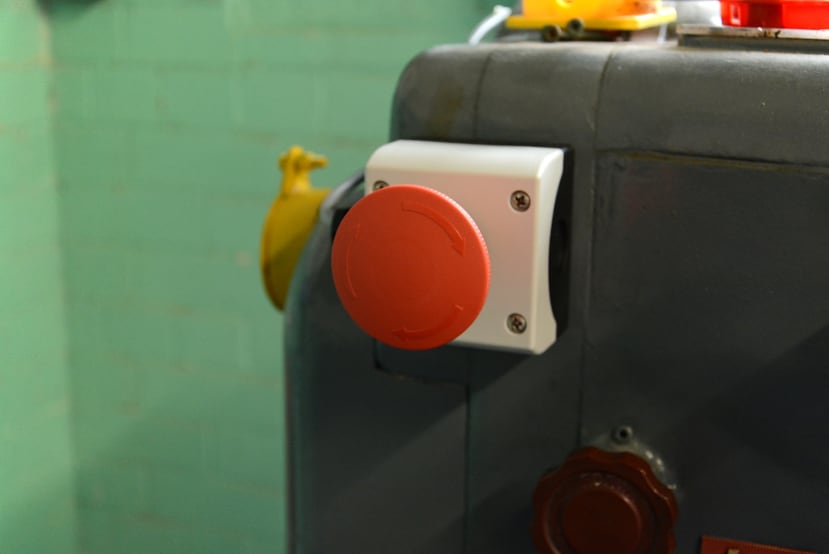 A suitable location on the lathe was selected to mount the emergency stop button, and then four holes were drilled and tapped that would accept M4 machine screws.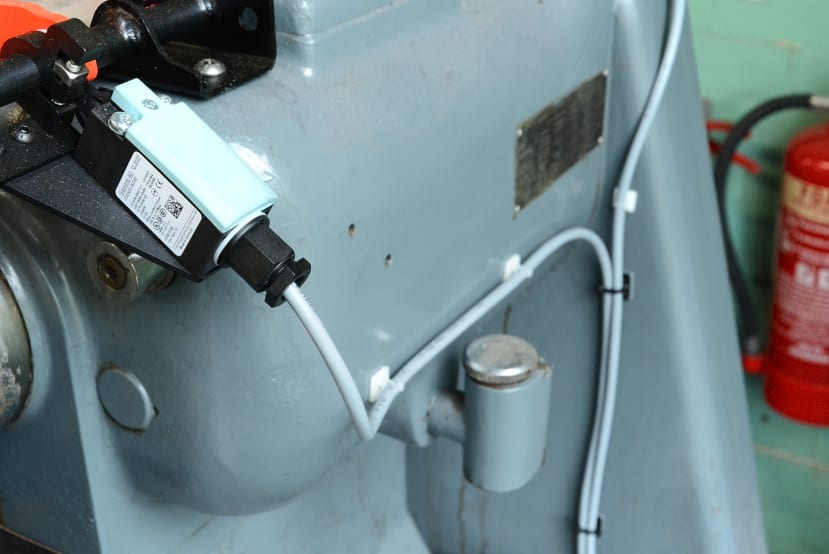 As the chuck guard switch was preinstalled, all that remained to do was terminate a cable and then fasten the cable in place. We used self-adhesive cable tie bases to avoid drilling further holes in the lathe, and due to the fact that the cable ran along the back of an oil-filled gearbox.
The control box was then mounted on the wall adjacent to the rotary isolator, and the gland plate with cabling was screwed into place. Three-phase wiring from the isolator was terminated into the supply connections, and the wiring from the lathe was terminated into the final contactor.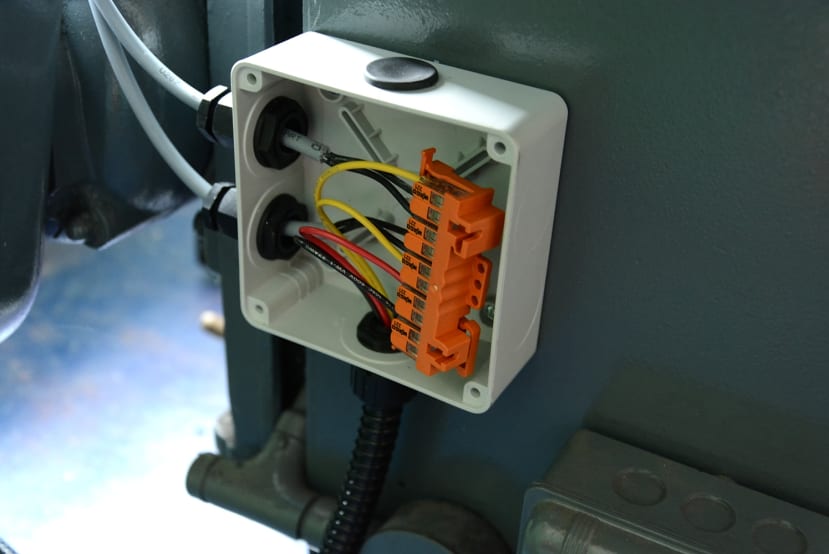 Wiring inside the lathe junction box was connected together using Wago 221 series connectors (883-7544) and snapped into a suitable holder. An additional set of 24V supply wires were run to this junction box and a rubber blanking grommet was installed for the future install of a DRO as this saves the hassle of having to install another power supply, and should the DRO turn out to need a voltage other than 24V there is ample space inside the junction box to install a small DC-DC converter.
Testing
All the mains connections were first checked to ensure no shorts between L1/L2/L3, neutral and earth on both input and output. With this completed the 24V rail was checked for shorts to 0V and ground, which left only applying power to be done.
A prior test using a single-phase supply was conducted as the control box build was in progress so we knew that the control side would power up and behave as expected. With the three-phase input applied we reset the safety circuit and then proceeded to power on the lathe and check every emergency stop control functioned as expected.
With everything behaving as expected we could now feel safe putting the lathe to some good use to turn parts.
To Finish
In this article, we've taken a look at the component selection used to bring a lathe into line with regulation sixteen of PUWER (Provision and Use of Work Equipment Regulations), and then built up and installed a control box that safely houses all these components.
DISCLAIMER: This article is not intended as a how-to guide and nothing in it constitutes professional advice regarding PUWER or any other Health & Safety regulations or legislation. All machine safety work should be carried out by suitably competent persons and where appropriate professional advice should be sought.