Dave from

DesignSpark
How do you feel about this article? Help us to provide better content for you.

Dave from

DesignSpark
Thank you! Your feedback has been received.

Dave from

DesignSpark
There was a problem submitting your feedback, please try again later.

Dave from

DesignSpark
What do you think of this article?
For some time now, industry has again been in a state of flux. Companies are successfully utilising new methods to realise complex projects at incredible speeds. Companies that break new ground are often those in the IT world, such as Netflix, Amazon, and Alibaba, but also manufacturers of physical products, such as Tesla and SpaceX. The common factor is that they all use software to improve the product and provide quick updates.
We can learn lessons from this and apply them to our own working practices. For now, let us take a look at Phoenix Contact production in Bad Pyrmont: Innovation and technical progress are deeply rooted in Phoenix Contact's corporate DNA. For Phoenix Contact our digital transformation started in 2017 / 2018. During that initial period, a model was developed to rethink our processes that put us on the road of digitisation. As an example:

Not only has this model influenced our production processes, but it has also influenced the development of our products. One of the most suitable products for the digital factory is PLCnext. PLCnext Control is the control platform for limitless automation. In contrast to classic programmable logic controllers, it has the openness and flexibility familiar primarily from the IT sphere. This means that it can be used for a wide range of tasks in the automation environment. Since PLCnext Control is compatible with a wide range of software, apps can be easily installed on the controller.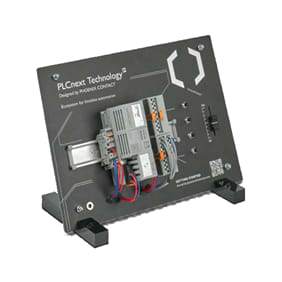 The best feature of PLCnext Control is that it taps data from the system with minimal invasiveness. It is sufficient to connect the controller to just 3 to 5% of the system's I/Os to be able to map the processes comprehensively. This means that the system CE is not affected and recertification is not required. Put simply, PLCnext Control listens to the heart of the machine like a stethoscope, without any major intervention.
Ready for any cloud
Any analysis method
Any visualisation system - UX
Digitalisation not only provides significant support for our production, but has also modernised the associated working methods, organisational structures, and methods. We have transferred the mindset of PLCnext Technology as an open ecosystem over to our production system – hence the name: the PLCnext Factory.
This puts Phoenix Contact in a unique position to assist with your Digital Factory Transformation. With our combinations of products and experience, we can help you combine the IT world with the Operational world.
Written by Andy Ellis, Field Application Engineer- Automation & Renewables