Dave from

DesignSpark
How do you feel about this article? Help us to provide better content for you.

Dave from

DesignSpark
Thank you! Your feedback has been received.

Dave from

DesignSpark
There was a problem submitting your feedback, please try again later.

Dave from

DesignSpark
What do you think of this article?

Over the years we have all listened to many conversations in the media about renewable energy, but when we talk about wind power how many times have you driven down the motorways only to see stationary wind turbines and think what use are they and how much we must rely on other forms of energy?
Today wind energy is one of the fastest growing sources of electrical power and according to WWEA, by the end of 2016, the global wind capacity reached 486GW, which represents about 5% of the worlds demand or equivalent to around 160 nuclear plants. Of this capacity, 54GW was added last year (2016) which is about  12% growth on the previous year and different research across the net predicts this to continue to grow and by 2050 we are looking at wind providing around 40% of the global energy demand, the reason for this is simple:
Wind is a renewable energy source and does not produce any greenhouse gases or other emissions.
Wind is infinite in supply, although demand is not controllable, new technology is helping to balance this out with storage (see later)
As turbine technology increases, this improves: reliability, efficiencies, increases output and so the turbines becomes cost competitive and one of the more preferred choices for many countries.
Many of the traditional sources of energy like coal and oil fired stations are being decommissioned (which can be costly) due to legislation, so with growing demand for energy new sources are needed, there is still a major nuclear program, but new plants take many years to get approval and construction, so renewable sources are becoming the preferred choice.
Wind farms are "unattended" and remotely managed through smart grid technology - Industrial Internet of Things (IoT), so not only can the output be monitored, but also preventative maintenance.
As more and more wind farms are commissioned around the world and the overall world capacity increases, then further challenges are created for the smart grid, therefore the technology needs to get stronger. One of the big issues is in balancing the energy supply and demand at different times of the day/year, but big leaps are being made in this sector, with improved battery technology and lowering costs, for example, Tesla are currently building a 129MW battery to help improve the security and energy supply of wind farms across South Australia.
Looking at where the innovations and support for the wind industry are coming from, one of the leaders is ABB.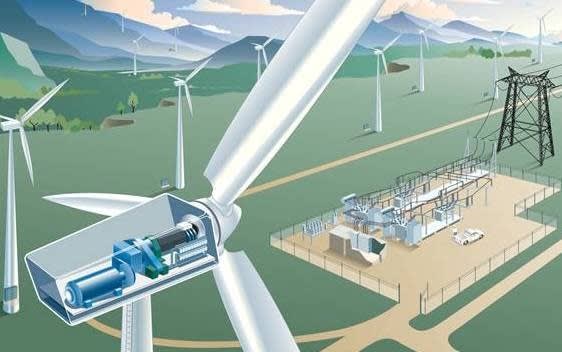 ABB continually search for innovation and supplies products and services such as generators, electrical panels and low voltage products that are in more than 40,000 wind turbines worldwide, with 50% of all installed offshore turbines fitted with an ABB generator - a good overview of the low voltage products ABB supply the wind industry can be seen in the ABB brochure, with key ranges being:
Electrical Products & Relays
Switch Gear
Line Protection
Control Gear
As mentioned earlier, this technology will continue to grow and develop for decades to come, but with it also comes the need for greater support, not only in supplying the replacement components to maintain the turbine as in the ABB products RS supports, but also many other maintenance support products from personal protective equipment, such as fall arrest products through to test & measurement and tools