Dave from

DesignSpark
How do you feel about this article? Help us to provide better content for you.

Dave from

DesignSpark
Thank you! Your feedback has been received.

Dave from

DesignSpark
There was a problem submitting your feedback, please try again later.

Dave from

DesignSpark
What do you think of this article?
The reference circuit design of DC/DC Converter BD9A300MUV (128-8885)  (ROHM) was converted into Designspark PCB format. The BD9A300MUV (128-8885)  is a 2.7V to 5.5V input, integrated 3A MOSFET 1ch synchronous buck switching regulator .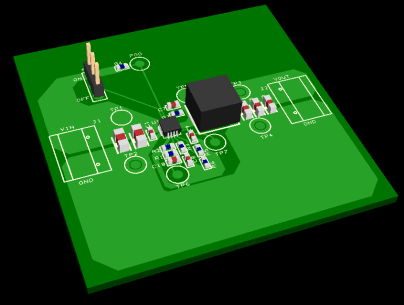 3D view
Buck DC/DC Converter BD9A300MUV
BD9A300MUV is a synchronous buck switching regulator with built-in low On-resistance power MOSFETs. It is capable of providing current up to 3A. The SLLM(TM) control provides excellent efficiency characteristics in light-load conditions which make the product ideal for equipment and devices that demand minimal standby power consumption. The oscillating frequency is high at 1MHz using a small value of inductance. It is a current mode control DC/DC converter and features high-speed transient response. Phase compensation can also be set easily.
Specifications
Input Voltage Range: 2.7V to 5.5V
Output Voltage Range: 0.8V to VPVIN×0.7V
Average Output Current: 3A(Max)
Switching Frequency: 1MHz(Typ)
High-Side MOSFET On-Resistance: 60mΩ(Typ)
Low-Side MOSFET On-Resistance: 60mΩ(Typ)
Standby Current: 0μA(Typ)
What is included in the reference design file?
A Schematics design file (.sch), a PCB layout design file(.pcb), and parts library files for the design are provided. A RS part number and size information of parts are already linked to each part in the library. So you can directly order parts to RS by using the BOM quote feature, or can convert PCB files into 3D CAD data to design and simulate cases of boards. Of course, parts in the library would be used in another design.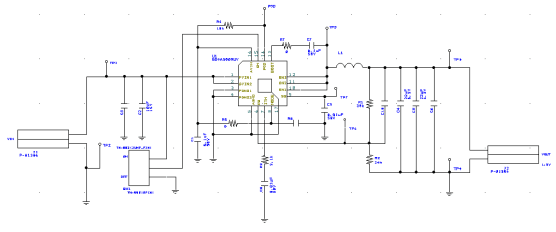 Schematic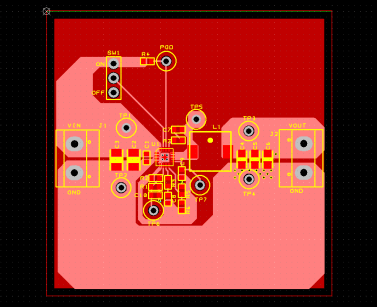 PCB layout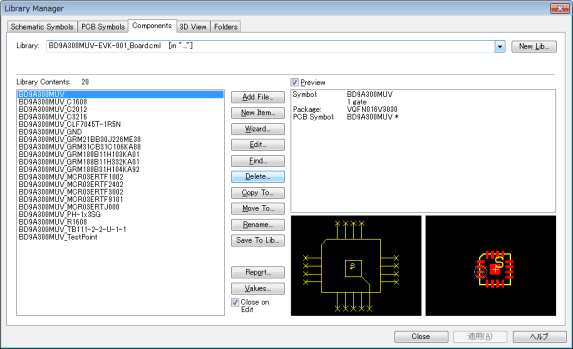 Parts Library
What is DesignSpark PCB format?
DesignSpark PCB is an award-winning software package for schematic capture and PCB layout, available for FREE from RS Components. Our software is easy to learn and use yet surprisingly powerful. DesignSpark PCB is now widely adopted in the industry as a standard format for design file sharing and collaboration. This is especially useful in the prototyping phase where most of the innovation takes place. Not yet a DesignSpark PCB user?