Dave from

DesignSpark
How do you feel about this article? Help us to provide better content for you.

Dave from

DesignSpark
Thank you! Your feedback has been received.

Dave from

DesignSpark
There was a problem submitting your feedback, please try again later.

Dave from

DesignSpark
What do you think of this article?
The reference design of Infineon XMC Digital Power Explorer Kit 
(RS Part Number: 914-5256 was converted into DesignSpark PCB format and you may download the project's files and BOM list in the Download section at the bottom.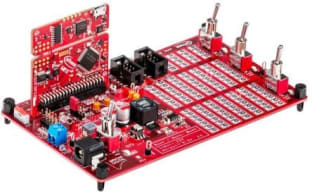 XMC Digital Power Explorer Kit
The Infineon XMC™ Digital Power Explorer Kit consists of XMC control cards and a synchronous buck power board. The XMC™ explorer kit is an evaluation board that provides digital power control with Infineon XMC4000 and XMC1000 series ARM® Cortex®-M MCU. The DAVE™ IDE and DAVE™ digital power APPs offer a software solution supporting the XMC microcontrollers. The kit not only operates the XMC microcontrollers but also the OptiMOS™ MOSFETs and high and low side drivers. The digital power board includes a synchronous buck converter with on-board resistive load banks. Infineon offer two control card options XMC1300 control card (ARM ® Cortex™ M0) and XMC4200 control card 914-5269 (ARM ® Cortex™ M4F) with isolated on-board debugger. Suitable for Industrial DC/DC power conversion, telecom and server DC/DC power conversion applications.
Synchronous buck converter
Control card options: XMC1300 and XMC4200
High-resolution PWM (150 ps) and smart analogue comparators on XMC4200
On board resistive load
PMBus™ communication option provides easy integration for more complex power management systems
Voltage mode control and peak current mode control
DAVE™ Software support - www.infineon.com/DAVE
Schematic of XMC Digital Power Explorer Kit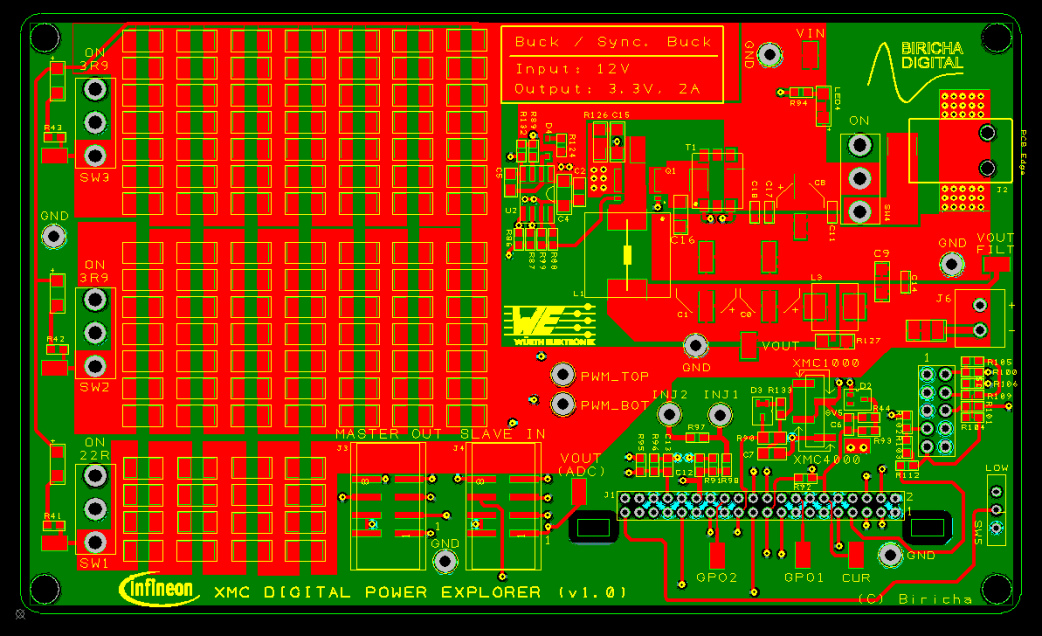 PCB layout of XMC Digital Power Explorer Kit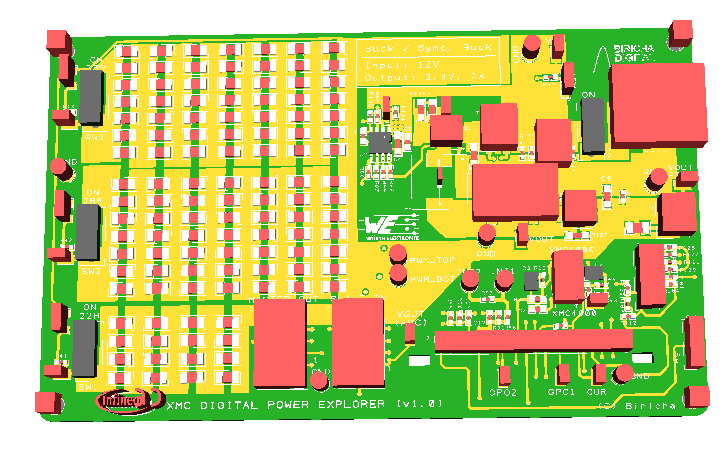 3D view of XMC Digital Power Explorer Kit
BOM list of the board (Key Components):
| | | | |
| --- | --- | --- | --- |
| RS Part Number | Manufacturer Part Number | Manufacturer | Description |
| 6519263 | IRS2011SPBF | International Rectifier | Dual MOSFET Power Driver |
| 7527818 | BAS 16W | Infineon | Switching Diode |
| 7532703 | BAS3010B-03W | Infineon | Schottky Diode |
| 7856469 | 450301014042 | Wurth Elektronik | SPDT Switch |
For the full BOM list, please refer to the zip file in the Download section. 
FAQs
1. How can this reference design save your time?
RS provides a full set of schematic and PCB design files for this board to help reducing your product design time. At RS Components we believe in helping our customers innovate. We have removed the undesirable and time consuming factors of the PCB design process, to enable you to invest your time in what you are best at, innovating. Download the files in the project homepage below and freely modify them to suit your product requirements. 
2. Why DesignSpark PCB format?
DesignSpark PCB is an award-winning software package for schematic capture and PCB layout, available for FREE from RS Components. Our software is easy to learn and use yet surprisingly powerful. DesignSpark PCB is now widely adopted in the industry as a standard format for design file sharing and collaboration. This is especially useful in the prototyping phase where most of the innovation takes place. Not yet a DesignSpark PCB user? Download our software in conjunction with this reference design from the links below.
Related Articles:
DesignSpark PCB Utilised to Design a Development Kit