Dave from

DesignSpark
How do you feel about this article? Help us to provide better content for you.

Dave from

DesignSpark
Thank you! Your feedback has been received.

Dave from

DesignSpark
There was a problem submitting your feedback, please try again later.

Dave from

DesignSpark
What do you think of this article?
Unless you've been hiding under a rock since this morning you will be aware that there has been a HUGE announcement today. The long-anticipated Raspberry Pi 4 has been welcomed into the world and is available to buy now. 
With a Broadcom BCM2711, 64-bit quad-core Cortex-A72 (ARM v8) processor running 1.5GHz at its heart, the Pi 4 isn't just 15 times faster than the original Raspberry Pi, it also has the ability to outperform a number of well-known budget desktop PC's. 
So what else is new in the Raspberry Pi 4? Has it really taken a significant step up from the Raspberry Pi 3B+ and can it actually be ready to replace your desktop PC altogether? 
Our good friends at pi-top have taken a closer look, as TV's Jason Bradbury joins pi-top's VP of Technology Wil Bennett to provide a detailed review of the latest member of the Pi family.  
 
 
 
 
 
Raspberry Pi 4 B
Raspberry Pi 3 B+
 
 
 
Processor
1.5-GHz,
Quad-Core Broadcom BCM2711B0 (Cortex A-72)
1.4-GHz,
Quad Core Broadcom BCM2837B0  (Cortex A-53)
 
 
 
Memory
1 - 4GB DDR4
1GB DDR2
 
 
 
GPU
500 MHz VideoCore VI
400 MHz VideoCore IV
 
 
 
Video Out
dual micro HDMI ports
single HDMI port
 
 
 
Max resolution
4K 60 Hz + 1080p or
2x 4K 30 Hz
2560 x 1600
 
 
 
USB Ports
2x USB 3.0 / 2x USB 2.0
4x USB 2.0
 
 
 
Wired Networking
Gigabit Ethernet
330 Mbps Ethernet
 
 
 
Wireless
802.11ac (2.4 / 5 GHz),
Bluetooth 5.0
802.11ac (2.4 / 5 GHz),
Bluetooth 4.1
 
 
 
Charging Port
USB Type-C
micro USB
 
 
 
Input Power
3A, 5V 
2.5A, 5V 
 
 
 
Size
3.5 x 2.3 x 0.76 inches
(88 x 58 x 19.5mm)
3.2 x 2.2 x 0.76 inches
(82 x 56 x 19.5mm)
 
 
 
Weight
0.1 pounds (46 grams)
0.11 pounds (50 grams)
 
 
 
Access
Extended 40-pin GPIO header
Extended 40-pin GPIO header
 
 
 
Price
$35 (1GB), $45 (2GB), $55 (4GB)
$35
 
 
 
Production
Lifetime
At least January 2026
At least January 2023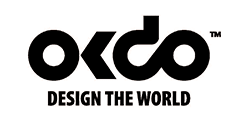 OKdo still have limited stock available to purchase if you would like to get your hands on the latest version of the Raspberry Pi and get started on a project. 
OKdo is a unique global tech company owned by Electrocomponents Group. Solely focusing on SBC and IoT, OKdo works with some of the best technology companies on the planet to bring people the latest products, innovations and services, wherever they are on their SBC and IoT journey.