Dave from

DesignSpark
How do you feel about this article? Help us to provide better content for you.

Dave from

DesignSpark
Thank you! Your feedback has been received.

Dave from

DesignSpark
There was a problem submitting your feedback, please try again later.

Dave from

DesignSpark
What do you think of this article?
You may remember we started covering Project nautilUS just prior to the recent lockdown, if not you catch up with the first instalment here.
I'm sure it's not lost you that the Coronavirus pandemic has had an effect on us all. From cancelled holidays, more remote working, substantially less travel, through to some truly heartbreaking personal stories.
One of the knock-on effects of this pandemic is the price of fuel, most of us will have noticed that prices at the pumps have fallen significantly. But with nowhere to go, we are unable to benefit from these lower prices, the last time I visited the petrol station was over 2 months ago.
On a world scale, the wholesale price has been impacted. The reduced demand has led to a scenario where the normal distribution channels for fuel has slowed, while transportation is on a hiatus there has been an inverse need for fuel storage, the world's storage tanks are nearing capacity as traders are frantically looking for storage solutions. So how does this link to project nautilUS?
The nautilUS project is working to deliver a cost-effective solution for tank inspection whilst the tanks themselves are full, with so many tanks in use globally, this is surely a timely project.
The members of the Project nautilUS consortium, all bring areas of expertise including machine design and build, operational testing, sensing of the medium, positional sensing for location, feedback control for monitoring, communications and data analysis.
Here we set out to bring you an insight into each member, their organisation and the part they are playing to deliver Project nautilUS.

InnoTecUK are leading provider of Robotic and Automated solutions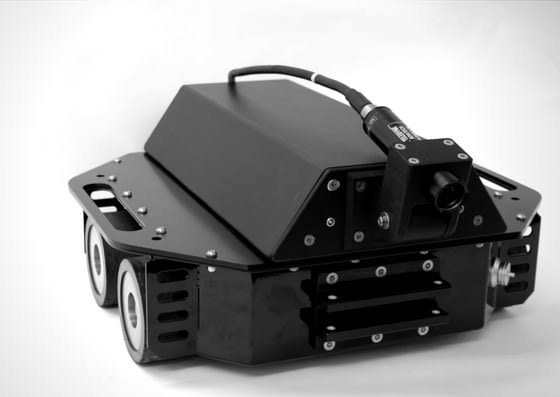 Through their dynamic and progressive research InnoTecUK are able to specialise in the development and commercialisation of viable solutions to overcome complex industrial challenges. Their extensive expertise, together with the provision of training and consultancy services allows them to offer and develop high quality, high value Robotic and Automation solutions to address the many issues found within industries such as Oil & Gas, Renewable Energy, Offshore, Aerospace, Rail.
For the nautilUS project, InnoTecUK is delivering the submergible robot to carry out the inspections required. This includes ensuring that all of the associated technology is incorporated into the device together with the tethered communications and controlling umbilical cable. Add to this, ensuring the vessel is pressurized and sealed without leaks, has the correct level of ingress protection and is safe for use in hazardous environments.
For example, on an operational level, the robot would need to be deployed via a 450 mm manhole, remain submerged during inspection but also have the ability to drive over heavy sludge surfaces (like those in raw crude oil storage tanks), whilst being able to navigate over pipes which are present in the storage tank bottom plate.
The first view we had of Project nautilUS

Pressure testing in water

It really is fascinating how the project is coming together and we had a few questions for InnoTecUK
1) What was it about this project that was of interest you, why did you choose to get involved?
"Existent expertise in developing robotic solutions for oil storage tank inspection, with the intention to further develop and commercialise the project outcome".
2) How did you learn about project NautilUS?
"InnoTecUK was part of the idea formation for the project, so we have been involved since the start".
3) What key areas of the project do you cover, how do you fit in as part of this consortium?
"InnoTecUK is a robotic solutions developer and the role allocated was to design and develop a robotic crawler and integrate the partners' location system (SONAR) and NDT system to navigate inside of the storage tank to inspect (measure thickness) the bottom plate".
4) Do you work more closely with certain other members or is it more on an even level with all members?
"We work with all project partners especially closely with LSBU (SONAR development) & SONOMATIC (NDT development) to integrate their systems with our robotic crawler in terms of mechanical, electrical and software".
5) Essentially what role have you played on the project, what was it you were responsible for delivering.
"The scope of InnoTecUK is to develop a robotic crawler to navigate the oil storage tank bottom plate. It includes the crawler, control box, Software GUI, umbilical cable and customized transport frame".
6) Were there any unexpected issues you encountered and if so how did you navigate past these to get a solution?
"The issues we came across in the project was to design & develop a crawler, which can navigate in the heavy sludge environment. Very detailed research was carried out based on crawlers available in the market and the feedback from the storage tank users, several possible methods of locomotion were considered, and heavy-duty tracks were used to overcome the issue".
7) Has the project delivered what you expected it to, what would you say is the main take away points from the project for to you?
"Yes, the project delivered what we expected, the main points we like to take away are".
Crawler design,
ATEX circuit design
Software GUI
Customized Cable Drum
Customized Crawler Frame Assembly.
Click here to learn more about the services offered by InnoTecUK.