Dave from

DesignSpark
How do you feel about this article? Help us to provide better content for you.

Dave from

DesignSpark
Thank you! Your feedback has been received.

Dave from

DesignSpark
There was a problem submitting your feedback, please try again later.

Dave from

DesignSpark
What do you think of this article?

Taking part in our POWER HACK is Team Faraday!
Consisting of industry leading experts:
Jude Pullen (Design Modelling)
Richard Gledhill (Maker/Hacker/Engineer)
Enrico Varrone (Arcola Energy)
Michael Broadhead (Schneider Electric)
Gregory Barker-Devereux (QinetiQ)
The brief is simple: Create a domestic electricity generator product idea that is affordable and easy-to-manufacture in the 3rd world.
What product will they come up with? Stay tuned on Tuesday 9th & Wednesday 10th December to find out more.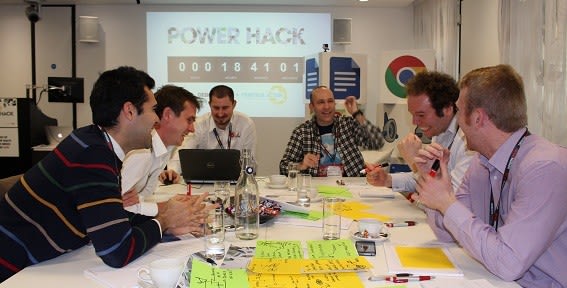 Day One: AM
Their idea is to create a Generator hub. The fins or paddles for air or water can be created with locally available materials such as old cans and bottles.
The idea utilizes Alfredo Moser's bleach bottle light. However, this only works during the day, so their idea is to generate power via their generator to charge a car battery to power an LED in the Bleach Bottle at night, when the sun goes down.
Jude's broken out the cardboard!, Gregory has dismantled a torch, Richard using DesignSpark Mechanical.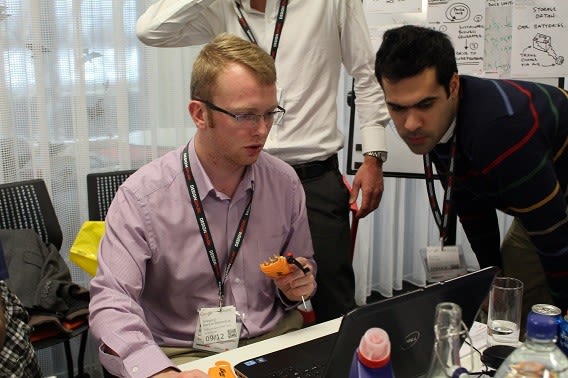 Day One: PM
The team are keen to ensure their design is as versatile and scalable as possible. Their idea has grown throughout day one and the team are already beginning to experiment with basic prototypes.
Team Faraday have truly "power hacked" a concept together by utilising the guts of an old wind up torch, and an early concept test saw an LED salvaged from the torch attached to a bottle cap and powered up.
Other members of the team are busy creating prototype blades and fins from recycled tin cans and plastic drinks bottles to help use wind or water power to turn their dynamo generator.
Excited by the progress, Enrico has broken out into song to move the job along…. "Turn around, Bright Eyes" is the current song leaking from his lips…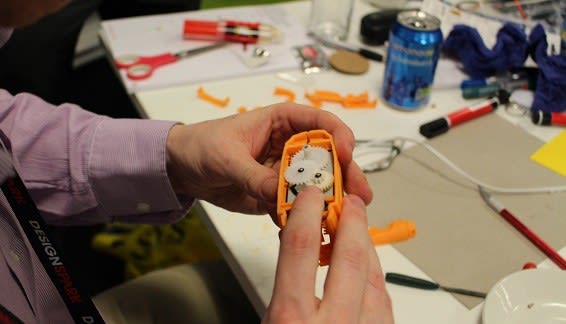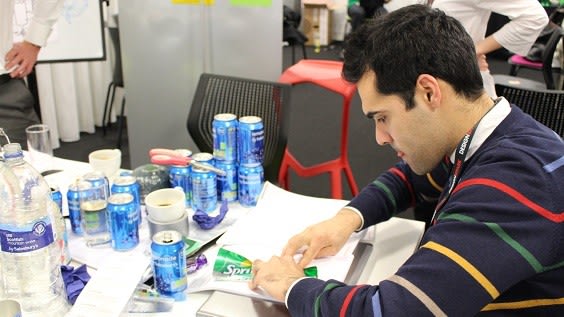 Day Two: AM
The team continue to build their prototype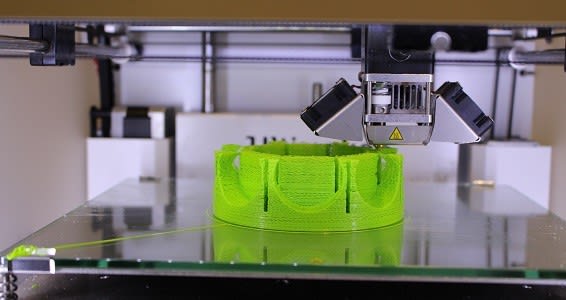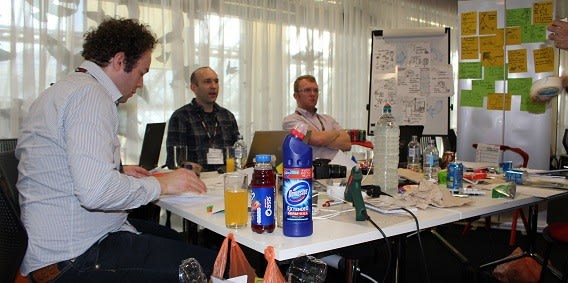 The finished design!" The Electro Moser Light"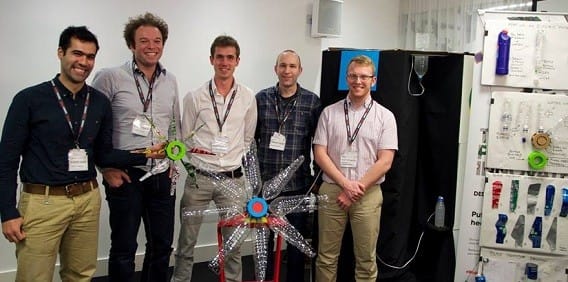 Their enhancement of Moser's bleach bottle light uses an LED at night. The LED is powered by a car battery that is charged via their hub generator. The hub is turned by wind, water or hand, which charges the battery via a charging circuit taken from a wind up torch.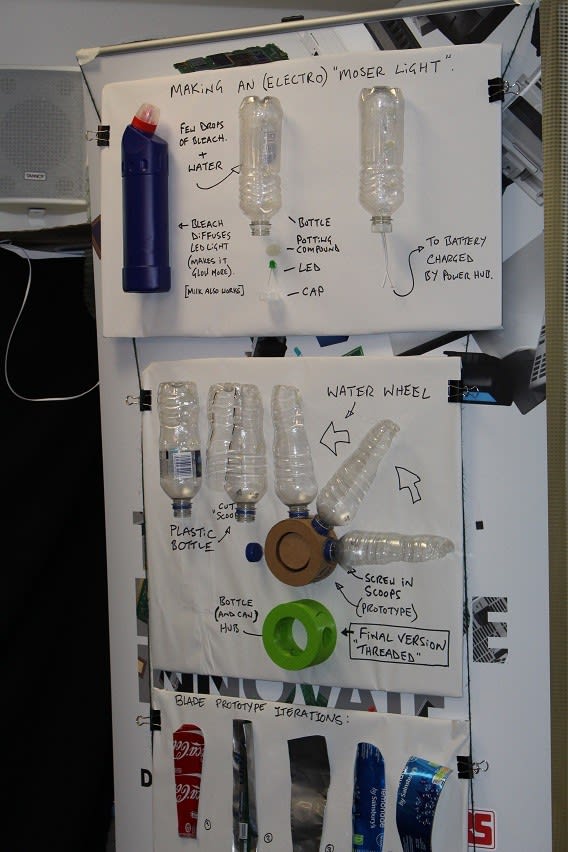 What the team had to say about the event...
Jude Pullen… "PowerHack was a remarkable event to be a part of, combining an eclectic mix of designers, engineers and specialist in air organisation. It's a huge success to see ideas like this, but even more to see it supported financially from the start. Charity is great from an ethical perspective, but to have [Practical Action / RS] supporting this initiative to from ideation to production is a huge statement. I look forward to seeing Team Maxwell's invention not just in prototype, but helping establish sustainable innovation for local economies, which in time will thrive independently.
I think the organisation of the whole project by RS/FS/PA was impressive. It all came together perfectly. I hope that there can be future events, but that PA can also involve the engineers/designers in a more immersive experience of what the challenge are in the field. I'm interested to see if the momentum is sustained through to production, as when all's said and done this is really the true testament of success. I've seen too many 'do-gooder' projects where Gap Year Kids dig well and Pop Stars hug black babies, when it amounts to nothing sustainable - the people are still at the mercy of the West and never truly achieve independence, dignity and prosperity. Clearly nothing is ever 'that' simple - but this feels like a new breed of real action, rather than just good intentions. All power to them and the Electro-Stove!"
See Jude's Instructable Project for this "Off-the-Grid Lighting Solution (LED Moser Light Evolution)"
Richard Gledhill… "The RS DesignSpark Power Hack stepped up a notch from last year's challenge, with a clear opportunity to not just come up with some terrific ideas but also see them taken through to reality, thanks to the partnership with the charity Practical Action. Once again, it was remarkable what a group of talented engineers (accompanied by me!) could achieve in such a short space of time, with some truly innovative and clever designs coming out of the two days. Freestyle Interactive provided a masterclass in running the event superbly smoothly, facilitiating every request without question, yet melting into the background when we needed to focus on our activities. I'm very much looking forward to seeing how our designs pan out and really believe we can make a difference with what we came up with."