Dave from

DesignSpark
How do you feel about this article? Help us to provide better content for you.

Dave from

DesignSpark
Thank you! Your feedback has been received.

Dave from

DesignSpark
There was a problem submitting your feedback, please try again later.

Dave from

DesignSpark
What do you think of this article?
For over 30 years our plastic bearings have had a technical and economic advantage over metallic plain bearings. iglidur® polymer bearings consist of a base polymer, reinforcing fibres/filler and solid lubricants which make them suitable for almost all applications and environments, as well as eliminating maintenance whilst improving the application from a technical standpoint.
Within this short article, we're going to explain the benefits of using igus® plastic bearings over metal bearings.
Comparison:
Metal bearings against iglidur® polymer plain bearings.
Metal composite bearings:
A classic metal composite bearing would consist of a rolled metal outer with a very thin layer of polytetrafluoroethylene (PTFE). These types of bearings tend to have a maximum wear zone of approximately 0.05  mm. Whilst in use the PTFE layer wears and can quickly be completely worn away until metal runs on metal, resulting in shaft damages and unscheduled downtime, even catastrophic failure within the application.
iglidur® polymer plain bearings
igus® plastic bearings are made of modern polymer compounds, which consist of a base polymer, fibre and filling materials for reinforcement and solid lubricants which as a result reduce friction. With this homogenous structure, theoretically the entire wall thickness is available as a friction and wear reducing surface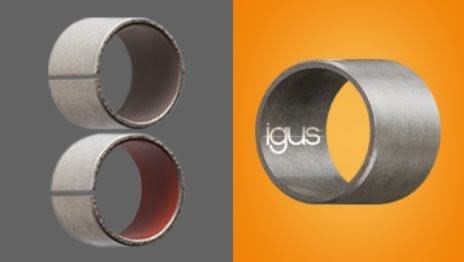 Comparison:
Sintered bearings against igus® iglidur® polymer plain bearings
Sintered bearings
Within sintered bearings oil is absorbed by the body of the bearings due to its porous material and therefore provides lubrication, this is only effective however at higher rotational operation. However, the oil within these bearings is finite and eventually runs out, it also does not necessarily ensure that sintered bearings function effectively if used within slow or pivoting / linear movements as the oil is not drawn out.
iglidur® polymer plain bearings
The unvarying and consistent structure of igus iglidur® plain bearings ensure that solid lubricants incorporated in the materials are always present irrespectively of the kind of movement, resulting in low friction, long service life and the elimination of maintenance.
Comparison:

Needle bearings against iglidur® polymer plain bearings
Needle bearings
Needle roller bearings are as the title suggests, a rolling element bearing, therefore sensitive to vibrations and shock. In addition, wear of the shafts can occur which is why hardened shafts must be used. They also can only absorb radial forces. Very effective in high speed applications, however with pivoting application the rollers don't rotate fully thus reducing the lubrication effect which can result in failure.
iglidur® polymer plain bearings
igus®, iglidur® plain bearings are suitable for high loads, shock loads and edge loads due to versatile properties of the materials we offer. The reinforcing fibres provide an improvement of the mechanical properties. With a combination of iglidur® plain bearings soft shafts can be used with many applications including edge loads as the risk of shaft wear is significantly lower than with a metal needle bearing. iglidur® materials are capable of absorbing much higher loads than needle rollers and are especially effective in very dirty, wet, and/or dry environments due to their lack of requirement for lubrication.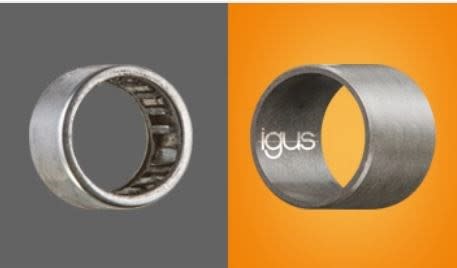 Our plastic, plain iglidur® bearings are also:
100% corrosion-resistant
Have a long service life and low coefficients of friction regardless of motion type
Have a high media resistance
Have a high temperature resistance
RoHS-compliance
Have a high resistance to dirt
High vibration dampening
They're Lightweight
With a very good price-performance ratio
All iglidur® materials are tested in the igus® in Cologne, which is the industries largest testing facility for plastic plain bearings. 
To summarise…
igus® can always offer a solution, even for the most demanding of applications with high loads or those that require resistance to high temperatures, UV rays or chemical materials.
Shifting from metal to iglidur® polymer plain bearings will save you costs and improve the service life of your application.
Plastic over metal every time, need we say anymore?