Dave from

DesignSpark
How do you feel about this article? Help us to provide better content for you.

Dave from

DesignSpark
Thank you! Your feedback has been received.

Dave from

DesignSpark
There was a problem submitting your feedback, please try again later.

Dave from

DesignSpark
What do you think of this article?
The interconnect industry has seen some amazing developments in recent years, especially in the field of board-to-board connectors.  The demand for greater data rates and high-speed communications has seen innovations such as open-pin-field arrays, differential pairs and mezzanine strips, all catering for customers who need high-performance solutions. 
But it is important to remember that not every design need rocket-ship speed or superhero power ratings.  Sometimes there might be 60-year-old products that will do the job perfectly.

These are pin headers. Pin headers are amongst the simplest connectors in the world and have been around since the birth of the printed circuit board. Used for connecting PCBs together, the pin header has been around in its current form for decades.  The 0.100" (2.54mm) pitch and 0.025" (0.64mm) square pin design has been familiar to designers for generations.  Of course, the pin header is only one half of the story.  For every pin header, there is a corresponding socket.
It might seem strange to turn to a 60-year old connector, but there is a reason why the pin header is still important today.  The design is a tried-and-trusted tool for connecting PCBs.  The shape of the pin header has remained unchanged, but the traditional 0.1" pitch has been joined by other options.  Users can now choose between a range of pitches in both metric and imperial measurements, and with the dominance of surface mount technology, SMT termination is now common across the market. 
However, the fundamentals remain the same, and pin headers are as useful today as they were in previous decades.  From alternative pitches to flexible board stacking, here are a few ways that manufacturers have continued to make the pin header relevant today.
Materials
Pin headers and sockets are simple connectors, but the materials from which they are made can have a huge impact on their cost and reliability. The plastic of the insulator is commonly made of PBT or - Polybutylene terephthalate.  PBT offers a great combination of strength and value, but it is unsuitable for use in high-temperature environments.
As an alternative, manufacturers like Samtec are turning to LCP or liquid crystal polymer to provide stability across a wider temperature range. The LCP insulator material used in the HTSW series (196-6620) offers operating temperatures up to 125*C.
Contact Design
The square post of the pin header has been familiar for many years, but the socket contact has been refined constantly. Options exist that allow the engineer to choose between simple, low-cost solutions and high-reliability connectors that will deliver reliability in demanding situations.
The most common type of socket contact is the dual-beam design. A simple design that is easy to manufacture, the dual-beam design provides good contact retention. Samtec's Tiger Buy™ contact design is typical of this type of contact.  Fitted to PCB sockets in a variety of pitches, the Tiger Buy contact features long beams and an extended insertion depth to provide a reliable connection and a reasonable cost. The Tiger Buy is fitted to Samtec's 2.54mm pitch SSW series (765-5708) and SQW 2.00mm pitch SQW series (180-1608) .
For applications that demand value for money, a single beam contact can provide the best solution.  The contact is simpler to manufacture and uses less material than a traditional dual-beam design, making it more cost-effective whilst still providing a reliable and rugged connection.  The Samtec Tiger Beam™ contact is a good example of the single beam design and is fitted to the 2.54mm pitch HLE series (180-1534) and the 1.27mm pitch FLE series (180-4942) .
High Reliability
There are some designs that demand superior performance. Whether the requirement is for a high number of mating cycles or a device that needs to withstand rough handling, the contact design needs to deliver a reliable connection whatever the circumstances.
When reliability is key, choosing the right material is critical. High-reliability contacts are often manufactured from beryllium copper instead of the more common phosphor bronze.  Beryllium copper is a more expensive material but offers a combination of mechanical strength and low resistance for good electrical contact. It is suitable for use in applications that will be subject to repeated stress and strain.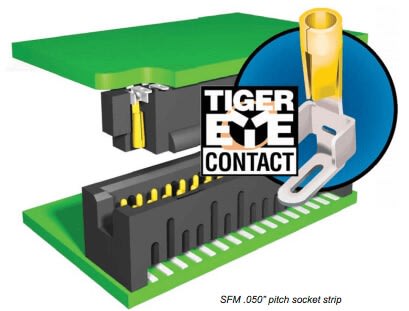 Samtec's Tiger Eye Contact™
The Samtec Tiger Eye™ contact is manufactured from beryllium copper and is formed into a cylindrical shape to provide multiple points of contact. Not only does this keep the contact resistance low, it also ensures a secure electrical contact even in conditions of shock and vibration.  The material choice ensures a high number of mating cycles. Tiger Eye contacts are fitted in the sockets of the FFSD 1.27mm pitch cable assemblies (180-0058) .
60 Years Young
The pin header may be well into its seventh decade, but it continues to prove its value. By adapting to new requirements – finer pitches and new mounting techniques – the pin header has never gone out of style.  Samtec has been manufacturing pin headers since the company was formed in 1976 and continues to develop new variations to keep them relevant for today's customer. Take a look at the Samtec range and see whether pin headers might still be the answer to your next design problem.