Dave from

DesignSpark
How do you feel about this article? Help us to provide better content for you.

Dave from

DesignSpark
Thank you! Your feedback has been received.

Dave from

DesignSpark
There was a problem submitting your feedback, please try again later.

Dave from

DesignSpark
What do you think of this article?
OpenVent Bristol is a volunteer-led engineering project that is creating open-source low-cost ventilator solutions. Aimed specifically to address the needs of developing countries where resource and infrastructure are limited. This open-source solution can be shared globally to help fight the effects of the coronavirus.
Currently, the OpenVent open-source design can be downloaded from their website. On top of the recent news is that OpenVent has started a collaboration with medical manufacturers in both Brazil and India with the aim of getting the device into the hands of people who need it.
DesignSpark caught up with founding member Darren Lewis and volunteer engineer Kamilla Aliakhmet to find out more about this project, including how it started, the key milestones, how to get involved, how you can support OpenVent and what else lies ahead.
Darren Lewis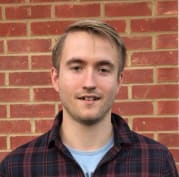 Founder of OpenVent-Bristol and Design Manager at Dyson
Darren is a Design Manager working in Dyson's New Product Concepts team in R&D where he conceives and manages radically new technology-focused products to branch the company into new product categories. He has a multidisciplinary background (mechanical, electronic, software & design) comprising of 11 years of industry experience developing complex electro-mechanical systems into products.
If you would like to help or get involved with OpenVent or simply want to follow more closely, then follow the links below.
Useful links: